Blvd 20/20 – A Vision for El Cajon Boulevard
Blvd 20/20 is a new Vision for Smart Living, Working, and Growing into San Diego's model transit oriented community!
The El Cajon Boulevard Business Improvement Association has a long history of supporting smart growth, with increased density, along its commercial corridor. Density helps support an increased mix of local businesses and will ensure the Boulevard continues to evolve as a significant multi-modal urban street. New investment and additional housing options will have a positive impact on business growth and employment opportunities in this community.
We look forward to working with community partners in developing a vision for responsible growth on El Cajon Boulevard.
---
Town Hall I – Transit-Oriented Development
The first session was held on June 9th: The Blvd 20/20 Town Hall
Press:
---
Town Hall II – Mobility
The second session was held on June 9th: The Blvd 20/20 Town Hall
Press: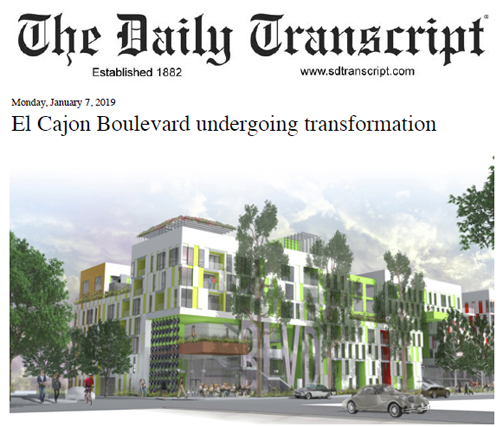 ---
Plan Unveiled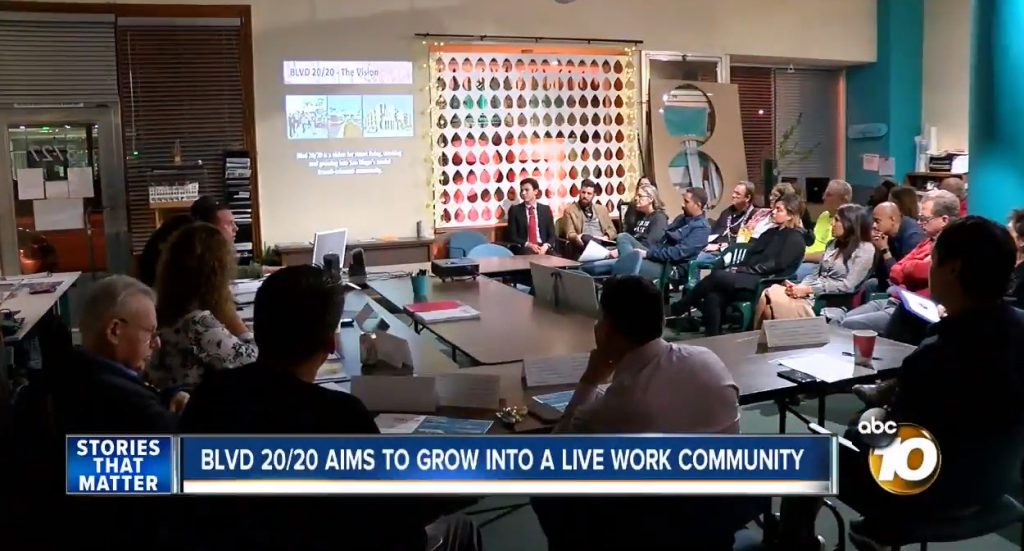 The El Cajon Boulevard Business Improvement Association unveiled its "Blvd. 20/20 Plan"during its annual meeting on Thursday, Jan. 24. The plan is the culmination of months of planning and community outreach to develop a new vision for the future of the iconic mid-city corridor, which runs through the diverse communities of University Heights, North Park, Normal Heights, Kensington, Talmadge and City Heights.

The vision will be implemented through our hub strategy and is guided by a set of principles rooting The Boulevard as the spine of the community.

It connects the surrounding neighborhoods and provides the capacity for connectivity, density and economic vitality.

We envision a community that offers a high quality of life and is guided by the following ideals:

The Boulevard of Transit Oriented Development
El Cajon Boulevard embraces, and encourages it's capacity for density and can be developed in a way that preserves the nearby lower density surrounding neighborhoods. Investments in transit and pedestrian improvements enables a less car-dependent lifestyle

The Boulevard of Assured Safety
A safe functioning multi-modal transportation network that offers bus rapid transit, bicycling, walking, and human scale options, eliminating the high risk of pedestrian injuries and fatalities. Safety is also assured with more eyes on the street, coming with more residents on The Boulevard and an active business environment in the evening.

The Boulevard of Business and Employment
A prosperous business district that contributes to the vitality and growth of the community with employment that allows residents to work and do business close to where they live

The Boulevard for Gathering
Transforming business hubs with a series of integrated open spaces, including plazas, activated lots, urban plazas, landscaped streetscapes, and placemaking efforts that promote interaction among residents and draw people from other areas to explore The Boulevard

The Boulevard for Education
Establish partnerships with educational institutions to support project based learning and placemaking practices which enhances the business corridor and bridges connections between students and businesses. As well, in a revived era of craft, cultivate and nurture business members who continue to forge new, informal ways of providing education within their place of business.

The Boulevard of Cultural Diversity
Community that builds upon, maintains, celebrates and enhances unique identities and cultures of El Cajon Boulevard and the surrounding neighborhoods. Sustains and expands business hubs by showcasing diverse cultures

A Boulevard of Innovative Connectivity
Civil interaction, volunteerism, and mobilization maintain activism and interaction with our neighborhoods.Technology, connectivity and wireless options are enabling new kinds of 'virtual' community connections.

---
BLVD 20/20 Presentation to The Board
---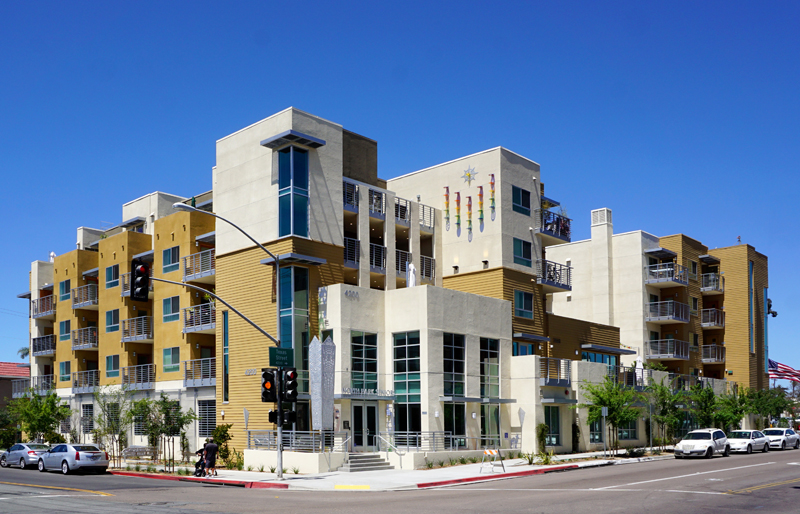 North Park Senior Apartments – San Diego's First LGBT-Affirming Senior Community
Mid-City Rapid station at the Copley-Price YMCA
---
Related Topics
CASA Housing Act – AB 2372 –known as California's Sustainable and Affordable (CASA) Housing Act, Assemblymember Todd Gloria's CASA Housing Act creates a statewide opt-in program for local governments to increase affordable housing production. The bill allows cities and counties to offer a new floor area ratio (FAR) based calculation system for residential density instead of dwelling units per acre. This alternative would allow for more, smaller units to be built on a particular parcel of land.
"There is an ever growing need for housing in San Diego and the CASA Housing Act creates another tool to produce more naturally affordable housing units in transit priority areas," said San Diego City Councilmember Georgette Gómez, who provided the vision for this bill.