Blvd 20/20 Town Hall
Join us to create a new Vision for Smart Living, Working, and Growing into San Diego's model transit oriented community!
Goals for this Forum:
-Kick-off of stakeholder input gathering process to arrive at a clear, cohesive work plan that can be implemented by the ECBBIA
– Invite participants to get involved over the next 6 months, future workshops and in the creation of the Blvd 20/20 plan
– Narrow the focus to the neighborhood amenities and missing, the transit/mobility weak links, and public safety/health and wellness
– Convey how El Cajon Boulevard is the prime opportunity for transit-oriented development in our region that can meet our Housing, Climate Action and Community goals
This is the first in a series of sessions related to the El Cajon Boulevard Business Improvement Association's Blvd 20/20 initiative.
The event will be held at the Rock Church – City Heights Campus, located at 4001 El Cajon Boulevard.
---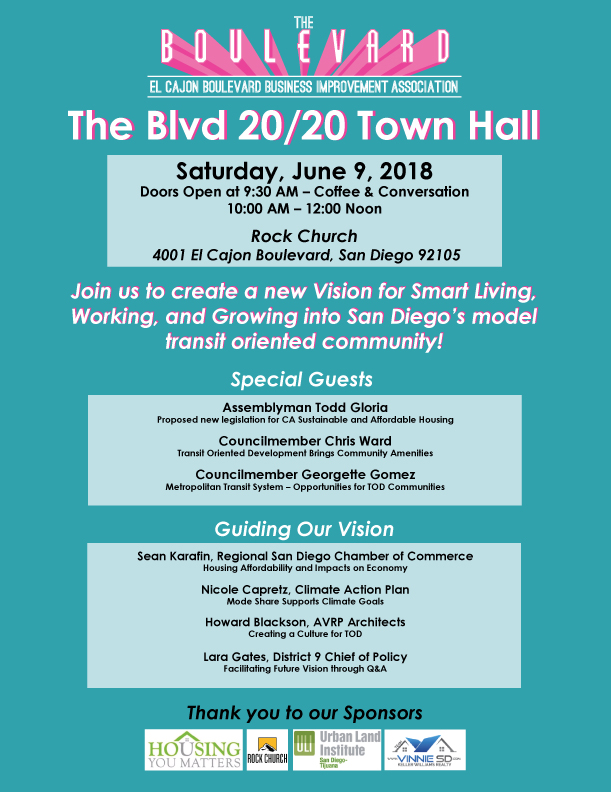 ---
Moderated by Mary Lydon, Housing You Matters
Special Guests 
Assemblyman Todd Gloria – Proposed new legislation for CA Sustainable and Affordable Housing
Councilmember Chris Ward– Transit Oriented Development Brings Community Amenities
Councilmember Georgette Gomez – Metropolitan Transit System – Opportunities for TOD Communities
Guiding Our Vision
Sean Karafin, Regional San Diego Chamber of Commerce– Housing Affordability and Impacts on Economy
Nicole Capretz, Climate Action Plan– Mode Share Supports Climate Goals
Howard Blackson, AVRP Architects– Creating a Culture for TOD
Lara Gates, District 9 Chief of Policy– Facilitating Future Vision through Q&A
---
Event Photos
---
Community Input Summary
Check back for a summary of all the great input from the town hall that will help guide the vision for El Cajon Boulevard.
---
Live Broadcast from the Event
---
Press
Hillcrest News – June 06, 2018