Boulevard News- Sep 2020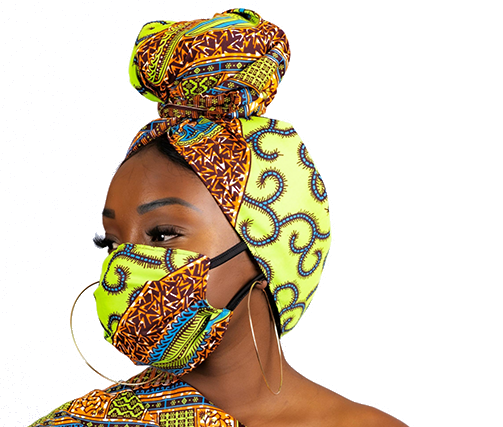 Safety in Style- Facemasks & Fashion in City Heights
As part of the Mingei Museum's inaugural San Diego Design Week, the International Rescue Committee Small Business Development Center (IRC SBDC), The El Cajon Boulevard Business Improvement Association (BIA), and Bohdi Tree Concerts presents Safety in Style: Facemasks & Fashion in City Heights. San Diegans are invited to join a virtual fashion show on Saturday, September 12 from 11 am – 1 pm featuring refugee and immigrant designers based in City Heights. 150 free masks commissioned from participating designers will be distributed to City Heights residents on a first come, first serve basis at the Fair@44 location on El Cajon Boulevard.In an effort to showcase local clothing designers from City Heights, the IRC SBDC and the El Cajon BIA will be showcasing diverse designers working in the small business community.
Participating designers will also be selling face masks and matching apparel, while showing their fabulous designs through the live stream fashion show from The Boulevard's Instagram account, elcajonboulevard. Musical accompaniment will be provided by a local Congolese band, Revolution Gospel International, thanks to Bodhi Tree Concerts.Designers will showcase 3 – 5 unique designs, including new lines of Personal Protective Equipment (PPE) in the form of vibrant and eye-catching face masks. Designers come from an array of countries including Somalia, Uganda, Iraq, and Togo. Participating businesses are refugee or immigrant-owned and include both established designers who have been creating innovative and beautiful clothing and accessories, as well as designers who have more recently joined the local fashion scene.Join us in supporting the City Heights community and the El Cajon Boulevard BIA. Social distancing and masks will be required throughout the event.
*Social distancing practices are incorporated into every step of the process
Fair@44 – 4350 El Cajon Blvd
---
Stroll The Boulevard: End of Summer Special – Sept. 4th
Stroll The Boulevard is back on Friday, September 4th with an End of Summer Special! Join over 20 businesses on El Cajon Blvd, from Idaho to Illinois. There will be food & drink specials, music, art, and shopping. Invite your friends for a summer evening stroll, and discover what's new on the old Boulevard!
El Cajon Boulevard will also be live-streaming from Instagram and Facebook, hosted by Tootie Nefertootiee from Lips – San Diego to highlight all the great businesses and their specials for the day. Customers have the option to support their favorite local business through delivery, pick up or dine-in where applicable. Let's ignite The Boulevard together and support each other on Friday, Sept 4th!
---
Outdoor Dining is Transforming Culture along The Blvd While Bringing the Vietnamese Community Back to Their Roots
Outdoor dining is spilling out to The Boulevard and customers are loving it! Starting with breakfast at Rudford's, one of the oldest diners in SD, management quickly jumped on the bandwagon and transformed their parking lot with fake turf, picnic tables and umbrella shading. Whether you're lunching at the Chicken Pie Shop's garden patio, Cafe Madeleine's expanded temporary parklet, Tacos la Mezcla's taco takeover at the Blvd Court, or in the parking lot of San Diego's first pho restaurant Pho Hoa, restaurants new and old are adapting to outdoor dining standards and realizing that they should have been doing this all along.
While there's always been hesitation to expand seating into public space out of concern for losing parking, homeless, safety, etc, this pandemic is helping to demonstrate that customers are still showing up and are happy to eat and drink outdoors, especially in a city like San Diego with near perfect weather.
While most restaurants in Little Saigon close on the earlier side, Nhu Y, established in 1985, is the first restaurant to create a safe outdoor environment that proudly mimics Vietnam's night markets. Thanks to the flexibility in permitting offered through the City and ABC (Alcohol Beverage Control), within a week's time this restaurant purchased a large charcoal grill and announced their new Vietnamese Street Food menu.
As the crowd rolled in, the staff continued to set up more and more tables. Groups of friends gathered together, ordering buckets full of cold Heinekens alongside other tables of families. All were joyful to be outside on a summer evening, enjoying small plates of yummy beef, pork, and seafood skewers coming right off the grill. Amongst all the laughter and comradery, one man took the opportunity to Facetime his friend, announcing that it felt just like Vietnam, something he never thought would happen here.
---
2nd 'Baby Essentials' DONATION Drive – 9/5/20 (9am – Noon)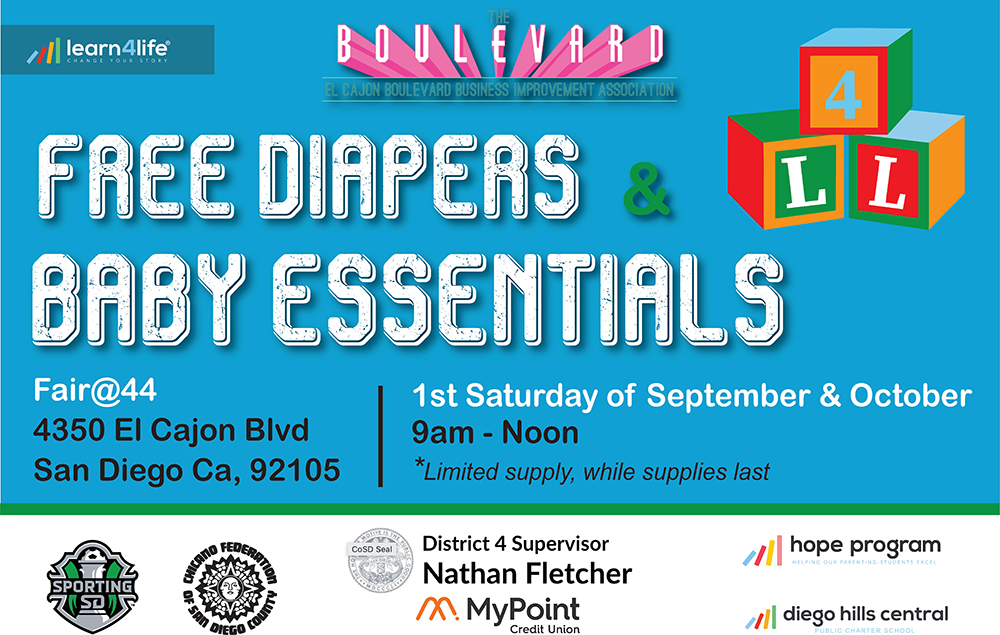 ---
Sign the Petition – STOP New City and big developers from taking over your district and its assets!
New City America Inc., a for-profit entity, is proposing to manage the West End/Central Park Blvd/Normal Street Promenade area for a management fee that would be paid by assessments from property owners.
Keep local community-based control, not outside for-profit management.
Stop the double property assessment and inflated administration fees.
Stop the big developer-backed community takeover that is not respecting neighborhood groups and boundaries.
Stop the secret process during COVID and lack of community input.
Stop the co-opting of decades of community-based branding and infrastructure improvements.
To put it bluntly, this proposed new district is a business venture by a private consultant disguised as a community-driven public benefit. The formation of Assessment Districts is a statutorily granted municipal government decision. These Districts are intended to be formed at the behest of interested citizens requesting enhanced services and not initiated by private consultants desiring a new profit center.
Read more and sign the petition here.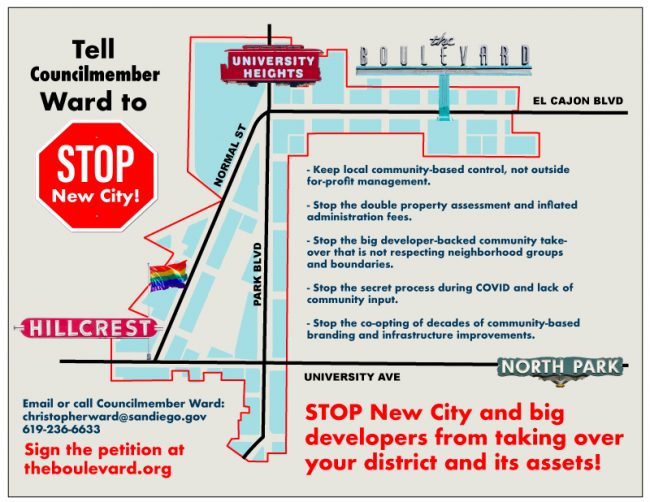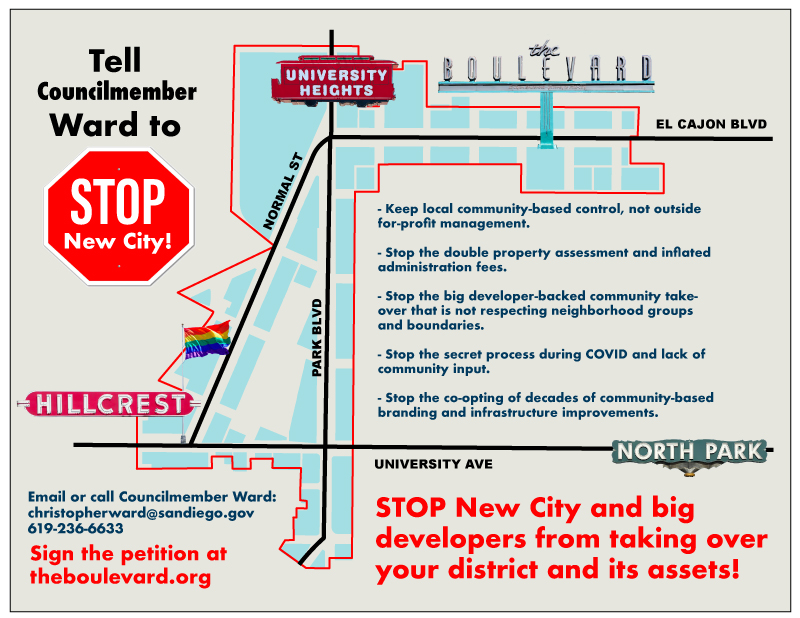 ---
The Boulevard recently lost a friend. Bob Leif was not only a board member, he was a longtime community activist in City Heights and a host of other communities around San Diego. If you have ever attended a board meeting you'll most likely recall Bob's good natured comments, which often involved a scientific spin.
He was born in New York City, the only child of Leonard and Rae Leif. He is survived by his wife of 57 years, Suzanne "Suzy", two daughters, Liza and Stephanie, and three grandchildren, Erica, Sophia, and Benjamin.
He completed his undergraduate work at the University of Chicago, and earned his Ph.D. at Cal Tech. He spent his lifetime doing biomedical research. Early in his career he worked at UCLA, and then USC before moving his family to Tallahassee, Florida to work in the Chemistry department at Florida State University.
From fixing the optics to fixing the chemistry he improved both processes and products. An early adopter of the Ada programming language he foresaw many of the modern digital information products for the medical industry. In 1981 he proposed computerizing patient ID and records, but was told "easy and reliable manual systems exist" and thus there was no apparent market. The family moved to San Diego, CA where he continued his work with his company Newport Instruments.
He published more than 135 articles. He served on the editorial board of several scientific journals, and holds nearly 20 patents. His pioneering work included isolating the homeopathic stem cell, 5 BrDu, and developing tags for cells to facilitate automatic detection of cancer. If you have ever had a blood test or a Pap smear, you have benefited from his work in the detection of cancer from improved lab processing of samples.
While living in San Diego he served on several community planning boards. He was an outspoken advocate for the underserved in the community, lobbying for more public transportation to people in Logan Heights and south San Diego. He was also a voice against the pollution from diesel trucks along the I 5 corridor which severely impacts the respiratory health of those living near to the highway.