The Boulevard of Diversity: Economic development in City Heights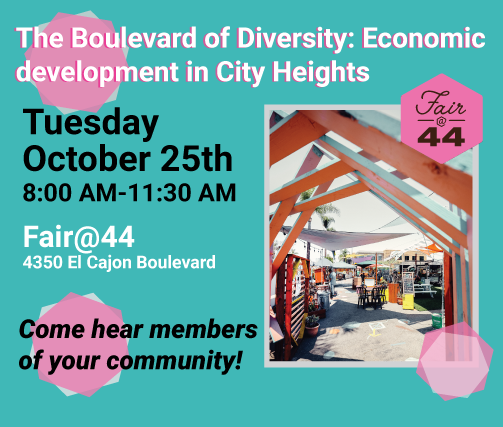 2022 CUMU Annual Conference, The Essential Role of Urban and Metropolitan Universities
Tuesday October 25th, 8:00 AM-11:30 AM at Fair@44 – 4350 El Cajon Boulevard
Community Experiences
City Heights
Hosted by University of San Diego.
Thank you to The San Diego Foundation for sponsoring the Community Experiences.

Higher education institutions are critical local economic engines inextricably linked to the long-term well-being of their local communities. As our communities and our campuses continue to reckon with institutional racism, many campuses are reimagining their economic initiatives through an explicitly anti-racist and anti-oppressive lens.
The El Cajon Boulevard Improvement Association, a University of San Diego community partner, was formed to address the needs of longtime businesses on The Boulevard and to assist new businesses started by resident Latinx, Vietnamese, African, and Middle Eastern populations. The area it passes through includes 20% of San Diego's entire population and is home to immigrant and refugee communities.
Participants are invited to listen, learn and engage with local organizers, vendors, and residents of The Boulevard whose daily efforts help contribute toward keeping City Heights a diverse and equitable thriving community.