FAIR@44 International Market is Back!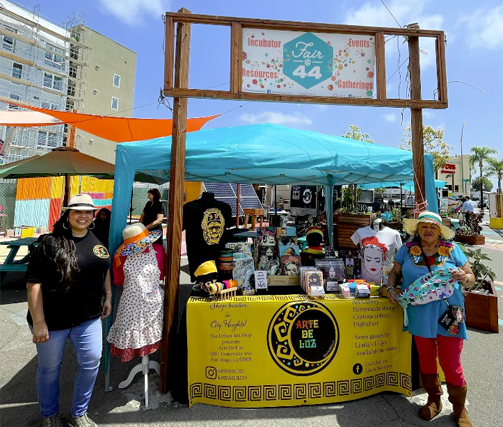 The Fair@44 is a community-activated lot located in City Heights at 4350 El Cajon Boulevard. It houses Dojo Café and an International Marketplace of start-up entrepreneurs from the Mid-City's neighborhoods and our immigrant and refugee communities. The Boulevard BIA works with the IRC to give new small business owners a place to sell their products and interact with the community and new customers. Most of these businesses are women-, minority-owned businesses from immigrant communities.
Fair@44 Summer Hours: Tuesday through Sunday (7am to 7pm)
---
---
---
BACKGROUND
Thanks to a short-term lease agreement with Price Philanthropies on their vacant lot located on El Cajon Boulevard, between Fairmount Ave at 44th Street, The Fair @ 44 International Market was launched.
Project Goals
– Create a business incubator for local micro-entrepreneurs that are looking to expand their food or craft business and grow their customer base.
– Serve as a flexible and adaptable outdoor space for community events.
Partners
Fair@44 is a not-for-profit project of the City Heights Economic Development Collaborative. The collaborative includes the City Heights CDC, El Cajon Boulevard Business Improvement Association, the City Heights Business Association, the Karen Organization of San Diego, the International Rescue Committee, Media Arts Center of San Diego and Horn of Africa. Wellness activity Sponsored by the Copley-Price Family YMCA.
Follow
Facebook: Fairat44
Instagram: Fairat44
Press
KPBS – City Heights international market, event space reopens on El Cajon Boulevard
KPBS – Outdoor International Food Market Coming To City Heights
KPBS- Reporting Live from Fair at 44
SanDiegoVille – Weekly International Open Air Market Coming To City Heights
San Diego Reader- Down on the urban farm in City Heights
Edible San Diego: Fair@44 Has Big Plans for Community, Micro-Vendors
---
The lot before activation.