Camino de Almas – Wednesday, November 02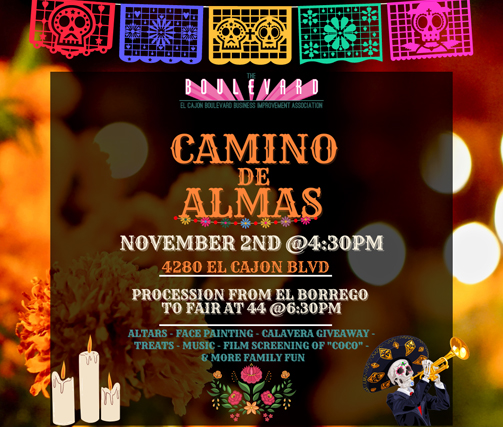 You're Invited!
Camino de Almas – A Day of the Dead Celebration
The Mid-City celebrates Dia De Los Muertos this week. It is a time to honor loved ones who have since passed. On Nov 2nd the spirits of loved ones who have died return to earth to celebrate with friends and family during this happy and festive time.
The Boulevard celebrates with "Camino de Almas" on Wednesday Nov. 2nd with festivities starting at 4:30PM in the beautiful outdoor patio of El Borrego. There will be delicious and traditional day of the dead food, traditional Altars, face painting, and calavera giveaways. In the evening there will be a procession that will make it's way to the YMCA for a stop and then make our way down the street towards Fair@44. Families will then be able to enjoy a film screening of Disney's Coco, a movie about extraordinary adventure, a boy who dreams of becoming a great musician embarks on a journey to uncover the mysteries behind his ancestor's stories.
A huge thank you to our sponsors and partners: SomosLoud, YMCA, El Borrego, Fair@44, AHF Pharmacy, Birria La Mexicana.
Join us for a festive and celebratory evening.