Boulevard News- Nov 2020
Blvd Businesses Opening, Pivoting & Partnering During Covid
Yes, it is a confusing time to open a business, so let these individuals who opened on The Boulevard during the pandemic demonstrate that as long as you are a confident entrepreneur, that there is never a wrong time to start a business.
In March 2020, Marlyn with GEM Coffee had everything lined-up and was ready to transition from vending at local markets to opening her first cafe. She was looking forward to becoming a bridge between the neighborhoods of City Heights where she lives and Talmadge, and with or without Covid, she had to go for it.
In August 2020, the beloved Heart & Trotter changed hands, and became The Wise Ox Butcher. The Trusted Group 'trusted' that with their other successful investments, that this new opportunity would expand their business operations by highlighting many of their products from bottles of wine and beer to fresh pasta, sauces, freshly baked bread and their popular chicken liver mousse to build on the success that Heart & Trotter had initiated through the concept of providing a whole animal, organic butchery in North Park.
Have you ever tried Uzbeki cuisine? Initially, when this property was purchased in 2019, Ike's plan was to create an entertainment venue. When Covid hit, they needed to pivot and work out a new strategy for the time being, and embarked on Samarkand, which has become a parking lot oasis serving exceptional, homemade, old world cuisine every weekend.
Ceramic Heights, a ceramic studio started on The Boulevard, is expanding in San Diego. Instead of walking away from the relationships that they've developed in City Heights, Amanda is now working with other artists in the community to create a non-profit in its original location just east of I-15 called Teralta Arts that seeks to bring arts to all, and collaborate with local schools.
If these spirited entrepreneurs can make it work during a pandemic, you can too. It's also a great time to negotiate lower lease rates, so get in touch with The Boulevard BIA. We are committed to advocating on behalf of our small businesses community and supporting your success.
---
Saigon Nights
Saigon Nights is a First Friday event where you can enjoy late night outdoor dining from a variety of restaurants in Little Saigon. Come out this Friday, Nov. 6th for some delicious Vietnamese Street Food and a special live performance from Southern Sea Lion Dancing!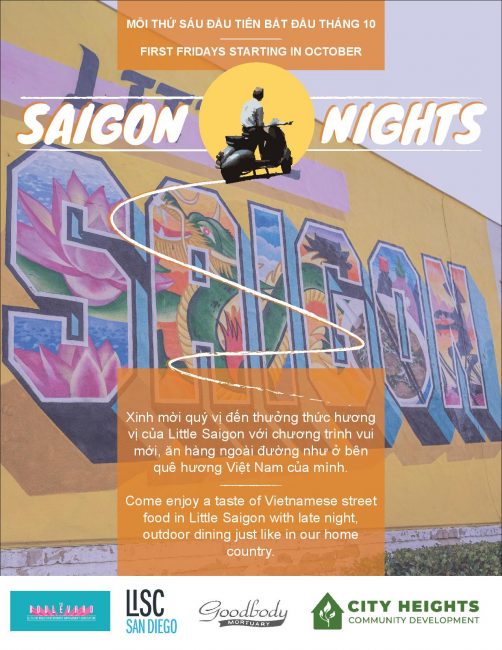 Participating restaurants include Nhu Y, Vinh Long, Pho King, Thanh Tinh Chay, and Song Huong! From classic Vietnamese street style foods to noodle soups to vegan dishes, there's something for everyone! See you this Friday!
---
Fair@44 'Baby Essentials' DONATION Drive this Saturday
In collaboration between The El Cajon Boulevard BIA, Diego Hills Central Public Charter School, & Learn4Life: HOPE Program, with seed funding from the office of Count Supervisor Nathan Fletcher, and the support from San Diego City Council President, Georgette Gomez (Representing District 9) and Assemblymember Todd Gloria (District 78), the Chicano Federation and sponsorship from My Point Credit Union Bank and Sporting San Diego, we are able to provide baby essentials to 100 families from the Mid-City area communities (especially from the City Heights neighborhood located in the heart of San Diego) with baby essential bundle bags every 1st Saturday of the month at Fair@44 community hub from 9am – Noon.
The goal is to continue having monthly drives every 1st Saturday of the months remaining this 2020 year and/or until sponsorship funding permits.
We are open to expand our current partnerships and/or explore any available sponsorship opportunities benefitting our communities in need.
Find out more and register here.
---
Boulevard Eats – Video Spotlights
Follow along with a new series of spotlights on restaurants along El Cajon Boulevard. Produced by El Cajon Boulevard BIA board secretary Carlos Solorio and staff member Liz Masad. First up is Tacos La Mezcla: https://www.facebook.com/TacoslaMezcla
---
Access to Capital
Continue to follow our access to capital Instagram account – @A2C123 for immediate grant and loan information. This is a gateway to financial information covering everything from microlending options to state benefit programs. Additionally, if your business needs technical assistance please message the Instagram account or send an email to blvdresource@gmail.com. For general Boulevard news, visit our @elcajonboulevard Instagram and Facebook.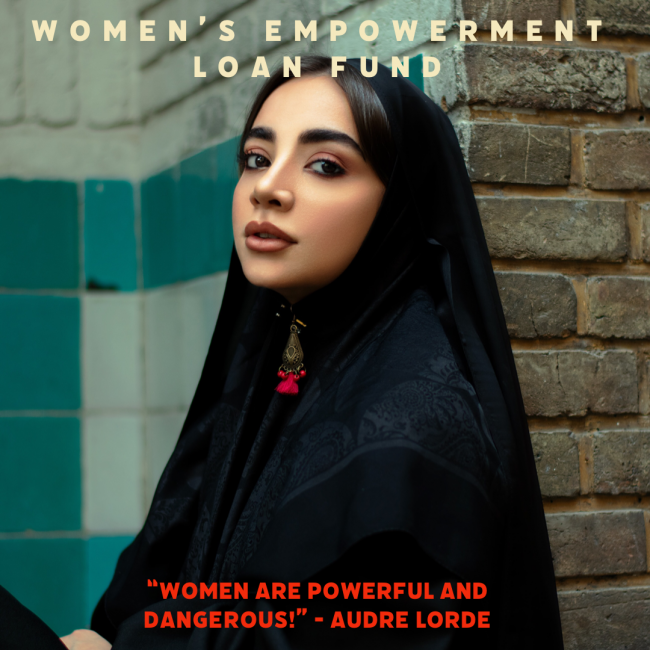 ---
Attend Our Weekly Clean-ups!
Wednesday's at 8:30 am (5005 El Cajon Boulevard)
Thursday's at 10:30 am (2876 El Cajon Boulevard)
---
Tell MTS Your Thoughts About Transit During COVID-19
MTS is asking San Diego County residents and workers to share their thoughts about transit during and following the COVID-19 pandemic. Please take a few minutes to tell us:
How comfortable are you/would you be taking MTS?
What cleaning procedures matter most to you?
What changes would you like to see following COVID-19?
And more.
The survey is available in English and Spanish, and will be open through Nov 30th. Everyone who completes a survey will be entered to win a $50 gift card to Best Buy or Vons.