Baby Essentials – Saturday 12/5/20 – 9am-12pm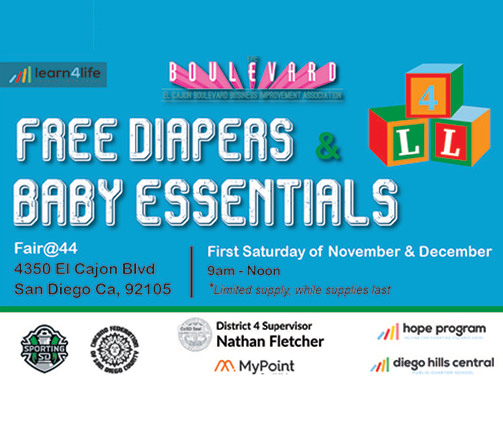 Fifth "Baby Essentials" DONATION DRIVE – at Fair@44 Community Hub:
Saturday Dec 5th, 2020
Registration Link: https://forms.gle/Y7H9yyF4cRm2UZ3S8
Facebook event page: https://fb.me/e/1QX5EreLB
In a collaboration between The El Cajon Boulevard BIA, Diego Hills Central Public Charter School, & Learn4Life: HOPE Program, with seed funding from the office of Count Supervisor Nathan Fletcher, and the support from San Diego City Council President, Georgette Gomez (Representing District 9) and Assemblymember Todd Gloria (District 78), the Chicano Federation and sponsorship from My Point Credit Union Bank and Sporting San Diego, we are able to provide baby essentials to 100 families from the Mid-City area communities (especially from the City Heights neighborhood located in the heart of San Diego) with baby essential bundle bags every 1st Saturday of the month at Fair@44 community hub from 9am – Noon.
The goal is to continue having monthly drives every 1st Saturday of the months remaining this 2020 year and/or until sponsorship funding permits.
We are open to expand our current partnerships and/or explore any available sponsorship opportunities benefitting our communities in need.