Boulevard News- June 2020
Fair@44 Expands Distribution Center- Locally Designed Facemasks, Fresh Fruit, Pantry Items and More!
With such a great turn out at the Fair@44's weekly Fresh Fruit Swap, and a very generous grant from County Supervisor Nathan Fletcher's office to purchase essential goods, more partners are aligning to expand distribution into the community as a response to the current pandemic.
This Saturday, June 6th from 10-Noon, in an effort to showcase local clothing designers from City Heights, The Boulevard BIA is partnering with the International Rescue Committee (IRC) SBDC , City Heights BIA and ArtForm Swapmeet are launching Safety in Style – City Heights Facemask Distribution Project.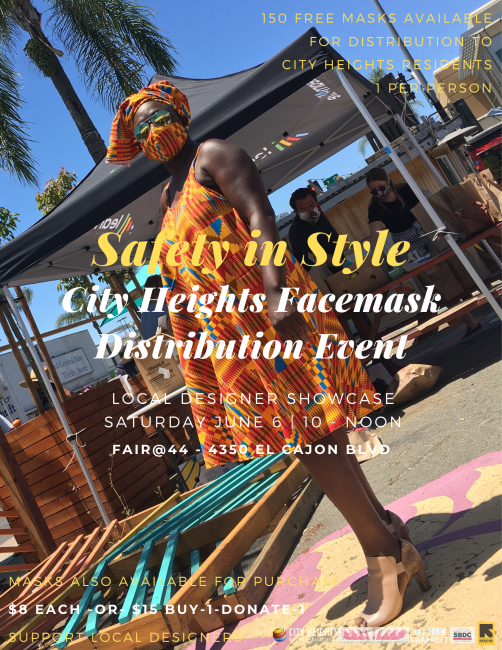 On the day of:
– 150 Free masks will be provided first come first serve. One mask per person.
– Designers will also be selling masks at regular price of $8 per mask or $15 for buy 1/donate 1 to the City Heights community.
As well, thanks to a group of volunteers with the Imperial Court of San Diego, a weekly Take What You Need Tuesday has also launched at Fair@44 from 10am – noon to complement the efforts of the Fresh Fruit Swap with dry goods/pantry items, and will be incorporating diapers and formula into the mix shortly.
"The Fair@44 on El Cajon Blvd was created with the intentions of being a resource to the community. From launching start-up businesses to being a safe haven for Hoover High School students, now more than ever, we are being called to come together and support a vulnerable population of local residents in City-Heights by redistributing essential goods" states Tootie Thomas, Executive Director of the El Cajon Boulevard BIA.
The Fair@44 Resource Distribution Center activities are hosted by a growing collaboration of partners including the El Cajon Boulevard BIA, The Dojo Cafe, Diego Hills Charter School, UrbanLife Farms, ArtForm Swapmeet, IRC SBDC, City Heights Business Association, Fern Street Circus and the Senior Gleaners of San Diego County.
*Social distancing practices are incorporated into every step of the process
---
Stroll The Boulevard Virtually
Our Virtual Stroll the Boulevard is this Friday, June 5th. El Cajon Boulevard will be live-streaming from Instagram and Facebook, hosted by Tootie Nefertootiee from Lips – San Diego to highlight all the great businesses and their specials for the day. Customers have the option to support their favorite local business through delivery, pick up or dine-in where applicable. Let's ignite The Boulevard together and support each other on Friday, June 5th!
Participants
Lips – Tootie is the official virtual host
Pariah– Enjoy a nice outdoor area to sit and enjoy a beer on Friday night.
Hardihood – 20% discount code off of June membership
Rudfords – $5 mimosas
Collins & Coupe – 20% off all local products during the event (from 6pm to 10pm)
Rays Mexican – Veggie, grilled chicken and Carnitas burrito for $5
Medina Kitchen – Taco and a bottled craft beer for $7
Cafe Madeleine – Paella!
Sleep Bedder – Featuring their new plant shop Lyra gardens, RD Alchemy wellness tinctures & Paavani Ayurvedic products, and Edible Alchemy fermented foods + other essential items we've brought in to adapt to be helpful and relevant to our community in these changing times.
Empanada Kitchen – One free alfajor per person with every purchase! Alfajores are traditional sandwich cookies from South America, found most often in Argentina.
Shrimp Heads – Buy two pounds get one free. Shrimp, mussels, or clams only.
Chicken Pie Shop – $1 off world famous chicken pie dinner – Normally $10.95, with potatoes, mixed veggies, coleslaw, roll and slice of dessert pie.
---
Strength in Community
We love this community and the diversity that makes it so BEAUTIFUL! Let's protest the hate and support our black-owned businesses.
The Boulevard firmly stands against racism.
---