Boulevard News – June 2018
Small Businesses Look Towards The Boulevard for a Place to Call Home
Taking a chance on new business ideas is increasingly out of reach for entrepreneurs in many of San Diego's urban hubs. The Boulevard tells a different story, where property owners work with unique startups to welcome them into their prime locations. In 30ECB (the hub around 30th St and El Cajon Blvd) two businesses opened last month, showcasing such collaborations.
In May, Erin Bowman opened Soul Flow Studio artisan boutique, yoga and healing sanctuary. The opportunity to open a business in her own community where she can positively contribute to the local economy was ensured by a mindful property owner. Rather than letting the property sit vacant ahead of future commercial development, the property owner worked with Bowman to keep the space alive.
Erin is currently leading a placemaking initiative at the corner of Illinois St and El Cajon Boulevard that will increase lighting and bring a tidal wave of color and creative energy to the busy intersection.
Across the street, JuneShine opened as San Diego's first Hard Kombucha brewery and tasting room. With a recent vacancy in North Park's Brewery Igniter, property development company H.G. Fenton decided to experiment with "hard kombucha" creators Greg Serrao and Forest Dein. Serrao and Dein grew frustrated by the lack of transparent alcohol brands and options for those with active lifestyles. Putting together a team of brewers, adventurers and artists who share their passion for leaving a positive impact on the environment, they set out to create their own healthy alcoholic beverage, containing probiotics, antioxidants, and vitamins.
As new small businesses are celebrated by their surrounding communities, we expect to see collaborations between property owners and innovative start-ups continue along the Boulevard.
---
Street Food Friday Launches at Fair@44
Exquisite Food from Far and Beyond Bridges Community
Yum Yum Yum!!! From Street Style Brazilian BBQ to Coal Brothers Baja Med grilled seafood tacos, to Dojo Cafes reflective drinks such as pinole or one of a kind Vietnamese Cold Brew, there's a lot of delicious international flavors to explore at Street Food Fridays, a new program kicking off at the Fair@44 on Friday, June 29th.  Alongside Caribbean dance and music, this kick-off event intends to showcase the global flavors and cultures of the local neighborhoods up and down The Boulevard and bring together the community in celebration of diversity.
Where: Fair@44 4350 El Cajon Boulevard
When: Friday, June 29th from 5-9pm
Click
here
and RSVP via Facebook.
---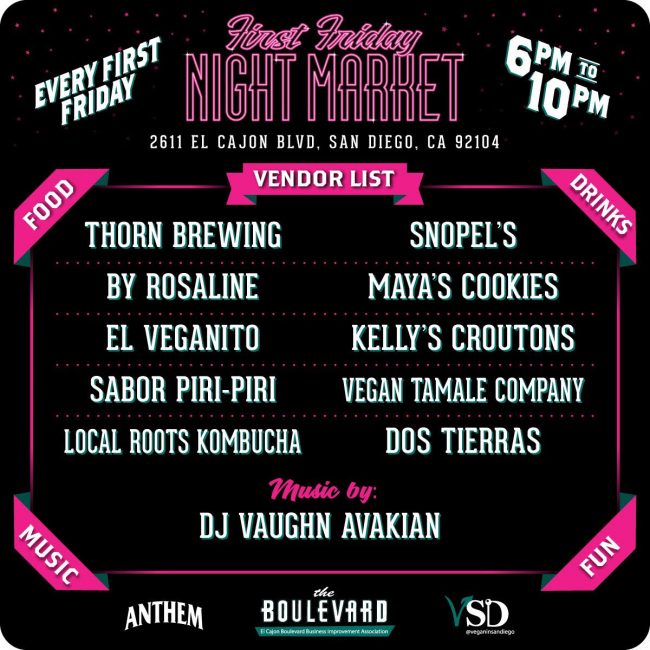 "We are so excited to offer this free event to our local communities," said Carly Morales, president of the budding nonprofit Vegan in San Diego. "We hope the market offers emerging businesses with an avenue to reach the public and enjoy success, while the public enjoys a Friday night party with great food and free admission."
The new night market will feature a total of 10 vendors, music and a beer garden. There will be five vendors selling food, two selling desserts, two offering goods, and one selling kombucha.
"The Boulevard Market raises its sights and profile in embracing good things growing on the Boulevard," said Tootie Thomas, President of The El Cajon Boulevard Business Improvement Association. "On July 6, the compassionate community gathers to celebrate plant-based cuisine!" The El Cajon Boulevard has been supporting business improvement in the area since 1988, with more than 1,000 small business members including Anthem North Park.
Anthem North Park hosted San Diego's first Vegan Street Fair Nights in May 2018, to a crowd of approximately 1,500. Patrick Murray, owner of Anthem Vegan, is fulfilling his dream of hosting local vegan events as a way to support and give back to the vegan community. The trio of partners hopes this venture continues to foster the supportive and collaborative nature of The BLVD's previous market iterations while offering plant‑based fare for all.
---
Pride Ride

Join ofo and the El Cajon Boulevard Business Improvement Association on a ride to Pride! On July 14, at 10:30am we'll meet at Rudfords, explore 30ECB to grab a coffee, a drink or something to eat, and for picture opportunities, great public art, and some Lips drag entertainment. Then we'll ride together to the parade.
Where: Rudford's – 2900 El Cajon Blvd, San Diego, CA 92104
Time: Meet at 10:30 am, leave for the parade at 11:30 am
---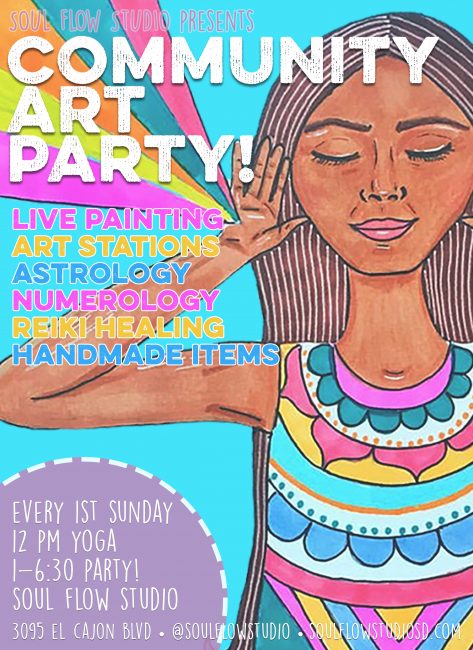 ---
Salsa Sabado at Fair@44
SAVE THE DATE July 14th!! Salsa Sabado is located at Fair 44 on El Cajon Blvd between Fairmount and 44th. What used to be an empty lot is now flourishing as a community gathering space! Come check out this new hot spot and get some dancing in too!!!
5pm – Latin Dance Lesson by Melómano Entertainment! No experience necessary for dance lesson and no dance partner requited! Nice big dance floor for open air dancing!
7pm – Prize Giveaways!
GIVEAWAYS!!!
– 2 Free dance class passes to Melómano!

As always Café Dojo will be fueling us with drinks for purchase on site so come thirsty my friends!!  Its going to be a great evening!
---
Digital Gym Film Schedule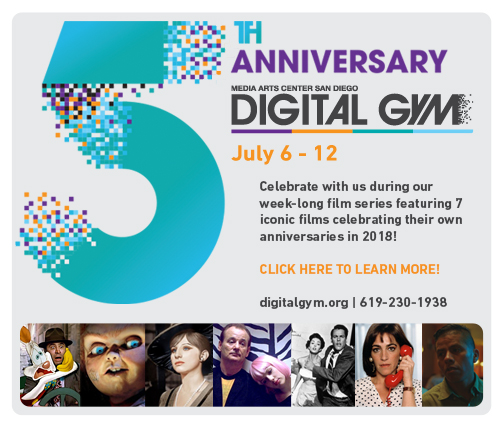 Click here for more info.
---
 Trashy Hour
The Homebrewer & Home Brewing Co (both at 2911 El Cajon Blvd) have been hosting a monthly trash pickup in an effort to keep our sidewalks sexy and safe.  
Trashy Hour
 begins at 
10 am
 on the last Sunday of the month. Staff members and volunteers split into groups of 3-4 and make their way down the side streets, alleys, and boulevard collecting trash.  There is plenty of work cut out for the team  They are out for only 20-30 minutes collecting a nearly overflowing bag of trash before they return to Home Brewing Co for $3 pints. "Public service has never been so thirst quenching," says owner and volunteer, George Thornton.
---

Unico Juice Shop
2855 El Cajon Blvd Suite 3
Yes! Yessss!! I can be pretty picky when it comes to new juice/smoothie shops so when I find a good one, it's a huge win. I ordered the traditional acai bowl (I'm basic) and was extremely pleased. It's made with Unico almond mylk, unsweetened acai, greens, mango, berries, hemp seeds, topped with granola, seasonal fruits (mine came with bananas and strawberries) and maple syrup. I'm salivating just writing that. The bowl was extremely fresh and I felt perfectly full by the time I was done. Everything on their menu is vegan and they have a ton of fruity and savory options to choose from. My mom ordered the avocado toast and inhaled it (even though she said she'd give me a bite… I'm not mad or anything). If you're in San Diego, go to Unico. If you're not in San Diego, go to Unico.
Click here for more yelp reviews.