Stroll The Boulevard March 3rd!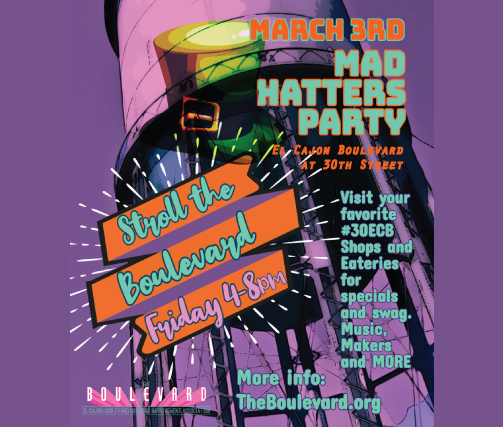 Stroll The Boulevard is a quarterly event promoting the hub of local businesses at 30ECB (30th & El Cajon Boulevard). 
Stroll the Boulevard is coming to El Cajon Boulevard! Please mark your calendars for Friday, March 3rd, 4-8pm! We'll have live music, street vendors, food and fun. Can't wait to see you!
More information:
Business Participants:
El Tianguis- 2810 El Cajon Blvd
Café Madeleine- 2850 El Cajon Blvd
The Barn- 2850 El Cajon Blvd
Medina- 2850 El Cajon Blvd
Collins & Coupe- 2876 El Cajon Blvd
Pure Project- 2867 El Cajon Blvd
Rudford's- 2900 El Cajon Blvd
Cinkuni- 3025 El Cajon Blvd
Vendors:
Rooted & True
Twighlight Clay
Sweet Treats by Thick
Auburn West
Olivia Stober
Hannah Goo Art
DarkSanctum Official
More participants will be announced shortly
Learn more @elcajonboulevard Instagram and Facebook pages.
Stroll the Boulevard On CBS 8