Stroll The Boulevard December 8th!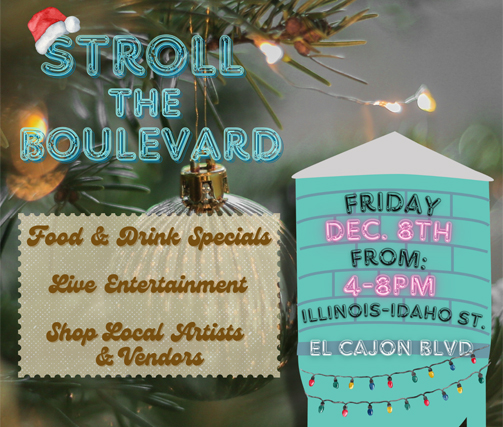 Stroll The Boulevard is a quarterly event promoting the hub of local businesses at 30ECB (30th & El Cajon Boulevard).
Stroll the Boulevard is coming to El Cajon Boulevard! Please mark your calendars for Friday, December 8th, 4-8pm! We'll have live music, street vendors, food and fun. Can't wait to see you!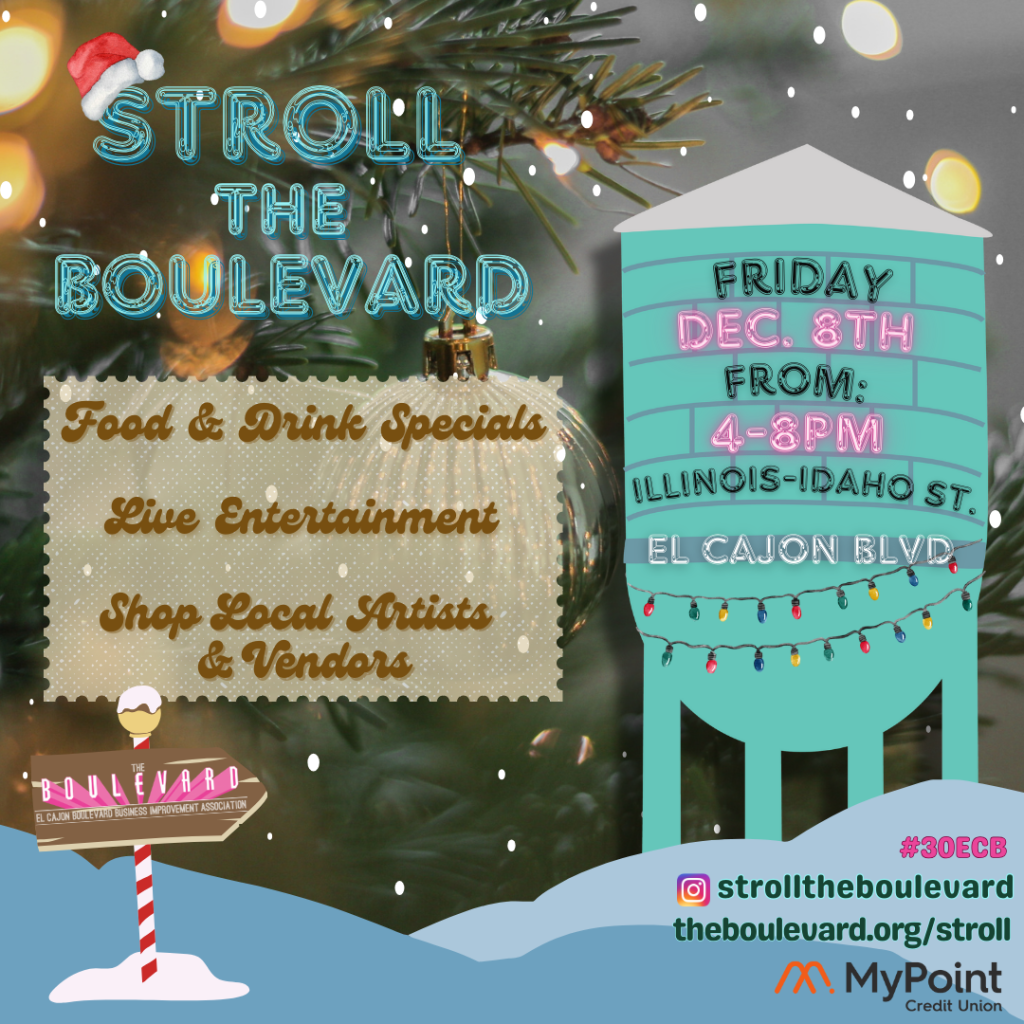 Vendors:
| | |
| --- | --- |
| Beyond Bathology | Handmade Body Products |
| Blue Suede | Handcrafted Jewelry |
| Choice Confections | Desserts |
| Kyli Walls Art | Art Prints |
| Lisa's Bling Boutique | Jewelry |
| Rose crafts | Reusable cups, makeup bag & tote bags and shirts. |
| Zerom mx | Zero Waste Products |
| Aglow Oils | Body Oils, candles, spay, scalp brushes |
| trippy hippy art co | Handmade mushroom sculptures |
| the link permanent jewelry | Permanent jewelry |
| rare mythos jewelry | Handmade ceramic and pewter jewelry |
| purrfashion | Upcycled cat accessories |
| gordys chili oil | Salsa |
| Rebelle for Kicks | Upcycled jewelry |
| Knottie Dottie | Handmade crochet clothing and accessories |
| Morena de Aire y Fuego | Spiritual |
| fire ass chamoy | Gummy and rim dips, candy |
| lovely handmade jewelry | Handmade jewelry |
| Hooked on beads | Handmade jewelry and crochet hats |
| Lone Labs | Crochet items – salves – crystals -tea – wood cases |
| Mystic Tiendita | Healing Crystals & Succulents |
| Sunny Designs | Pet Products |
| For my homegirls | Clothing |
| Ketzal Food | Mexican Food Products |
| The.red.read | Tarot |
More information:
Stroll the Boulevard On CBS 8