Boulevard News – September 2017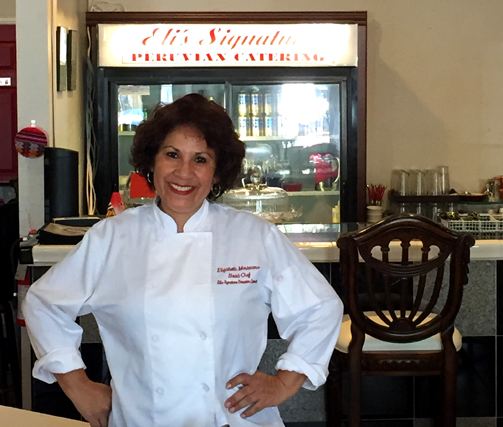 Eli's Peruvian Kitchen
Eli, owner of Eli's Peruvian Kitchen has long enjoyed cooking, entertaining, and sharing her Peruvian culture with company. That's why in 2012, after her youngest child finished school, she left her committed career to start something new and exciting. After establishing herself in the catering world for five years, Eli set out looking for a reliable kitchen space to grow her business.
In the process, she stumbled upon a former restaurant space on El Cajon Blvd. The kitchen space was exactly a perfect fit, but the restaurant dining room remained an afterthought. Fortunately, Eli soon become motivated to run her own sit-down restaurant and after months of hard work painting, refurbishing, and deep cleaning, in July 2017, Eli opened the doors to her Peruvian Kitchen.
Inspired by her mother's incredible home cooking, Eli's Peruvian Kitchen serves authentic Peruvian dishes that reignite a sense of longing for Peru. These dishes are hard to come by in San Diego, so soon enough local Peruvians caught wind and have since visited to enjoy the traditional food which came as a pleasant surprise for Eli, who didn't know many fellow Peruvians living in San Diego.
To ensure she captures the country's authentic flavors, Eli's food is homemade daily with many ingredients, particularly spices imported directly from Peru. Eli explains how the food conveys traditional Peruvian influences from Asia, Africa, and neighboring Latin American countries, not to be confused with the Peruvian fusions that are increasingly found at other restaurants in town. Notable plates from throughout the country include Ceviche, Lomo Saltado, and Cau Cau, along with daily specials set to become part of the menu based upon customer feedback.
Watching her guests enjoy their meal is Eli's favorite part of running a restaurant. She fondly recalls one little boy waving at her through the kitchen window as he was walking in with his family. He proceeded by giving her a hug, and proclaimed his love for her cooking. It's those occurrences that encourage her to continue maintaining the quality and authenticity of her food, which can often fall by the wayside with the immense technical work and overhead that goes into operating a restaurant.
Over the last two years, four additional unique small businesses have settled in the Blvd East Hub on the same block as Eli. Eli's Peruvian Kitchen builds on the momentum of business activity by providing the only sit-down restaurant to the area. The location's walkability to nearby neighborhoods in City Heights, Kensington  and Talmadge brings in new foot traffic, raising the earning potential for all neighboring small businesses so they can continue serving the local communities.
For now, while she's building her capacity, Eli's Peruvian Kitchen is open Wednesday through Sunday from 11-4pm, reflecting the significance of lunchtime in Peru and offering just the right incentive for a siesta. While a license for beer and wine is in the works, City Pub, right next door will happily serve you before or after your meal.
Eli's Peruvian Kitchen – 4979 El Cajon Boulevard
---
Small Business Access to Capital Program – More Exciting News!
Lili Klu, owner and designer of LK Fashion Boutique, recently received a KIVA loan to expand her inventory and redesign the website for her San Diego based West African clothing brand. Lili is the second Small Business Owner on the Boulevard to obtain a loan through the Small Business Access to Capital Program. The collaborative of lending institutions, small business financial advisors, and community stakeholders behind the Small Business Access to Capital Program take a proactive approach, ensuring the eclectic small businesses spanning the Boulevard have access to fair lending opportunities to grow.
On October 12th at 11:00am we will celebrate the most vital piece behind the success of the program, Lili Klu, the small business owner that continues to take risks and put in the long hours to bring novelty and localized economic development to El Cajon Boulevard.
LK Fashion – 5285 El Cajon Boulevard
---
 Trashy Hour
The Homebrewer & Home Brewing Co (both at 2911 El Cajon Blvd) have been hosting a monthly trash pickup in an effort to keep our sidewalks sexy and safe.
"Trashy Hour" begins at 
10am
 on the last Sunday of the month. Staff members and volunteers split into groups of 3-4 and make there way down the side streets, alleys, and boulevard collecting trash.
They are out for only 20-30 minutes before they return to Home Brewing Co for $3 pints. "public service has never been so thirst quenching," says owner and volunteer, George Thornton.
There is plenty of work cut out for the team. "Each week every volunteer collects a nearly overflowing bag of trash in just about 20-30 minutes."
---
SALSA SABADO CONTINUES YEAR ROUND AT FAIR@44
Salsa, Cumbia and Bachata were a hit all summer long at the Fair@44.  Thanks to our partners at Melomano Entertainment and Dance who remain committed to providing a FREE event that brings together local community members and dance enthusiasts alike, Salsa Sabado will remain as a signature event of Fair@44 year round.
Group Lesson Info:
At 5pm, a 45 minute lesson will be taught by Patrick and Diana, Directors of Melomano Entertainment and Dance. No experience, no partner necessary. Come learn to dance Salsa – FREE!!
The next event is on Saturday, October 14th! This is a FREE event.  Bring your FAMILY, bring your FRIENDS, and Let's Dance!!
Facebook: fairat44
Instagram: fairat44
---
Upcoming at Digital Gym 
---

Honey Yoga
Honey Yoga is fantastic!! Bridget and Olivia are so welcoming, friendly, and inclusive. I've only attended three classes since they opened earlier this week, but I can already tell what a quality studio this is. All students are supported, regardless of their level of experience, and the sequencing of the class is perfect. I love the music, the cues they provide, and the beautiful space. I also appreciate their commitment to making yoga accessible by not charging exorbitant prices for their classes and memberships.
Click here for more yelp reviews.