Boulevard News – November 2017
The Blvd Holiday Vintage & Makers Market
Saturday, December 9th, The BLVD Market has been canceled.
---
African Caribbean Market Volunteer Make-Over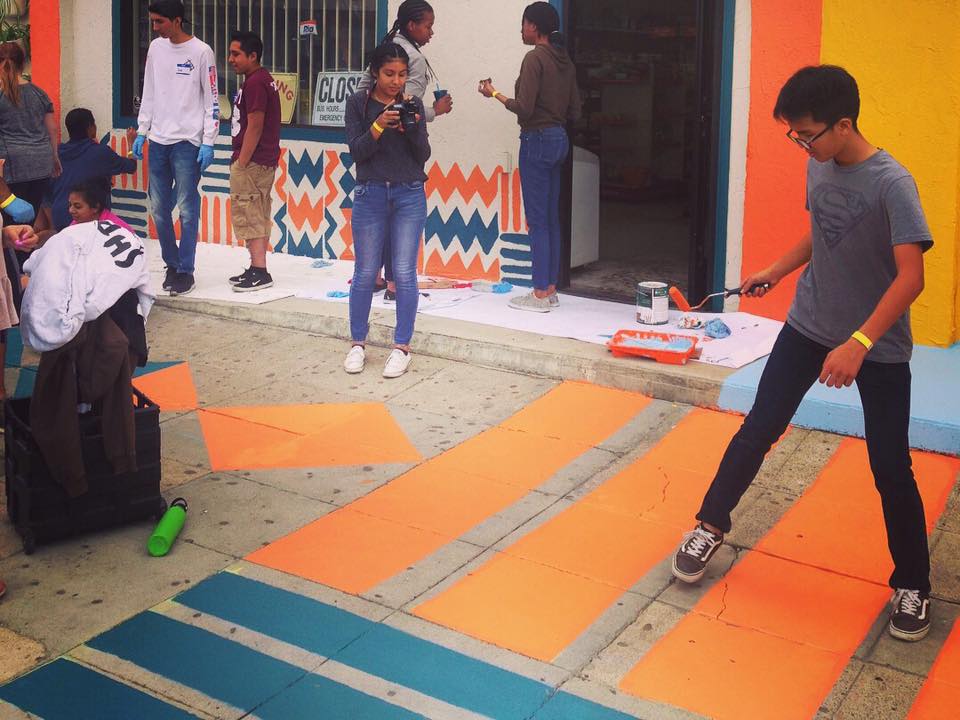 On Sunday November 12th, 2017, the Live Well Community Market Program team implemented a complete market makeover at African Caribbean Market on El Cajon Blvd in City Heights. There were 65 volunteers present along with market owners Christian and Grace Bempong, and stakeholders including the El Cajon Boulevard Business Improvement Association.  The project included stenciling and painting the façade of the market and interior back wall, planting new landscape greenery, and building benches.
This project engaged small businesses and residents together to improve the market and beautify a small section of El Cajon Blvd. It also supported the creation of social gathering spaces in front of the market and adjacent beauty salon to create a more welcoming look and feel to a neglected area of the block. It is the hope that these improvements increase small business patronage, particularly related to accessing good affordable food in City Heights. Additionally, this project contributes to maintaining City Heights' rich culture of diversity and helps to promote El Cajon Boulevard as a green, walkable/bikeable, and economically thriving small business corridor.
Special thanks to our UCSD CCH Community Health Specialist, Kate Mahoney, and our Director of Urban Food Environments, Elle Mari, for leading the charge on this community building project! 
African Caribbean Food Market – 4811 El Cajon Boulevard
---
Urban Life Cafe Holiday Party – Eat, Drink, Be Merry!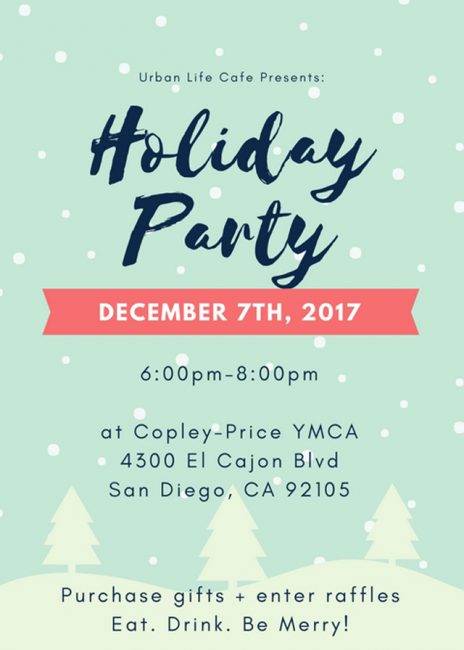 ---
Mobility Study Progress
In response to a request from community members, The Mid-City Community Parking District contracted with Linscott Law & Greenspan, a local transportation planning firm, to create a Bicycle Accommodation Plan for El Cajon Boulevard (west of Highland) and 30th Street (Upas to Adams.)

Design guidelines include no net loss of parking. Any loss in parking will be mitigated on side streets. The implementation should also cause minimal negative impact for business owners and residents.

Project Goals:
Instill economic revitalization

Ensure safe and friendly streets

Increase pedestrian activity

Advance transportation choices

Increase parking options
Preliminary designs have been developed and a survey was conducted to see how people get to El Cajon Boulevard and 30th Street and what changes they would like to see. The design and survey results were presented to a focus group consisting of El Cajon Boulevard Business owners. This is the first step in a series of outreach efforts to get feedback from the community on possible changes.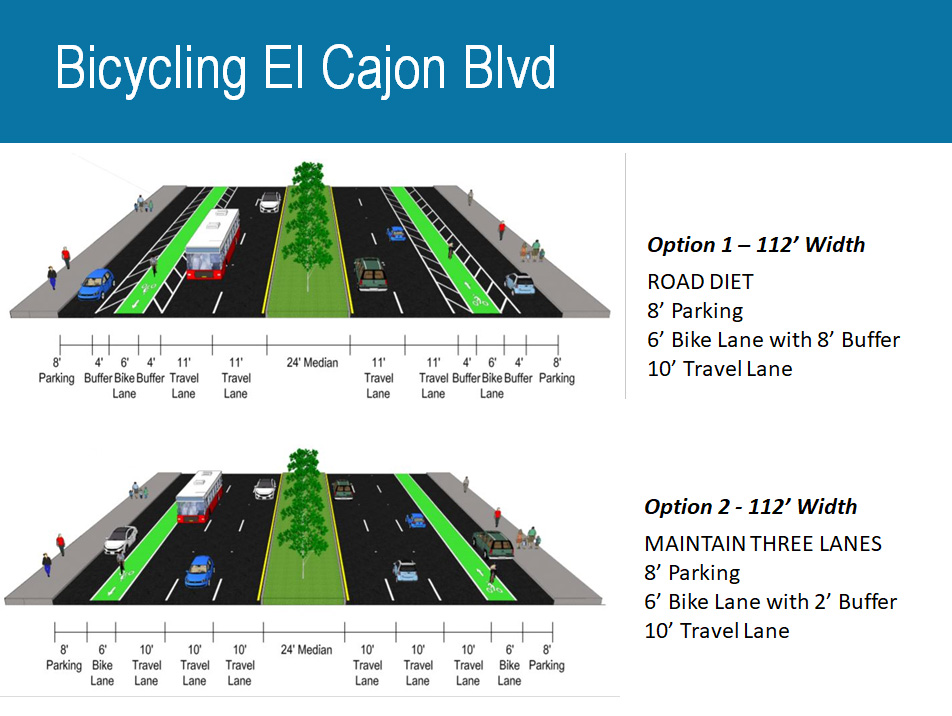 Two cross-sections were developed for El Cajon Boulevard. One involves removing one lane and the other will decrease current lane widths. No parking would be lost in either plan.   
The consensus from the focus group was that speed is a huge factor on El Cajon Boulevard and infrastructure is needed to make it a safer street. Everyone was in favor of removing a travel lane and adding bike infrastructure. There were differing opinions on where the bike lane should be (next to sidewalk or between the parking and travel lane.) There was also a question whether angled parking could be included on certain sections of the corridor. Many participants pointed to the opportunity coming with all the new residents that will be moving onto The Boulevard and expressed the need make the area more walkable.
North Park Main Street and Adams Avenue Business Association are currently conducting focus groups as well.  The next step in the process is to continue outreach and develop a survey that will be distributed at local businesses. Once community listening is completed, the feedback will used in developing a final design.
---
 Trashy Hour
The Homebrewer & Home Brewing Co (both at 2911 El Cajon Blvd) have been hosting a monthly trash pickup in an effort to keep our sidewalks sexy and safe.
"Trashy Hour" begins at 
10am
 on the last Sunday of the month. Staff members and volunteers split into groups of 3-4 and make there way down the side streets, alleys, and boulevard collecting trash.
They are out for only 20-30 minutes before they return to Home Brewing Co for $3 pints. "public service has never been so thirst quenching," says owner and volunteer, George Thornton.
There is plenty of work cut out for the team. "Each week every volunteer collects a nearly overflowing bag of trash in just about 20-30 minutes."
---
SALSA SABADO CONTINUES YEAR ROUND AT FAIR@44
Salsa, Cumbia and Bachata were a hit all summer long at the Fair@44.  Thanks to our partners at Melomano Entertainment and Dance who remain committed to providing a FREE event that brings together local community members and dance enthusiasts alike, Salsa Sabado will remain as a signature event of Fair@44 year round.
Group Lesson Info:
At 5pm, a 45 minute lesson will be taught by Patrick and Diana, Directors of Melomano Entertainment and Dance. No experience, no partner necessary. Come learn to dance Salsa – FREE!!
The next event is on Saturday, December 9th! This is a FREE event.  Bring your FAMILY, bring your FRIENDS, and Let's Dance!!
---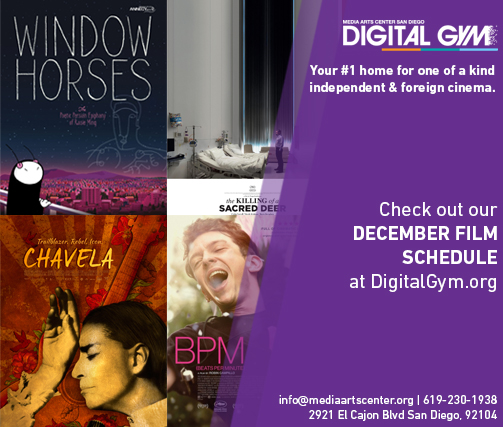 ---

Collins & Coupe
Collins & Coupe has something for everyone! Gary is very helpful and thoughtful, their collection of Champagne glasses (coupes) is to die for, die in a good way obviously!  Check out the juke box, we really enjoyed selecting music as we shopped. Really wonderful store, I brought home a bottle of passion fruit bitters which took my mimosas to an insane next level, I kid you not!
We also purchased scotch glasses for a friend for xmas, the store is gorgeous, stepping into the store is like a little time machine when everything was effortless, super cool and simple yet elegant in a rustic and vintage way.
GO here now, GO GO!!!
Click here for more yelp reviews.