Civic Communities New Markets Tax Credit and Community Impact Loan Program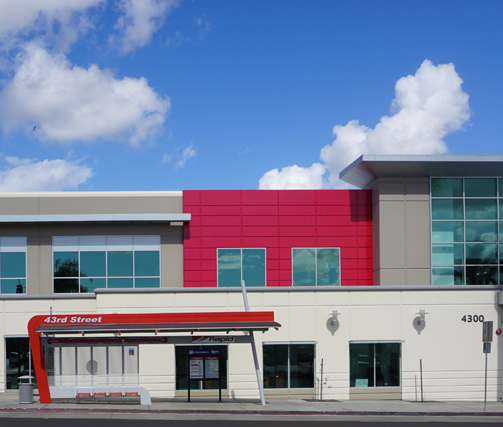 Civic Communities is an important partner of the El Cajon Boulevard Business Improvement Association and has been crucial in bringing investment onto The Boulevard. New Market Tax Credits have made a number of projects possible in this community, including the Copley-Price YMCA and Momentum Learning at 37ECB. Civic Communities has also made equity investments in much-needed housing projects in the district, like 4223 Kansas.
Community Impact Loan Program
The Community Impact Loan Program provides financing for housing or community facility projects in San Diego County, focusing on low-income communities.
Typical Loan Uses:
Acquisition, predevelopment or construction financing for projects that provide community benefits such as business incubators, community centers, child care facilities, supermarkets, affordable housing, and mixed-use projects.
May include new construction, rehabilitation, and tenant improvements.
Operating capital loans for business or non-profits that provide community service or create jobs.
Loans will typically be structured as stand-alone debt or as gap financing between a bank loan or owner equity.
To learn more contact: Michael Lengyel, Executive Vice President, Lending & Investment, lengyel@civiccommunities.com or (619) 533-7158
New Markets Tax Credit (NMTC) Program
The New Markets Tax Credit (NMTC) Program is a federal tax credit program that promotes investment in businesses and community facilities located in low-income communities. In exchange for a qualified equity investment, pursuant to the NMTC program requirements, an investor is provided a tax credit. The proceeds of the equity investment are utilized to fund low-income community businesses located in qualified low-income census tracts.
New Markets Tax Credit Program
Civic's New Markets Tax Credit Program provides below market financing with flexible terms to support high impact community projects located in underserved neighborhoods.
Targeted Investment Requirements
For-profit or non-profit entities are eligible
Total project cost in the $8 – $20 million range (New Markets Tax Credit equity typically provides about 20% of the projected cost)
Funding is for real estate development or to support ongoing operations
The balance of project financing has been identified
Site control and entitlements are already in place
Project needs to provide a strong community benefit, including job creation
Project has a local community support
Eligible Communities
Projects located in highly distressed areas that generally have at least one or more of the following characteristics:
Poverty Rates greater than 30%
Unemployment rates at least 1.5 times the national average
Median income less than 60% of area median income
Other distress factors such as designated food deserts or medically underserved areas
Much of El Cajon Boulevard includes Census Tracts eligible for funding.