Kansas Street Pedestrian Crossing
---
Pedestrian collision data shows El Cajon Boulevard at Kansas Street intersection is one of the most dangerous in North Park. In 2016 Abera Kebede Tura died crossing El Cajon Boulevard at Kansas Street. This is just one incident in a slew of pedestrian and auto collisions and near misses that get reported to us frequently by residents and business
owners in the area.
The project started in 2014 when the Mid-City Community Parking District selected local firm KTU+A to create the West End Traffic Calming, Walkability and Parking Study. After examining accident data and feedback from the community, it was clear that safety improvements to wee needed to create of a more pedestrian friendly environment. A crossing at Kansas Street and El Cajon Boulevard was one of the projects that came out of the study that rose to the top of the list. Early efforts to establish the crossing were stymied by outdated city crossing standards.
Tragically, in September of 2016, Mr. Abera Kebede Tura, a leader within San Diego's Ethiopian community, was hit by a car and died while crossing El Cajon Boulevard as he was leaving Awash Market, a gathering place of San Diego's Ethiopian community.
The following February a celebration of Mr. Tura was held. Circulate SD joined by Councilmember Chris Ward, the El Cajon Boulevard Business Improvement Association, and friends and family members of Mr. Tura's to celebrate his life and discuss how future tragedies at the same intersection can be prevented.
With continued advocacy from The Boulevard/Mid-City Community Parking District, support from the community, business leaders, Circulate SD and Councilmember Ward, the City's engineers reevaluated the crossing and Mayor Faulconer's office allocated funding for the project.
This project was eventually placed on the City's CIP list and just recently went into the design
phase. City Council approved CIP project B-19060 to provide a traffic signal, including a
pedestrian crossing, at the intersection of El Cajon Boulevard & Kansas Street. The project is
fully-funded and there are two designs that will allow for safe pedestrian crossing across El Cajon
Boulevard.
In 2021, early phases of the final design stage began on the intersection. The Boulevard/Mid-City Community Parking District worked with City of San Diego engineers to develop two alternatives that went through a community outreach process for final selection.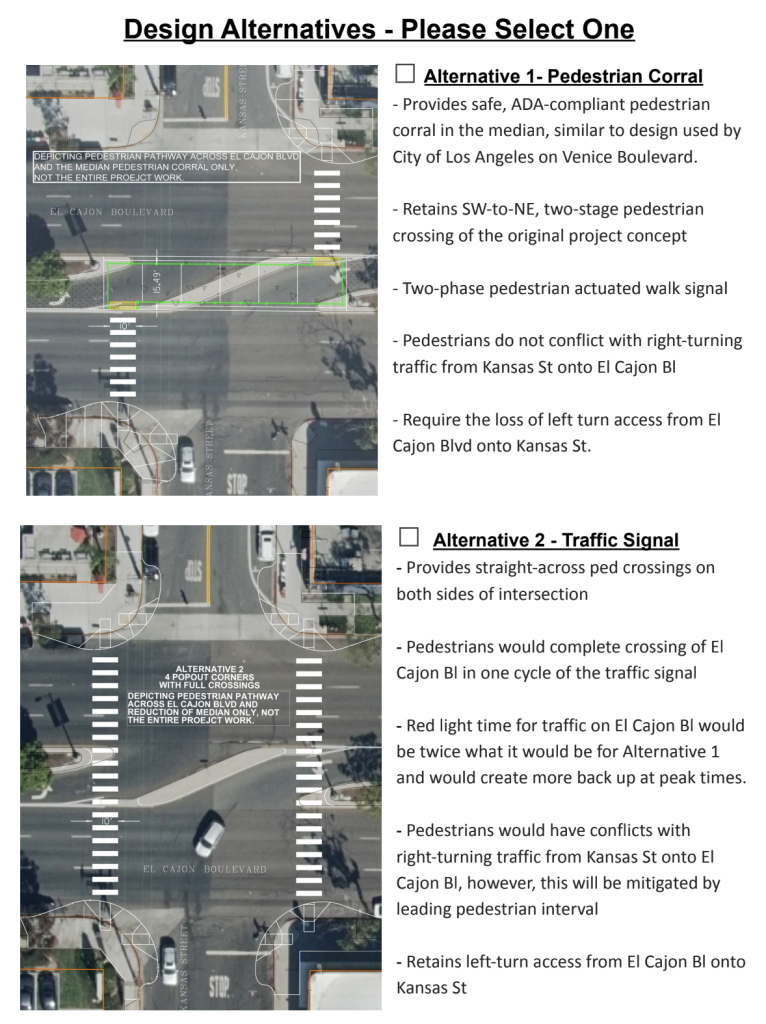 After multiple meetings, emails, visits to area businesses, Alternative 2 was selected. The configuration will preserve left turn access into Kansas Street, provide safe pedestrian phases for crossing El Cajon Boulevard, and retain the S-median and right-turn-only for traffic exiting Kansas Street. The new traffic signal will be coordinated for safe and efficient flow with the nearby signals on El Cajon Boulevard at 30th Street and at Utah Street, and it will be incorporated into the bus priority system for MTS Route 215.
The final design phase will likely take over a year, with bid and award taking four months and then construction. The project is currently with Public Works. The details of the CIP project can be found here.