---
Boulevard Transit
El Cajon Boulevard is served by a multitude of transit lines, including two rapid and three local routes.
---
Mid-City Rapid
Mid-City Rapid 215 is a limited-stop transit service between San Diego State University and Downtown San Diego along El Cajon and Park Boulevards.
The stops in the district are at Park Blvd, Texas St., 30th St., 35th St., Boulevard Transit Station at SR-15, 43rd St, Winona Av, and 54th St.
Schedules are available here
DESTINATIONS
• San Diego State University
• El Cajon Boulevard
• Hoover High School
• The Boulevard Transit Plaza
• Balboa Park
• San Diego Zoo
• City College
---
Centerline Transit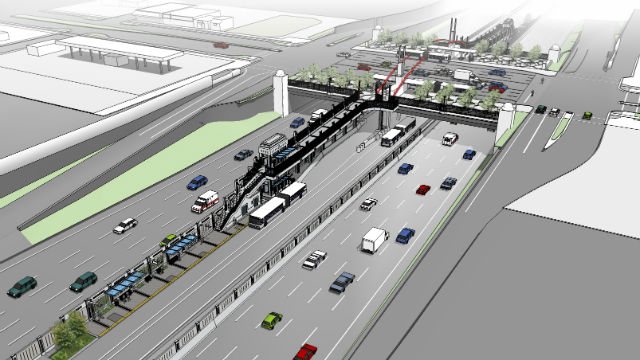 The Rapid 235 bus runs along the I-15 Express Lanes. It includes a stop at the Boulevard Transit Station at SR15.
The Boulevard Transit Plaza at El Cajon Boulevard and SR15 serves as a transfer point between Rapid 215 and Rapid 235, enabling Mid-City area residents to easily get to job centers along the I-15 corridor. This connection provides easy access between Mid-City and stops in Kearny Mesa, Mira Mesa, Sabre Springs, Rancho Bernardo, Del Lago, and Escondido.
The Mid-City Centerline Rapid Transit Stations project includes San Diego's first freeway-level transit stations along State Route 15 (SR 15), at University Avenue and El Cajon Boulevard.
Schedules are available here
DESTINATIONS
• Del Lago Transit Station
• Rancho Bernardo Transit Station
• Sabre Springs/Peñasquitos Transit Station
• Miramar College Transit Station
• Kearny Mesa Transit Center
• Boulevard Transit Plaza
• City Heights Transit Plaza
MTS also offers local service in the district.
This includes:
1 Hillcrest – Grossmont Transit Ctr.
2 Downtown – North Park (The beer bus)
---
Civic Leaders Celebrated the Completion of a THREE-MILE DEDICATED BUS LANE ALONG EL CAJON BOULEVARD WHICH IMPROVES TRANSIT SERVICE & REDUCES CONGESTION, SANDAG & LOCAL BUSINESSES OFFER FREE RIDES AND DISCOUNTS
With the goals of improving regional transit and reducing pollution, Mayor Kevin L. Faulconer, Metropolitan Transit System Chairman Nathan Fletcher and civic leaders celebrated the completion of the new Boulevard Bus Way – a three-mile stretch of dedicated bus-only lanes along El Cajon Boulevard that will speed up service and increase usage of a transit corridor that serves over 10,000 passengers daily.
This important commercial and transit corridor – between Park Boulevard and Fairmont Avenue – connects some of San Diego's oldest urban neighborhoods. The project's goals are to reduce traffic congestion, increase ridership and slash greenhouse gas emissions.
The project was featured on the Mass Transit website.
---