Greetings Mural #30ECB
---
"Greetings from San Diego"  #30ECB Postcard Mural
Artist, Victor Ving, and photographer, Lisa Beggs, are on a cross-country road trip in a RV creating interactive murals that will become future landmarks. The 'Greetings Tour' seeks to create public art that will capture the pride of local residents for their hometowns and spark the interest of visitors and tourists. The two artists have been traveling select cities throughout the United States since April 2015, painting murals inspired by vintage large-letter postcards.
Through the support of Jason Lee, Gym Standard, The El Cajon Boulevard BIA and Belching Beaver, the Greetings Tours was able to secure a great wall for their picture perfect San Diego mural at the center of 30ECB, on Belching Beaver's side wall.
The process for Victor and Lisa from the Greetings tour starts by asking some locals for advice on what to paint into the letters. One of their favorite concepts (from Jason Lee) was a tribute to the skate culture with an iconic photo of Matt Hensley doing an ollie under the 805 (SD) freeway. San Diego local, Persue was also included as a guest artist who incorporated his well known "Bunny Kitty" into the "I" of the Greetings from San Diego mural.
One of the more highly recommended elements was a dedication to Chicano culture, so  they included the flags of the United States and Mexico side by side.
To cover the long list of miscellaneous supplies such as scaffolding, bucket paint, brushes, etc. artists set up a postcard stand and sold vintage large letter cards!  The El Cajon Boulevard BIA was also able to support the efforts of the mural by contributing funding on behalf of a preexisting Mural Program that is in place to spur more art throughout the district.  A huge thank you  goes out to Victor and Lisa for driving all the way to San Diego and gracing #30ECB with an incredible Greetings From San Diego mural!
---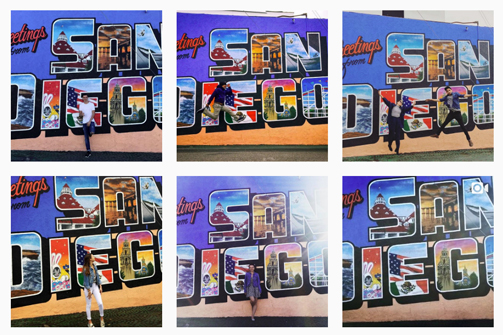 The mural has been a popular Instagram spot.