Boulevard News – August 2017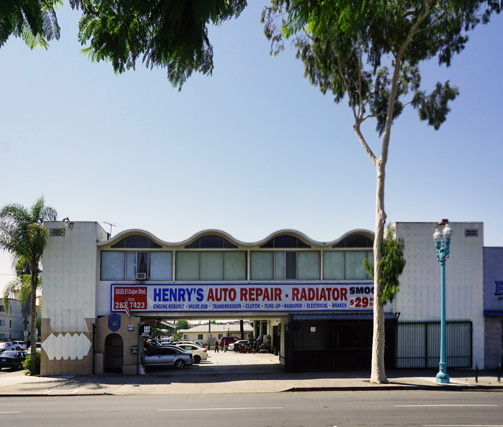 Henry's Automotive and Radiator Repair Connects to Solar Energy
Henry's Automotive and Radiator Repair now operating at 3035 El Cajon Boulevard, actually had its start or beginning just 1 block away at the corner of 30th and Howard in the city of San Diego 29 years ago.
Back then in 1988, a young man, Hoa Tran (AKA Steven), after finishing a 4 year mechanic apprenticeship program decided to open up his own auto repair business with his then new wife Tuyen Phan (AKA Twin) on the southwest corner of 30th and Howard.  The business was known as 'Henry's', and it quickly became the "Go-To-Place" for good quality, reasonably priced auto repair in North Park.
Henry's, with a rapidly growing base of happily satisfied customers needed a larger facility to better serve the needs of the growing community and therefore after only 8 short years, 'Henry's' at Howard had to go and grow.  At that same time Great Western Bank decided to sell its branch location at the corner of El Cajon Boulevard and Ohio Street, and the rest, as they say, "is history".
The Great Western Banking facility was formerly and originally built as a community banking branch of Silvergate Savings and Loan, which was later bought out by Great Western Bank.  The building and surrounding property was then purchased in 1996 by investors who, in order to move forward with their investment, needed a long term tenant ready and willing to enter into a long term lease.  That's when a young man, Steven, and his new bride Twin, representing Henry's Automotive stepped up to become that tenant, 21 years ago.
21 years ago the banking facility required a complete remodeled conversion, and an additional expansion and construction of a new fully modernized 4 bay high-rise automotive repair building to fully maximize the garage facility into the automotive center it is today.  That conversion and remodel was only made possible through the efforts of, then City Councilmember Christen Kehoe and her Administrative Assistant Toni Atkins.
Today Henry's Automotive and Radiator Repair is a complete full service automotive garage capable of servicing essentially anything and everything rolling on wheels.  Henry's Automotive and Radiator Repair has been rendering superior automotive service to the many residents of North Park and the surrounding area for years and has proven to be a value added member of the many business's along El Cajon Boulevard, one of which is always adapting to the changing needs of a bustling and growing community.
In an effort to modernize and adapt to the changing needs of our community, the latest improvement benefiting both the environment and the community has been the recent construction and addition of a new 92 paneled eye-brow solar array.
The new Solar Array has proven to be the right move at the right time, made possible only by the cooperative and collaborative efforts of city staffers, the owners of the property and the experts at Golden West Energy, the contractor selected to construct the new Solar Energy Array.
In conclusion, "Our electric meter now runs backwards, as our business continues onward and upward!"
Henry's Automotive and Radiator Repair:
---
Small Business Access to Capital Program – Exciting News!
We're happy to announce that two Boulevard Small Businesses have been funded in August!
El Borrego received a loan from the Small Business Finance CDC. Now they can build out their backyard into a beautiful garden patio and event space. Mother and daughter duo, Rosario and Rodnia opened their family business on the Boulevard 12 years ago with a mission to give San Diegans a place to experience a piece of their culture. The coming expansion will allow them to extend their novelty to an even larger audience who will be charmed by the quality of their dishes and the atmosphere they provide.
A funding celebration  was held in the future events space.  Click here to see photos of the event or  Facebook to watch it live, or drop in for a great meal – 4280 El Cajon Boulevard.
Most recently, Lili of LK Fashion Boutique received a KIVA loan to expand her inventory and bring her San Diego based fashion brand to the next level. Thank you to all the community members that helped to fund the loan she received from KIVA, a site where new small businesses can crowd source loans that banks are unable to provide. Her shop LK Fashion, located at 5285 El Cajon Boulevard, specializes in long-lasting custom and ready-made apparel using waxed cotton in colorful African prints.
SALSA SABADO BRINGS OPEN AIR DANCING TO FAIR@44
Every 2nd and 4th Saturday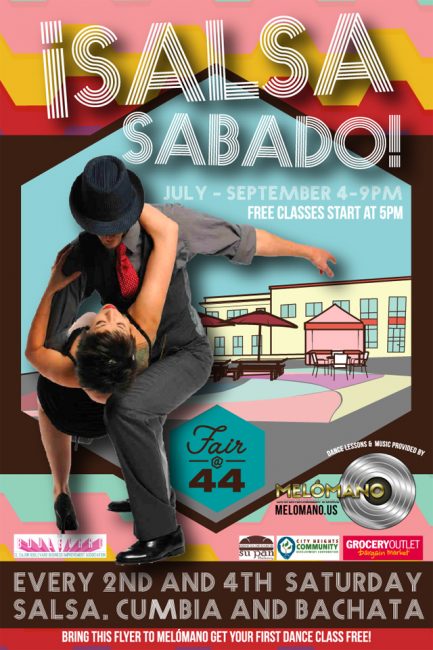 Salsa, Cumbia and Bachata are taking over The Boulevard for the summer, and the next event is on Saturday, September 9th!
Group Lesson Info:
At 5pm, a 45 minute lesson will be taught by Patrick and Diana, Directors of Melomano Entertainment and Dance. No experience, no partner necessary. Come learn to dance Salsa – FREE!!
This is a FREE event.  Bring your FAMILY, bring your FRIENDS, and let's dance!!
Facebook: fairat44
Instagram: fairat44
---
 Trashy Hour
"Trashy Hour" begins at 
10am
 on the last Sunday of the month. Staff members and volunteers split into groups of 3-4 and make there way down the side streets, alleys, and boulevard collecting trash.
They are out for only 20-30 minutes before they return to Home Brewing Co for $3 pints. "public service has never been so thirst quenching," says owner and volunteer, George Thornton.
There is plenty of work cut out for the team. "Each week every volunteer collects a nearly overflowing bag of trash in just about 20-30 minutes."
For dates and info visit:
---

African Caribbean Food
Great selection of west African products, including shito, kenkey, fufu, palm oil, and gari. If you are looking for hard to find items for preparing dishes or miss some of the typical food from home, this is a good place to stock up. They usually have a nice selection of plantains that are better than most grocery stores. Of course most everything is imported so be prepared to spend some $ if you need a lot of stuff.
Click here for more yelp reviews.