Boulevard News – May 2017
Happy Battle Surf Co
Mark Polintan grew up on his grandparents' pineapple farm in Tarlac City, Philippines. At a young age, his parents reminded him that 'life is a battle, and to remain happy'. Retaining this philosophy on life has allowed him to stay measured, and reach many of the goals he aspired to. This philosophy resonated with him as he was developing the brand for his new business, Happy Battle Surf Co.  The pineapple logo he selected symbolizes the hard work he continues to tackle, with gusto.
Growing up in the Philippines, Mark would spend time visiting his family in Ilocos Norte, a popular surfing destination. He and his cousins enjoyed boogey boarding, since going out and buying a surf board wasn't an option, Mark and his peers would attempt to make them out of wood scraps. Here and there, surfers from abroad would leave their boards behind, which enabled locals to evolve into surfers. Mark was only able to surf one day a week, when it was his turn with the board. Now, to give back, Mark partners with Returning Wave, a San Francisco based non-profit that sends used surfboards to schools in the Philippines.
After graduating High School, Mark moved to New York City and went on to get his Bachelor's degree in accounting. After living in the City as an accountant, and taking advantage of the limited surfing out in Rockaway Beach for more than 10 years, Mark felt his life became too routine. For a change of pace, he and his wife decided to relocate to San Diego in 2012.
Connecting his passion for surfing with his expertise in accounting, Mark was able to find work as a bookkeeper for local shapers in San Diego. He quickly noticed his client's boards would often sit in a surf shop for months, not selling. Mark's appreciation for the boards enabled him to see a potentially untapped market for the boards and decided to take on a new role as a salesman.
He began by selling his client's surfboards online.  As he imagined, the demand was strong, and pretty soon his storage unit didn't cut it. On a journey to find a larger warehouse, he kept passing by the corner building at Winona and El Cajon Blvd, noticing the empty storefront. Having previously been occupied by an iconic business, Trophy Motorcycle's, Mark saw an opportunity once again, and last June he opened the doors for his new business, Happy Battle Surf Co.
Happy Battle Surf Co proudly specializes in surfboards crafted exclusively by local shapers. Not only has he widened the market for the shapers in San Diego, he has also expanded their reach internationally. Mark sells many of the boards abroad, with a noticeable consumer base in Japan. Recently, he has extended his own brand, creating fins and accessories for a day at the beach. Even if you're not a surfer, it is a pleasure to get to know local business owners as friendly as Mark, who will gladly welcome anyone into his chill, island vibe surf shop.
Happy Battle Surf Co – 4958 El Cajon Boulevard
---
Kiva Lending on The Boulevard
DAM Park SD, The Boulevard's first business member seeking access to capital through KIVA is now live, and they need our help spreading the word.  KIVA is a world-wide micro financing platform that relies on crowd sourcing for their zero-interest small business loans. They have a history of sparking economic development, by offering entrepreneurs access to their attainable loan platform to start their business. Since 2005, KIVA has lent $986.9 million to 2.4 million borrowers with a 97.1% repayment rate.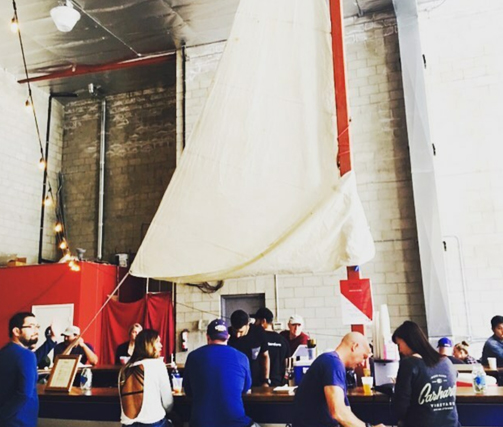 Driven by their "Lift One to Lift Many" philosophy, KIVA values the ripple effect to the communities where their loans are given. Speaking to this, when DAM Park SD opens their doors, they will benefit many Boulevard businesses by drawing North Park patrons further down the Boulevard. Furthermore, they will offer a space for small retail and food businesses, and increase economic opportunities for multiple small business members.
DAM Park SD has 12 days left to be fully funded, and every dollar funded will be matched by the Local Initiatives Support Coalition (LISC). Please consider becoming a lender yourself. Keep in mind, your contribution through KIVA will be paid back within 18 months.
You can support them here: https://www.kiva.org/lend/1286001
---

The BLVD Market Goes Weekly!!!
Our neighbors wanted more! The BLVD Market, San Diego's Original Foodie Market, which has been a monthly feature on The Boulevard in North Park for over two years, is ready to become a lot more; four times more! Fans of artisanal food, handcrafted products and local entertainment can now get their weekly fix every Friday night at the corner of El Cajon Boulevard and Utah Street.
The BLVD Market is a great way to kick-off the weekend and meet up with friends and neighbors. Enjoy fantastic food, listen to live local music, themed dj'd sets, local crafters and shopping around #30ECB, all just a bike ride away for residents of San Diego's cool urban neighborhoods.
The sampling of food is global! Chefs feature their regional cuisine from Hawaii to East Africa, and Belgium to South America. There are a lot of vegetarian options too.  Warm late afternoons give way to gorgeous sunsets, and as the night wanes, foodies will have the option of winding down with coffee and dessert, or revving up by making their way around the #30ECB hub, where there's always a great art event at Gym Standard, independent film screenings at the Media Arts Center/Digital Gym, take in a show and cocktails at Lips and join revelers at tons of Boulevard breweries.
---
Open Every Wednesday
11:30-7:30pm – 4350 El Cajon Boulevard
A Neighborhood Gathering Place
Offering Global Cuisine from Local Vendors
Check our Facebook Page for an updated list of Vendors, Programming and Entertainment
Facebook:fairat44
Instagram:fairat44
---
Music Mob – June 4th
The 4th monthly Music Mob, presented in partnership by the El Cajon Boulevard BIA and Gig Town will provide a great line-up of live musicians at the BLVD West's brunch time venues. From 10 – 2pm, locals are encouraged to peruse the Boulevard while enjoying a lazy Sunday, full of great dining options and drink specials, accompanied by live music sets at these fabulous businesses.
---

Cruiser Taco
Yelper: The what a pig taco is so fresh and flavorful it's my new favorite! They are so nice and welcoming here and have the best service and the best tacos in north park! Definitely have to come back to this sweet spot.
Click here for more yelp reviews.