Boulevard News – July 2017
Twisted Taps & Doggus Gus
The idea for Twisted Taps sprung when Kevin and Sher began dating 12 years ago.  Although Kevin and Sher had never met, while they were classmates at both Pershing Junior High and Patrick Henry High School, an interesting twist of fate brought them together later in life. This time it was meant to be, and they soon found themselves planning countless dates, always looking for a place where Kevin could enjoy quality beer and Sher could have something tasty to eat.  After "bellying up" to many tap rooms, they noticed such establishments were far and few between. From there, they pondered the idea of filling this nitch and building their own business, creating the ambiance they sought for themselves that included a tap room and restaurant.
Three years ago they turned their idea into reality, when they founded Twisted Taps. The name speaks to the unique feature of their tap room, the rotating "Tap-Takeover".  Each "Tap-Takeover" lasts 90-120 days, and consists of one micro-brewery taking over up to 10 of the 32 taps. During the "Tap-Takeovers" they host a variety of events, such as "Meet the Brewer" nights to offer a more in depth experience of the showcased brewery.
While Kevin's love for good beer motivates him to build relationships with breweries and oversee that piece, Sher's friendly nature and desire to make people enjoy themselves drives her to maintain the in house atmosphere of Twisted Taps. Because of this partnership, they not only appeal to beer lovers, but also offer a friendly neighborhood spot for all ages to gather and socialize. After witnessing the fun locals have at their events, Sher and Kevin decided to host them more often.  Every Wednesday is Trivia night, and they regularly host creative workshops such as Paint and Vino.  In the future they will be hosting community benefit nights as well, so keep them in mind for your fundraising needs.
In searching for a perfect location, Sher has always felt that the Lafayette Hotel gave the area a magical feeling, and when she noticed the property across the street come available, she immediately called Kevin, who coincidently had been waiting to show her the spot on his computer. It had the surrounding community they were looking for, patio seating, and is within walkable distance to many residences. They followed their instinct and signed the lease shortly after.
The newest addition to Twisted Taps is Doggos Gus. Right at the time Twisted Taps was looking for someone new to run their kitchen, Gustavo, owner of a local hot dog business, was looking to grow out of pop-up Mexican hot-dog stand that he established 7 years ago.  Having been a start-up vendor at the BLVD Market and Fair@44, Doggos Gus illustrates, full circle, the business recruitment and retention strategy that pop-up markets help support.
Gustavo grew up in Mexicali, where hot dog vendors are as popular as taco stands. Coming to San Diego he noticed these cravings were not adequately being met, and he wanted to introduce San Diegans to the crowd pleasing Mexican Style Hot Dogs and aspired to be the place for Hot Dogs in San Diego. Starting at UCSD where he sold them like crazy, he quickly moved on to other markets, and last year he earned recognition from Zagat for his Bacon Wrapped Dog. While hot dogs are his specialty, his menu at Twisted Taps has expanded to other items including burgers, pizza and salads.
Twisted Taps- 2302 El Cajon Boulevard
---

Blvd Market Summer Block Party
Friday, August 18th, for the second time, Gym Standard will be taking over the #BLVDMARKETSD for some family friendly food and fun.
August's theme? TIKI, with music by Alvino & the Dwells
Location: 2855 El Cajon Blvd at Utah St, San Diego, California 92104
In partnership with Gym Standard, the El Cajon Boulevard Business Improvement Association is gearing up for The BLVD MARKET SUMMER BLOCK PARTY! The BLVD Market is a San Diego style, monthly open-air celebration of cuisine and entertainment.
---
SALSA SABADO BRINGS OPEN AIR DANCING TO FAIR@44
Every 2nd and 4th Saturday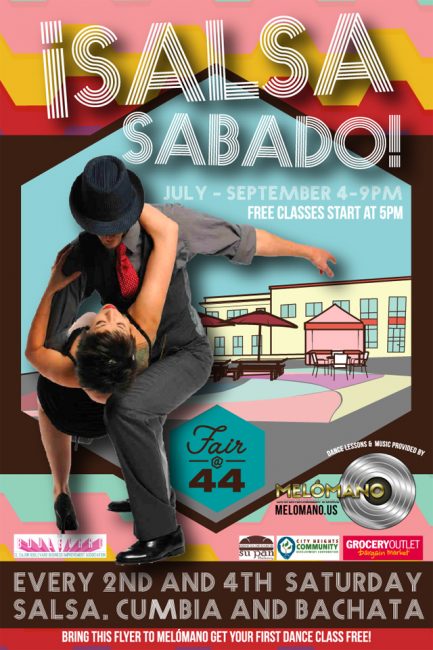 Salsa, Cumbia and Bachata are taking over The Boulevard for the summer, and the next event is on Saturday, August 12th!
FREE Salsa Group Lesson by Melomano Entertainment & Dance starts at 4 PM, alongside Fair@44's great local food vendors!!! Yum Yum Yum!!! From Brazilian BBQ to East African Cuisine, there's a lot of delicious international flavors to explore at Fair@44.
Group Lesson Info:
At 5pm, a 45 minute lesson will be taught by Patrick and Diana, Directors of Melomano Entertainment and Dance. No experience, no partner necessary. Come learn to dance Salsa – FREE!!
This is a FREE event.  Bring your FAMILY, bring your FRIENDS, and let's dance!!
Facebook: fairat44
Instagram: fairat44
---
The Boulevard Brewers Unite!
In the past 5 years, local business has been on the up-up on El Cajon Boulevard, particularly at 30ECB (30th Street and El Cajon Boulevard).  It feels like just yesterday Tiger!Tiger! opened, offering the owners of Blind Lady Ale House a second location to expand their brewing operations.  Alongside their great menu and extensive tap selection, the community was pleasantly surprised by all the customers on bicycles that were attracted to The Boulevard.
Fast-forward a few years, and there are now seven breweries that contribute to 30ECB's vibrant center.  Craft beer is helping to transform our urban communities and draw a very local customer base, which simultaneously put our city on the map as a beer capital, attracting all sorts of 'Beer Tourism'. The Brewers on The Boulevard represent this pattern well.  The coming years saw the opening of The Homebrewer/Home Brewing Co., Belching Beaver (satellite tasting room), Barn Brewery, and most recently with the opening of the CRAFT by Brewery Beer Igniter, three new breweries, San Diego Brewing Co, Pariah, and Eppig Brewing.
Inspired by this growing number, local brewers agreed that working together as a collective can lead to great possibilities, and pulled together a meeting to plan their first initiative at the BLVD Market in July.   With their collective buy in, the brewers organized a hyper local craft beer experience, which entailed a flight of IPAs from six of the seven Blvd Brewers.  Over 150 flights were served, and beer sold out before 9pm.  Everyone was excited by the turn-out, customer feedback, and collaborative camaraderie.  With that, the brewers are energized to build on their partnership at the BLVD Market, and work together on other initiatives that bring people to 30ECB for an expansive craft beer experience.
---
Folk Arts 50th Anniversary Party!
On July 31, 1967, Folk Arts Rare Records was born at 3753 India St. here in San Diego. It was started by Louis F Curtiss and two partners. The partners lasted 9 months. Lou Curtiss ran this shop for a total of 47 years! We plan to host a more ambitious celebratory event later this year as Lou's health improves.
Please join us on the date of the store's 50th Anniversary, as we celebrate everything that Lou has achieved and a bright future for the shop going forward. We will have multiple Julian pies & tons of local beer, all complimentary.
There will also be a one-time 15% off sale on all Blues, Folk, Jazz & Country records in the shop. This sale will last for the duration of the party from 2-8pm on the 31st. We look forward to this celebratory gathering of so many wonderful people. And I'm sure we'll have plenty of additional surprises for you on this special day.
 Folk Art Rare Records – 3072 El Cajon Boulevard
---
Fruit, vegetables and a sense of community taking root with free food park in The Boulevard
Written by Jeff McDonald, The San Diego Union Tribune
It's an idea taking root in progressive cities across the country and world: Plant fruits and vegetables in public spaces, organize volunteers to maintain the garden and provide anyone in need access to a steady supply of free food for the picking.
The so-called Free Food Movement launched its latest effort on Saturday, when business leaders and neighborhood volunteers broke ground on the newest — and largest — free food park in San Diego.
The public garden, at the northeast corner of El Cajon Boulevard and Central Avenue in City Heights, features five bathtub-sized planters and three fledgling fruit trees. Organizers hope that by fall or winter, the starts planted Saturday will bear fruit for the community.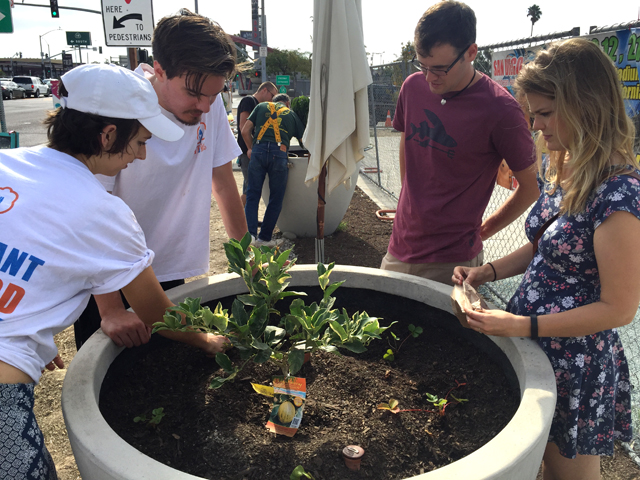 "It sounds a little crazy, but it's cool to be able to walk down the street and pick a fresh tomato on the way to the bus stop," said Kelly Colt of Eat San Diego, the community group that spearheaded the garden.
Colt, who lives in City Heights and works as a research associate on Torrey Pines Mesa, said she co-founded Eat San Diego to help build a sense of camaraderie in her adopted community.
"I wanted to make a positive change in the neighborhood," she said. "I feel like it just needs a little love and it will be a really great place. I wanted something that everyone could share because we don't really have anything like that in City Heights."
Organizers expect to produce a variety of produce, including tomatoes, peppers, broccoli and kale. They plan to adjust the offerings as the seasons progress, adding, for example, squashes in the fall.
The garden opened with assists from the El Cajon Boulevard Business Improvement District and some nearby businesses, who donated supplies and pledged to help water the garden as the weeks and months pass. Organizers tend to seek out public spaces for the free food parks so they don't have to worry about leases, landlords or unwelcome liabilities.
"They said they would relocate it, but that never happened," Tall told the two dozen or so onlookers at the ceremony. "This is an awesome project. I'm proud to be a part of it."
The Free Food Movement dates back to at least 2008, when community organizers in the northern English town of Todmorden proposed planting fruits, vegetables, herbs and other edibles at train stations, in parking lots and anywhere else they could think of.
Today there are free food parks in Seattle, Boston, San Francisco, Madison, Wisc., and Asheville, N.C., among other U.S. cities. Even before Saturday, there were a handful of tiny food parks — call them pilots — here in San Diego.
Mixte Communications in Ocean Beach planted a tiny free food park near its office on Voltaire Street, where visitors are urged to try the Okinawan spinach and tree collards.
At Folk Arts Records, the vintage music shop 10 or so blocks west of the new free food park on El Cajon Boulevard, owner Brendan Boyle stewards a garden of baby tomatoes planted outside his front door.
"I know they do get picked," he said of his bounty. "The fun part is I have some customers who are really into gardening and they ask questions and point things out. This store is a little bit of a community space here so it definitely brings a smile to some of my customers' faces."
Colt said she is still recruiting volunteers to help with the watering, no small task given she has yet to reach a deal with neighboring property owners to use an existing spigot or install a new meter.
In the meantime, she'll bring water in by hand.
"It's right along my commute, so it's not bad," she said.
---
Click here to support LK Fashion's KIVA loan.
---
Upcoming at Digital Gym 
---

Kim Do Dung Tailor Shop
Yelper: Best tailor I have used so far in San Diego. Vietnam is known for its excellent tailors, and Kim does not fall short of perfection.
She measured me for three men's dress shirts INDIVIDUALLY instead of other tailors who measure you in one shirt and use that shirt as a template for the rest. All shirt manufacturers don't make things the same size!  My three shirts fit like gloves. One was my wedding tux shirt. I'm excited to wear it!
Paid about $20 per shirt but each had two darts as well as both sleeves custom fit to my massive, hulking arms.
I will not only use her again, but definitely recommend her to all I know. I am even going to bring her an easy project of hemming living room drapes (she could probably do that blindfolded).
Click here for more yelp reviews.