COVID-19 Financial Resources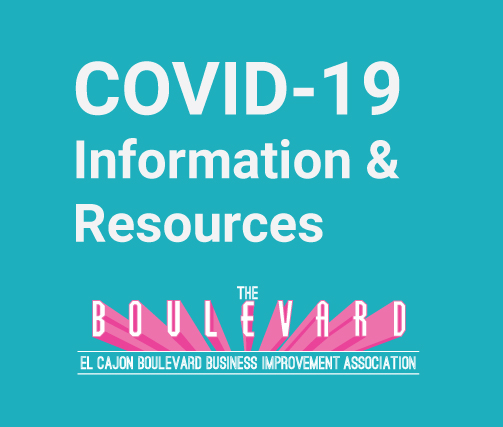 While it remains unclear how long this unprecedented situation will continue, we want to assure you that we are doing everything in our power to serve as a useful resource to you.
1. Information about the virus:
The response to Coronavirus or COVID-19 is evolving rapidly as both state and local agencies ramp up public health infrastructure and release new protocols. The best resources to stay up to date are the California Department of Public Health's webpage as well as the federal Centers for Disease Control and San Diego County Public Health.

Centers for Disease Control
https://www.cdc.gov/coronavirus/2019-ncov/index.html
City of San Diego:
https://www.sandiego.gov/coronavirus
County of San Diego:
https://www.sandiegocounty.gov/content/sdc/hhsa/programs/phs/community_epidemiology/dc/2019-nCoV/status.html
2. Financial Resources:
The economic impact of COVID-19 may be substantial, but there is no price for health and safety. We all need to be good stewards of the community and it's important to get that message to our customers. Information on what assistance is available to small businesses is listed below and will be updated as soon as we are aware of new information.
Small Businesses Access PPP Relief Again
Paycheck Protection Program (PPP) has reopened,for a 14-day period (2-24 through 3-9-21) , only businesses with fewer than 20 employees can apply for relief through the Program. Applications will be accepted until March 31, 2021. More information: sba.gov/funding-programs/loans/coronavirus-relief-options/paycheck-protection-program
California Bank & Trust is supporting the SBA PPP and businesses will be able to submit applications directly to Jeff Barger, Vice President and Business Center Manager of the City Heights branch – Direct: 619.521.4010 or Email: jeff.barger@calbt.com
State of California
California Relief Grant: On February 23rd, Governor Newsom signed into law a comprehensive package providing urgent relief for the small businesses of CA. The package provides $2 billion – a four-fold increase over the $500 million currently being distributed – for grants up to $25,000 for small businesses impacted by the pandemic, and allocates $50 million of this total for non-profit cultural institutions. The applications period will be announced soon: careliefgrant.com
Relief & Extensions for Filing Returns: Returns due between December 15, 2020, and April 30, 2021, for all but the largest taxpayers, will be extended. More information: cdtfa.ca.gov/services/covid19.htm
License renewal fee waivers to businesses impacted by the pandemic. Fee Waivers for Most Impacted Licensees for two years of fee relief for roughly 59,000 restaurants and bars licensed through the state's Department of Alcoholic Beverage Control. Fee relief for barbering and cosmetology individuals and businesses licensed through the Department of Consumer Affairs.
CA Stimulus Payments: At least $600 to those who receive the California earned income tax credit. In general, that's people who earn $30,000 a year or less. The $600 stimulus payments will also go to people who receive money from the federal supplemental security income (SSI) or state supplementary payment (SSP) programs, and 405,000 payments will be provided to participants in CalWORKS, the state's welfare-to-work program. An additional 15,000 payments are planned for participants in the Cash Assistance Program for Immigrants.
City Heights Business Relief Fund
The 3rd Round of City Heights Funding will be announced soon- LISC San Diego joined with members of the City Heights Economic Development Collaborative, including The Boulevard, to launch the fund and provide grants and technical assistance to businesses in City Heights facing immediate financial pressure as a result of COVID-19. More information can be found at lisc.org/san-diego/impact/chbrf/
City of San Diego
CARES Act Revolving Loan Program, and is now accepting applications from businesses impacted by the COVID-19. The loans, which range from $25,000-$95,000, are intended to help entrepreneurs adapt their business models to operating under pandemic restrictions, to promote economic resiliency, and to support the retention or creation of jobs. sandiego.gov/economic-development/business/financing/caresact
Cap on Third-Party Food Delivery Fees- Mayor Gloria Signs Executive Order No. 2021-1 Capping Third-Party Food Delivery Fees (GrubHub, Uber Eats, etc). This is in an effort to help local restaurants and keep food delivery options accessible to customers (Some food delivery companies have imposed fees, commissions, and service charges in excess of 30%). These apps cannot charge a restaurant a delivery fee that is more than 15% of the purchase price of each online order. The order also provides for storefront businesses to put up temporary curbside pickup parking for parking spaces immediately adjacent to their storefront. We have signs available. Please contact The Boulevard if you need one.
Mayor's Eviction Moratorium aims to protect those who are unable to pay their full rent due to the impacts of COVID-19. This applies to residential and commercial tenants. Under the moratorium, qualifying tenants cannot be evicted for unpaid rent for financial hardships related to COVID-19 accrued during the period starting this month on Feb. 1, 2021, and ending 60 days after the City's COVID-19 emergency declaration ends. Any unpaid rent that accumulates during this period and is not repaid will be converted to consumer debt.
For commercial tenants, the eviction ban will remain in effect through June 30, 2021, or 60 days after the City's emergency declaration is lifted, whichever comes first. Affected businesses would have six months from the end of the commercial eviction moratorium to make any outstanding payments. Businesses are still responsible for any unpaid rent or lease payments. Tenants and landlords are encouraged to work out repayment plans. Tenants must contact their landlords to qualify for protection.
$3,000 grants to help build decks and platforms that comply with standards outlined in the Americans with Disabilities Act (ADA): Grant funding will be allocated to qualified businesses looking to construct new decks and platforms or modify existing ones to bring them into ADA compliance. The grant program complements the City's Temporary Outdoor Business Operation permitting program launched in June 2020, which makes it easier for businesses to expand into the public right of way allowing for outdoor operations and physical distancing. Businesses were permitted to set up dining and retail space temporarily in the street, sidewalk and parking lanes if they complied with ADA and other regulations.
To qualify for grant funding, businesses must meet the following qualifications:
Be located in the City of San Diego, with loan funds to be spent at that location.
Have a valid City of San Diego Business Tax Certificate.
Have five or fewer locations.
Be independently owned and operated.
Not be a lobbying, lending, investment, insurance company, a golf course, racetrack, gambling facility, retail location selling alcoholic beverages for consumption primarily off site or a business engaged in performance or sales of products of a sexual nature.
Not be a nonprofit organization.
Be able to provide a written description articulating a plan for the establishment or modification of operations to comply, modify or improve compliance with ADA regulations.
Not be engaged in any illegal activity per local, state or federal laws, rules or regulations.
For more information on the grant program and outdoor business operations, please visit sandiego.gov/TOBOgrant
ACCION
Accion is currently administering two COVID-19 loans:
California Rebuilding Fund: Term loans from $2,000 to $50,000 for COVID-19 impact relief, Interest Rate: 4.25%. First 12 months interest-only; up to 60-month total term
Wells Fargo Open for Business Fund to support racially and ethnically diverse entrepreneurs:
Term loans from $5,500 to $35,000 for COVID-19 impact relief To use for working capital to cover rent, utilities, payroll, insurance or any other business needs due to adverse COVID-19 business impact. Interest Rate: 2.99%
Term: 36-60 mos. including first 6 mos. with no payments. A grant to cover upfront fees
No out-of-pocket costs and no prepayment penalties. Complimentary business technical assistance (and/or financial) coaching session
More information: us.accion.org/covidrelief/