COVID-19 Resources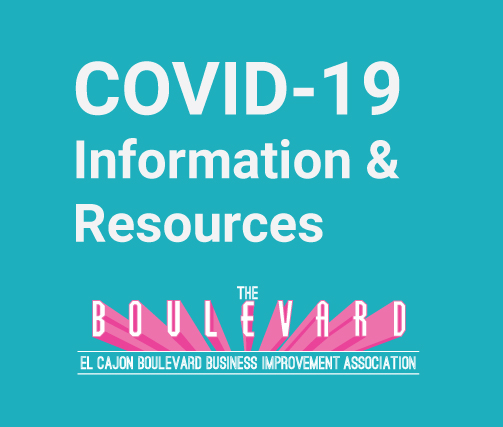 While it remains unclear how long this unprecedented situation will continue, we want to assure you that we are doing everything in our power to serve as a useful resource to you. We are all in this together.
As news of the COVID-19 outbreak reshapes our reality, there's no doubt that this is a challenging time for our community. Small businesses are particularly at risk at this time.
We want to promote your take out, gift card, and online programs. Please email that information to info@theboulevard.org or through Facebook and Instagram.
1. General Information about the virus:
The response to Coronavirus or COVID-19 is evolving rapidly as both state and local agencies ramp up public health infrastructure and release new protocols. The best resources to stay up to date are the California Department of Public Health's webpage as well as the federal Centers for Disease Control and San Diego County Public Health.

Centers for Disease Control
https://www.cdc.gov/coronavirus/2019-ncov/index.html
City of San Diego:
https://www.sandiego.gov/coronavirus
County of San Diego:
https://www.sandiegocounty.gov/content/sdc/hhsa/programs/phs/community_epidemiology/dc/2019-nCoV/status.html
2. Business Resources:
We recommend that you proactively let your customers know what you are doing to keep them and your staff safe. We are all one big community.

The economic impact of COVID-19 may be substantial, but there is no price for health and safety. We all need to be good stewards of the community and it's important to get that message to our customers. Information on what assistance is available to small businesses is listed below and will be updated as soon as we are aware of new information.
North Park resident and financial planner Anastasia Lam has put together a video overview of some of the resources listed below.
Boulevard Business SURVEY
As the Covid-19 situation impacts our community it is crucial that we collect data to assist us in our efforts to bring resources to businesses like yours. Please take a few minutes to fill out the survey that will provide valuable information on the current and future plans for your business. We appreciate your help.
https://www.surveymonkey.com/r/TK6JVYV
City of San Diego Economic Assistance for San Diego Businesses Affected by COVID-19
To ensure the resiliency of local businesses and assist in job retention, the City of San Diego has established a Small Business Relief Fund (SBRF) to provide grants and forgivable or low- to zero-interest-rate loans to eligible small businesses for working capital. Apply here:
www.sandiego.gov/economic-development/resources/relief
UPDATE:
Mayor Faulconer announced that Cal Coast Credit Union, GoFundMe and Qualcomm have each contributed $100,000 to launch a new initiative between the City, Cal Coast Cares Foundation and San Diego Grantmakers to encourage corporate partners and individual San Diegans to donate to the Small Business Relief Fund.

Eligible, unfunded applications from the City's initial effort (see below for reference) will automatically be sent to SD Grantmakers for grant funding consideration and no further action is required
Please note that some of the criteria has been modified to allow for businesses with zero employees to apply. Awards between $1000 – $10,000 will be considered.

If you have any questions, please don't hesitate to contact us or Sean Karafin at skarafin@sandiego.gov.
Tax Certificate Deferral Program: No penalties for late renewal submissions for up to 120 days and one-year forgiveness period for penalties and surcharges when reestablishing delinquent accounts.
Commercial Utility Deferral: Suspends water billing fees, removing penalties for late payments, and ensuring there are no commercial account shut-offs.
Extension of All Business Permits: The proposed extension will last for 180 days. This change will not only allow them to be open longer, but the City will be working with customers on a case by case basis.
Small Business Administration:
SBA's Economic Injury Disaster Loans
Funding has been exhausted on many of the Federal SBA programs, but a new allocation is expected shortly. We suggest you still submit an application if you haven't done so already.
https://www.sba.gov/page/guidance-businesses-employers-plan-respond-coronavirus-disease-2019-covid-19
The SBA will work directly with state Governors to provide targeted, low-interest loans to small businesses and non-profits that have been severely impacted by the Coronavirus (COVID-19). The SBA's Economic Injury Disaster Loan program provides small businesses with working capital loans of up to $2 million that can provide vital economic support to small businesses to help overcome the temporary loss of revenue they are experiencing. One page summary here.
Find more information on the SBA's Economic Injury Disaster Loans at: SBA.gov/Disaster.
| | | |
| --- | --- | --- |
| SBA Program | Small Business Need | Program Overview |
| SBA Paycheck Protection Program (PPP)Est. $350 billion allocated to program | For small businesses that need capital to cover the cost of retaining employees. | Provides cash-flow assistance through 100% federally guaranteed loans to small businesses who maintain their payroll during this emergency. |
| Emergency Economic Injury Disaster Loan (EIDL) Grants*Est. $10 billion allocated to grants | For small businesses that need a quick infusion of a smaller amount of cash to cover immediate operating needs. | These grants provide an emergency advance of up to $10,000 to small businesses and private non-profits harmed by COVID-19 within three days of applying for an SBA Economic Injury Disaster Loan (EIDL). |
| Small Business Debt Relief Program* Est. $17 billion allocated to program | For small businesses that need assistance with covering SBA loan payments. | Provides immediate relief to small businesses with non-disaster SBA loans, in particular 7(a), 504, and microloans. Under this program, SBA will cover all loan payments on these SBA loans, including principal, interest, and fees, for six months. |
California Bank & Trust is supporting the SBA Paycheck Protection Program and businesses will be able to submit applications directly to Jeff Barger, Vice President and Business Center Manager of the City Heights branch – Direct: 619.521.4010 or Email: jeff.barger@calbt.com
State of California
California Employment Development Department (EDD): https://edd.ca.gov/about_edd/coronavirus-2019.htm. It provides information on best practices for a safe work environment, resources for employees, and support for businesses through Rapid Response teams, Work Sharing, and tax assistance.
Unemployment Information:
If you have lost work or have had your hours reduced we encourage you to apply for Employment Development Department (EDD) Unemployment Insurance (UI). In California Governor Newsom has waived the one-week waiting period for benefits and is looking at expanding UI claim offerings.
For comprehensive guidance and resources about state benefits related to employment and COVID-19, we highly recommend this FAQ page from EDD.
State of California / The Governor's Office of Business and Economic Development:
https://business.ca.gov/coronavirus-2019/
California Capital Access Program (CalCAP) for Small Business
https://www.treasurer.ca.gov/cpcfa/calcap/sb/index.asp
Local Programs
South County EDC
https://www.southcountyedc.com/
No-interest loan to eating establishments. This small infusion of funds is intended to assist small restaurants to remain open and continue to provide meals during this national emergency. A one-time $5,000 no-interest loan with full repayment due on April 1, 2021. Total of 50 loans will be provided.
ACCION
Accion continues to service requests for business loans up to $100K and client support by our fully operational team working virtually while our physical offices are closed to the public.
KIVA
In addition to 0% interest and no fees, Kiva loan will have access to the following: The maximum loan is $15,000. New borrowers may access a grace period of up to 6 months.
SDG&E Payment Help:
Disconnection Moratorium: SDG&E has suspended disconnections for nonpayment until further notice.
Flexible Payment Plans: If you're having trouble paying your utility bill, please don't hesitate to call our Customer Contact Center at 1-800-411-7343 to work out a payment plan. SDG&E will waive late payment fees for business customers whose finances have been hit hard by the coronavirus.
FEMA Disaster Recovery
https://www.disasterassistance.gov/?fbclid=IwAR2-qKOfUtRKV9R-9Vn5VT21ffGpPVOiy2qvu3XNvkDOccI7or3DyIROYLU
State and Federal Taxes
Tax returns and payments extended to July 15, 2020
Rent Negotiations
Considering the current economic climate, you and your property owner may be able to work out a mutually-beneficial arrangement to help your business. A sample letter is available here.
Banners
Free Banners- Through the generosity of Dimensional Silk Screen, free banners are being offered. They're 42" x 30" on vinyl with grommets and will be printed in The Boulevard colors. Available in English and Vietnamese. Please let us know if you would like one and your preferred message (A,B,C or D). Please email us at info@theboulevard.org

---
CURRENT BEST PRACTICES
PROMOTE YOUR SANITIZING SCHEDULE
We need to make sure our customers know, see and smell this! Staff should sanitize all contact surfaces hourly or on a regular basis and advertise it. Sanitize all hard surfaces and touch-points. This includes the credit card reader, copy machine, pens, and doorknobs. Place a sign in clear view to let your customers know how often you sanitize.
GLOVES
Staff wearing gloves during their shifts is a good visual cue for customers and a reminder for staff to be extra careful, but they only work effectively if they are changed regularly.
CONTACTLESS PAYMENT
Credit/debit card and contactless payments should be the preferred method during this time. If you have a minimum for credit card usage, now may be a time to waive it. If you handle cash, please make sure to use a sanitizer and provide one for your customers near the register. They will notice and appreciate the effort.
SELF-SERVE ITEMS
Eliminate self-serve utensils, napkins, water, milk, sugar and honey. Have your staff provide these upon request. Politely explain to your customers the reasons behind this move and they will appreciate the proactive effort.
SANITIZATION STATIONS
Have hand sanitizer and disinfectant wipes readily available and VISIBLE for folks to wipe down their laptops, phones, and other objects.
HAND WASHING GUIDES
Upgrade and prominently display the hand-washing sign in your bathroom. Make sure the sign clearly demonstrates how to thoroughly wash one's hands.
SICK LEAVE
Remind staff of the paid sick leave policy at your business. No one should be coming in sick. Individuals who are unable to work due to having or being exposed to COVID-19 (certified by a medical professional) can file a Disability Insurance (DI) claim: https://edd.ca.gov/Disability/How_to_File_a_DI_Claim_in_SDI_Online.htm/t_blank

ORDER AND DELIVERY OPTIONS
If you haven't already done so, consider setting up deliveries or use existing delivery services. Encourage your customers to call in an order or order online if possible.