Boulevard News – September 2016
City Heights Coffee House
Sterling and David Tran, residents of City Heights who are actively looking to support the community, recognized that while the neighborhood prides itself on its diversity, it still remains rather segregated.  In an effort to serve their fellow neighbors, they began looking for a solution that could breed integration. They found the two distinct places where people of diverse backgrounds do come together in City Heights are on the soccer field and in cafés.
With Sterling's previous experience working at a variety of local coffee shops, including a well-rounded barista training from Bird Rock Coffee Roasters, the decision was made that they would pursue a café micro-enterprise that stimulates social engagement.  Based on her experience, she explained that once people gather in a café, they feel relaxed, and regular customers and co-workers create a sense of family.  With a shortage of cafés in City Heights, they went ahead and developed a non-profit that supports the upstart of a new café called City Heights Coffee House.  By bring together a great group of board members who represent City Heights, and third partner, Lonny Cheuk, the non-profit set out to intentionally bring people together of diverse backgrounds, and support low-income residents with employment opportunities and financial independence.
Initially, they started their micro-enterprise by serving coffee at the City Heights Farmer's Market.  Simultaneously, through a Take Back the Alley effort at Fairmount and El Cajon Boulevard, owners of the Humble Heart, a second hand shop shared interest in converting their back parking lot into an outdoor café.  The opportunity to transform this space excited students at High Tech High Chula Vista, who were seeking a project that put their newly acquired architectural skills into practice.  By May of 2016, a year after the initial Take Back the Alley project, Sterling and Dave signed a lease with the Humble Heart as students and fellow volunteers from the community gathered to implement the student's café designs.
With a beautiful outdoor space, Sterling and Dave succeeded in getting the appropriate permits, and opened shop in August.  Immediately, people began trickling in through the alley, pleasantly surprised by their new City Heights Coffee House.
City Heights Coffee House – 4323 El Cajon Boulevard
---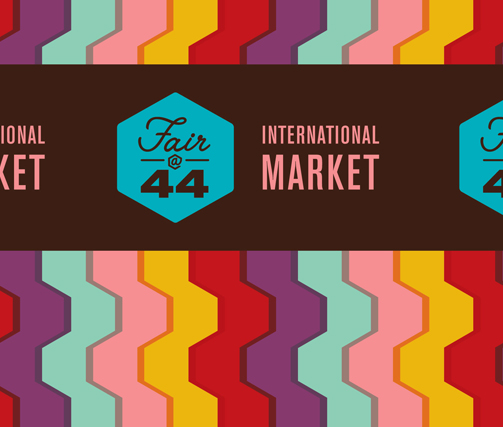 Fair@44 Launches!
Fair@44 is the space where micro-entrepreneurs leverage success, communities find unity, and a decade-long vacant lot transforms into a long-awaited marketplace.  Fair@44 is an open-air international market that will launch October 5th at the lot adjacent to the Copley-Price YMCA in City Heights (4350 El Cajon Boulevard). The market will feature food and craft vendors who reflect City Heights' diversity. Initially, Fair@44 will open weekly, every Wednesday for lunch from 11:00am-3:00pm and dinner from 4:30pm until 8:30pm. By early next year, the intent is to have a daily market.
The community will enjoy a host of programming at the colorful plaza from a wide range of community groups. Free Zumba classes sponsored by the YMCA are scheduled every Wednesday from 4-5pm. The Karen Organization's performance team will share with attendees dance and music from Burma, and much more.  Fair@44 will feature a continuum of micro-entrepreneurs at different levels of business growth. Some kiosks will house entrepreneurs that will be making their business debut at Fair@44. These start-up business owners are being supported by entrepreneurship programs at La Maestra and the International Rescue Committee. Other kiosks will house growing and established entrepreneurs that sell a diversity of prepared food at markets throughout San Diego including dishes from Cambodia, Salvadorian pupusas, and Jamaican jerk chicken.
One of the main goals of Fair@44 is to incubate business. Within a central, vibrant location where collaboration is key, it is a place for business owners of City Heights' informal economy to find practical support where they can formally set their business up for success. For growing and established businesses, Fair@44 will fill the gap in their weekly schedule by providing a supportive community of customers, where they might choose to anchor their business within the near future. For residents in the neighborhoods surrounding Fair@44, and the abundance of YMCA member's driving in and out of the community, this weekly open-air international market can serve as a space to support and engage each other while enjoying delicious food, craft and lively entertainment in a once vacant space hungry for community love.
Fair@44 is made possible in partnership with the City Heights Economic Development Collaborative; a collaboration between City Heights Community Development Corporation, El Cajon Boulevard Business Improvement Association. Karen Organization of San Diego, City Heights Business Association, International Rescue Committee San Diego, Media Arts Center San Diego, LISC San Diego, and Horn of Africa. Fair@44 would not be possible without the support from Price Philanthropies who welcomed this temporary use while focusing on a long-term community development plan for the lot, along with funding provided by the Kresge Foundation and Fresh Works, and site-plan and graphics by SDSU's School of Art + Design.
---

Yelper: My girlfriend and I have been anxiously waiting for this place to open at the end of our street. I haven't been for a full meal yet but there is a solid beer selection and the truffle fries were a definite win. Very cool place with a good atmosphere. Will be back soon.
Click here for more yelp reviews.
---