Boulevard News – October 2019
---
Gypsy Magic
For several years, Janessa gained tremendous experience working in the cannabis industry by managing a medical marijuana dispensary in San Diego. This is where she was introduced to CBD (Cannabidiol), a compound found in the Cannabis plant. Unlike its close relative, THC (Tetrahydrocannabinol). CBD is completely non-psychoactive, which allows people to benefit from the many health properties of the Cannabis plant without the side effect of 'getting high."
Janessa's mom had MS for nearly 30 years and her dad suffers from psoriatic arthritis. The goal was to find an all natural pain management solution to help eliminate the many opioid-related side effects that her parents were starting to encounter, and she witnessed tremendous results.
When the dispensary went out of business, she began focusing on starting her own company. With a creative passion for learning and exploring gypsy traditions, she set her focus on developing a line of CBD bath and body products. Through research and development, she refined her practice and let her intuition for crafting magical formulas transcend into effective and delightful bath bombs, salts, tonics, lotions and other holistic remedies.
As business picked up, Janessa moved into an artist studio space on El Cajon Boulevard. One morning, her phone was buzzing non-stop with online sales. Low and behold, Heather Dubrow from OC House Wives posted a rave review about Gypsy Magic's bath products and the word got out! Other online influencers followed suit, and all of a sudden Janessa was having trouble keeping up with the demand. With more staff and a need for a bigger space, Janessa took Gypsy Magic to the next level and opened a beautiful shop, becoming a great anchor to the hub of businesses at Winona and El Cajon Boulevard.
As a pioneer in the business, Janessa is proud to support customers who genuinely need and love her products. As the industry continues to refine itself, she's faced various political curve balls but continues to persevere, nurturing the local community with wellness events and activation along The Boulevard.
Gypsy Magic – 4962 El Cajon Blvd
---
10 Days of Festivities at Fair@44 in City Heights
The Fair@44, a popular neighborhood gathering space located along The Boulevard in City Heights, will host a series of community activation events, including Fiesta de Almas, a 10-day celebration of Día de los Muertos, starting on Oct. 24, as well as a Cumbia Party during CicloSDias on Oct. 27.
The upcoming events at Fair@44 are designed to celebrate the rich diversity of the City Heights neighborhood, as well as encourage people to get out of their cars and homes, meet their neighbors and enjoy a shared community experience.
Fiesta de Almas (Oct. 22-Nov. 2):
Hosted by the El Cajon Boulevard Business Association, in partnership with El Borrego Restaurant, Dojo Café and Latinas y Latina, the celebration includes a variety of activities to engage all members of the community, including: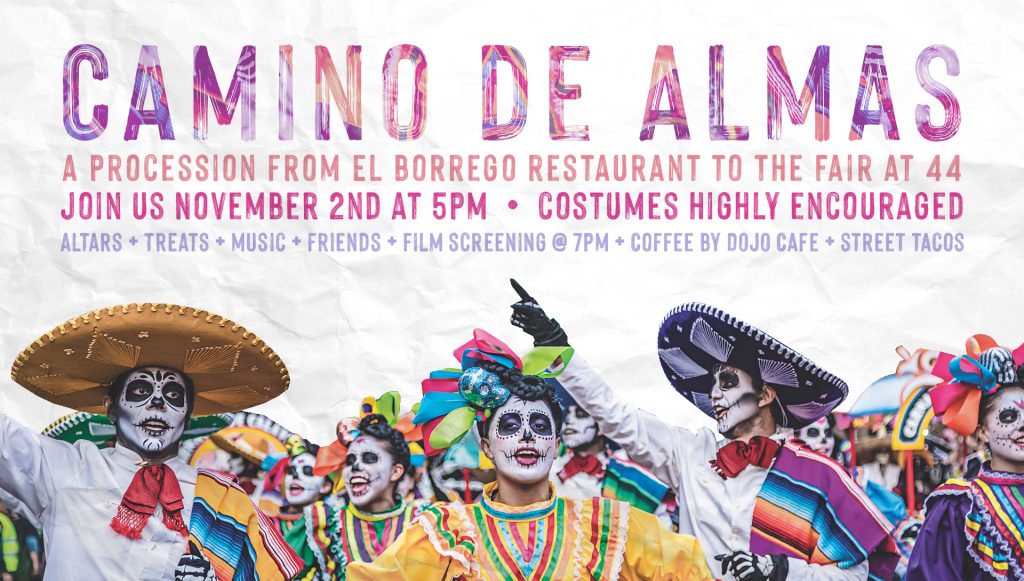 Oct. 22 and 23 – Altar decorating by local residents and businesses.
Oct. 24 – Unveiling of altars and champurrado, a Mexican chocolate drink to celebrate the sweetness of life and death. (6:30 p.m.) Altars will be available for public viewing through Nov. 2.
Oct. 26 – Sugar skull making workshop at El Borrego Restaurant (5 p.m.) (4280 El Cajon Blvd.)
Nov. 2 – Camino de Almas (5 p.m.) The community is invited to join in the procession led by Day of the Dead Mariachis from El Borrego to Fair@44, where the family-friendly celebration will include face painting, music, food and drinks and a free viewing of the Disney Pixar movie Coco.
CicloSDias Cumbia Party (Oct. 27)
Fair@44 will serve as an entry point and terminus for CicloSDias, San Diego's only free open-street, car-free mobility event, which will be taking place along Adams Avenue and through City Heights. The party, which will run from 10 a.m. to 5 p.m., will include a free concert with popular Los Angeles-based cumbia band, El Conjunto Nuevo Ola, beginning at 1 p.m. The event will also include a cumbia Zumba session led by the Copley-Price Family YMCA, food and drinks from Dojo Café and other City Heights vendors, a cash bar by La Avenida, bike maintenance by Bikes del Pueblo, and a D.J. after party starting at 3 p.m. The event is a collaboration of the El Cajon Boulevard Business Improvement Association with CicloSDias and the City Heights Community Development Corp.
For more information go here
---
Business Networking at Fair@44
Click here for more info
---
Empanada Kitchen
2885 El Cajon Boulevard Ste 3
Yum! Just yum! If you are looking for a good appetizer or main course this will satisfy all of your cravings. Tried the beef, lamb, mushroom and corn empanadas. They were all mouth watering delicious and came with some flavorful dipping sauce. Definitely will be frequenting this place
Click here for more reviews