Boulevard News – October 2018
Black Stag Cafe
When Gustavo turned 21, he visited Border X, a brewery that highlights Mexican cuisine and culture through beer.  He was fascinated watching five Mexican guys do so much with so little, and asked how he could support their endeavor.  The flavor profile in each of the beers inspired his creativity, and he was excited to learn more.  He was brought onboard as a volunteer to help with anything and everything, which eventually lead to becoming their first employee.   This became Gustavo's foundation for understanding the complexity of various styles of beer, and as he grew with the company from a bar tender to manager, he soon learned the ins and outs of running a brewery.
To further his expertise in brewing, Gustavo began working with Karl Strauss, where as their Cask Maker, he experimented with unique flavors to accentuate different styles of beers.  With so much experience under his belt, he began dreaming of starting his own business.  He particularly loved how the environment of breweries enabled people to socialize, relax and hang-out.   Similarly, he observed how cafes are a great example of a third place, where people gather outside of home and work.  It's how people start their day, a comfortable spot for people to meet, and in some cultures, it is a ceremonial occasion that brings people together as a daily ritual.  With limited funds, he decided to apply his knowledge of brewing and creatively crafting flavors to the world of coffee.
With a deep regard for single origin, high quality coffee crafted with unique flavor profiles, Black Stag on El Cajon Blvd represents the culmination of Gustavo's quest to share his hands-on education and passion with others in supporting the community.  Raw flavors such as tamarind, rosemary, and mint combined with specialized techniques around nitro and cold brew are why people are seeking out Black Stag as their home away from home, and showcasing greater, innovative possibilities for The Boulevard.
Black Stag Cafe – 4966 El Cajon Blvd
---
Dia De Los Muertos Culture Art Display & Coco Film Screening
Everyone knows that the Latino culture is fascinated with death and the after life! Come explore popular belief & see how some residents honor their deceased bringing pictures and other offerings.
November 2 from 5-9pm: Come gather with us. Bring your lawn chairs, enjoy music, traditional face painting, food from local vendors & share in remembering past lives. Coco will begin screening at 7pm. Free for All.
Fair@44 – 4350 El Cajon Blvd
Click here for more info.
---
Second Annual Blvd Ale Trail

Join us for the 2nd Annual BLVD Ale Trail! Don't miss your chance to purchase a commemorative BLVD brewer glass. First fill included with glass purchase, and refills are just $5 at participating breweries for the entirety of San Diego Beer Week (Nov 2-11, 2018)!
New Beer Releases:
Nov 2: Pariah Support Local IPA
Nov 7: Home Brewing Co. ESB on CO2, Nitro & Cask
Nov 9: Eppig Brewing Lime IPA (collab w/ Modern Times)
Nov 11: Home Brewing Co. Collab Experiment w/ White Labs
… and more!
Participating BLVD Brewers: Automatic Brewing Co. (located in Tiger! Tiger!), Eppig Brewing (North Park location), Home Brewing Co., Pariah Brewing Co.
Click here for more info.
---
First Friday Night Market at Anthem Vegan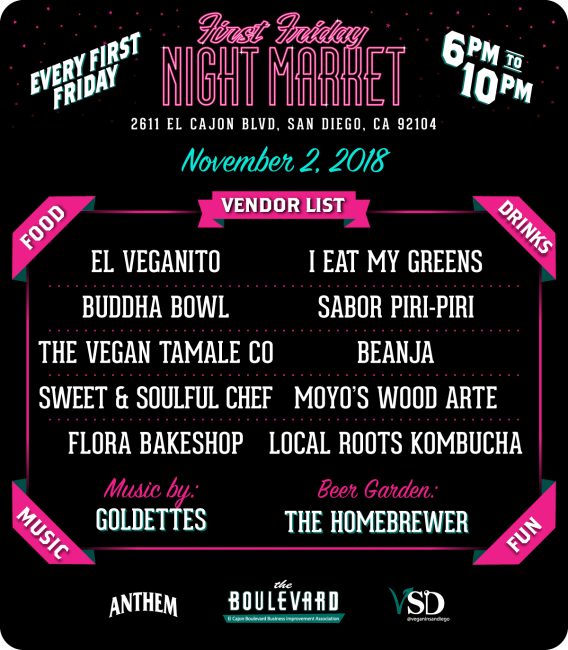 Click here for more information.
---
Creative Happenings at Soul Flow Studio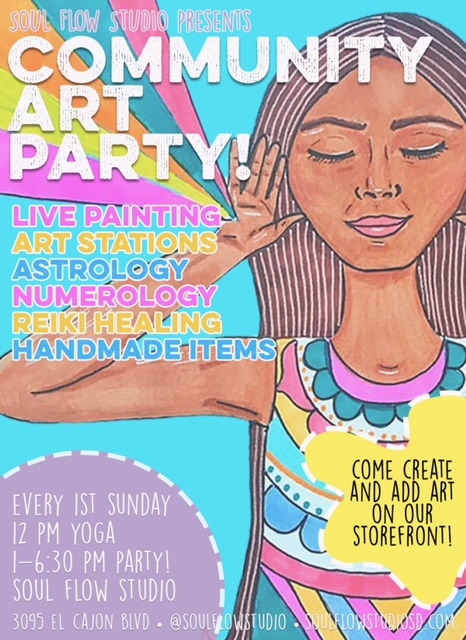 Click here for more information.
---
Digital Gym Film Schedule
Click here for films and showtimes.
---

Digital Gym
2921 El Cajon Blvd
I love this theater! The selection of foreign and independent films is amazing.
I've been here a handful of times now and each film I've seen so far has blown my mind. This place is never too crowded, so it has a great intimate vibe!
Do yourself a favor and catch a film here and it will really open up your palate to artistic films. When I first walked by this place, I really didn't understand the name, but now I get it – the films are like a workout for your mind!
Click here for more yelp reviews.