Boulevard News – November 2016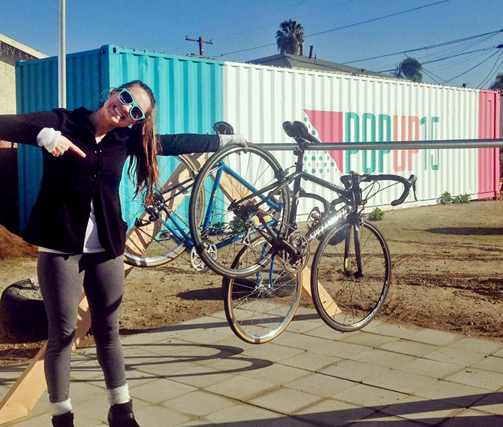 Free Bike Valet Launches at POPUP15 Every Friday
FREE Bike Valet Parking will be provided to local transit commuters on The Boulevard! The pilot, which will take place every Friday, is being launched by the El Cajon Boulevard BIA at POPUP15, in participation with Bikes del Pueblo. Free Bike Parking allows commuters the opportunity to securely store their bike with knowledgeable staff to simplify their commute to work or school.  The bus rapid transit routes that intersect at the El Cajon Boulevard Transit Plaza, has the potential to offer a lot more people a convenient opportunity to utilize public transit.  Many more people will be encouraged to try commuting to work and school on bus rapid transit if they can ride their bicycle, arrive in less than five minutes, and safely park their bike all day long.
Currently, commuting by bike and bus in San Diego is not a convenient option.  According to MTS, high ridership bus routes have nearly reached capacity for the two bike racks available on the front of the bus.   In seeking a solution, the FREE pilot bike valet will alleviate those issues for everyday commuters; as well enhance the culture in San Diego of commuting more frequently via bike and bus.  Once people gain a sense for how simple and enjoyable it is to connect biking and transit versus driving a car, they might opt to make this part of their weekly routine, and support a Complete Boulevard strategy that appeals to all commuter types. San Diego's forward thinking climate action plan calls for increased ridership of both bikes and transit, which makes MTS a vital partner, and is supporting the launch with a number of great transit prizes that will be given away each Friday during the pilot period.
The POPUP15, adjacent to the El Cajon Boulevard Transit Plaza, is transforming is a vacant lot through "placemaking" into creative public space that locals see as a hub to Commute, Gather and Connect.  Alongside regularly occurring activities such as the Media Art's Centers summer film series, Bikes del Pueblo is helping to draw a lot of cyclists to POPUP15 three days a week  by providing access to mechanical skills, tools, parts, and bikes through their educational, donation-based bicycle repair workspace.  Another element that will support POPUP15's bike valet pilot is an innovative new coffee cart designed by a local non-profit Urban Life, built around the frame of the bicycle.  Urban Life will set-up every Friday, offering commuters morning coffee and pastries before boarding the bus, and a innovative way to start the day.
POPUP15 – 4050 El Cajon Boulevard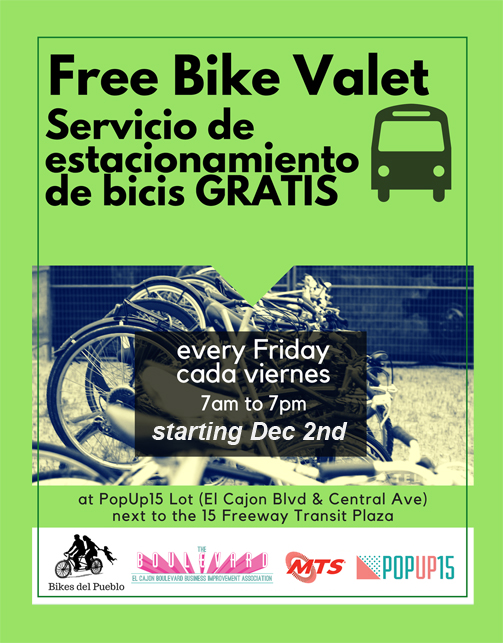 ---
---

Yelper: My experience at KOR has been an amazing journey in fitness and health. While the main focus is kettlebells, the trainers infuse other workout styles and techniques in workshops, seminars, and group classes. This keeps the environment and energy of the gym fresh and always interesting! The trainers are professional, competent, world-class athletes and competitors. But that should not intimidate new members. They are genuine, patient, and excellent demonstrative teachers. Each trainer has their own unique style and it shows through their classes. Lately, I've been focusing on Brittany's Kettlebell Sport training. I find it a challenging, fun workout that continually pushes me to go beyond my current limits and improves my technique, endurance, and strength.
If you are looking for a small box gym with great energy, challenging workouts, and awesome trainers and members, I encourage you to try KOR!
Read more reviews, here.
---