Boulevard News- May 2021
City Heights Business Recovery Funding Supports 15 Business on The Boulevard with $1000 and Free Gift Cards to Local Residents
As part of the City Heights Business Recovery Fund, The El Cajon Boulevard Business Improvement Association is helping to ensure that our member businesses can stay afloat through the pandemic with $1000 checks that support a local gift card program. In turn, people in need living in City Heights received $25 gift cards to these many businesses including Venice Pizza, the Dojo Cafe, Jiberitos de La Isla, GEM Coffee, Mid-East Market, African Carribean Market and several Vietnamese restaurants in Little Saigon.
Once the businesses were selected, checks and gift cards were prepared to go out into the community. Board members representing The Boulevard BIA banned together to greet these businesses, handed them their checks and ensured that they understood the parameters of the program. While The Boulevard takes great pleasure in supporting our local businesses, we are also thrilled that this program is directly benefiting residents of City Heights. In collaboration with our Take What You Need Tuesday, a weekly food distribution event at Fair@44, everyone who came by for free food on 4/20/2021 also received a gift card to their local restaurants and cafes.
"As a small business owner I commend The Boulevard for standing with us and the community during the transition of re-opening and gaining consumer confidence." – Christine Perez, Owner of Cafe Madeleine(s)
---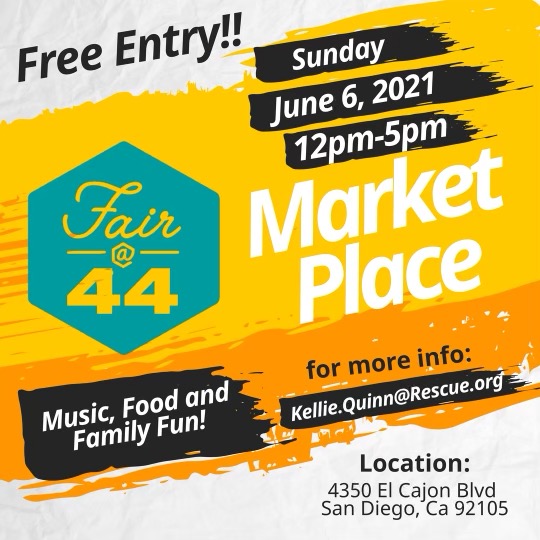 New Fair@44 Market Place Launches Sunday June 6th
Once imagined as a short-term activation, the Fair@44 is now going on four years, and has proven time and time again to be a great convening for the local community, a strategic location to launch a business, a prime event space, and a notable example of placemaking.
Starting the first Sunday in June, The Boulevard BIA, IRC International Rescue Committee Small Business Development Center and the Dojo Cafe are working together to launch a new Fair@44 Market Place, which again seeks to provide new opportunities for start-up businesses, business coaching, and further support activation at Fair@44.
---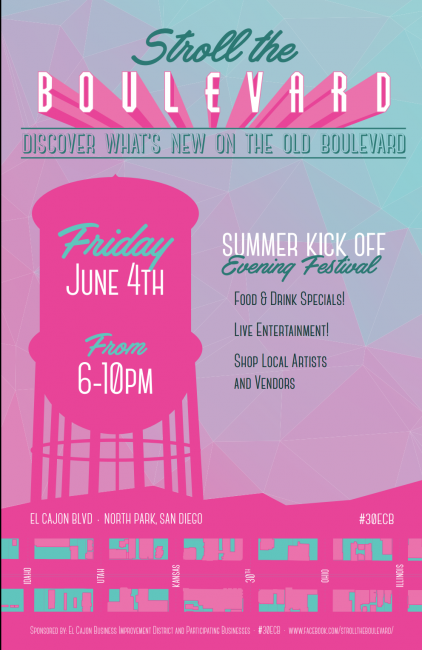 The Boulevard is Back – Come Stroll 30ECB
Stroll The Boulevard, a quarterly event promoting the hub of local businesses at 30ECB (30th & El Cajon Boulevard) are excited to reignite an in person event, and invite everyone to reconnect with this fabulous business community. As we ease out of a worldwide pandemic, it's time to celebrate a lot of wonderful updates to this hub over the course of this last year including all the new parklets rounding the corner of Utah and ECB in front of Cafe Madeleine, The Barn and Medina Kitchen, and across the street at Pitted Seed (2885 El Cajon Boulevard), a brand new health food market with great smoothies and salad bar. New butcher owners, The Wise Ox will be dishing out yummy bbq plates, and there's two new breweries right next door on the verge of opening at 30ECB including Pure Brewing who will be out there sampling their beer. The Magic is back and Lips, and our hostess with the mostest, Tootie will be strolling 30ECB, capturing all the specials and drumming up excitement live from the @elcajonboulevard Instagram and Facebook pages.
---
Survey to Boulevard Business Owners
As a way of supporting our small business community, please fill out this survey, and let us know how we can best support you and connect you with the resources your business needs to thrive.
---
Fair@44 Pig Roast host by Jiberitos de la Isla – Last Sunday of the Month
---