Boulevard News – May 2018
Sin Lee
As Vietnamese began settling in San Diego, an expansion of culture emerged.  As an immigrant, being an entrepreneur is a key element of making a living in a new country.  As new enterprises began to launch, ones that were unfamiliar to regular city standards also arose.  This was exactly the case for Wing Lee Poultry, a live chicken processing plant on Euclid and El Cajon Boulevard.  Initially there was no permit that allowed the Tang family to process live animals, but the City of San Diego adopted their standards with a proven understanding that there was a new cultural need that warranted this type of facility.
This is a story that speaks volumes to the designation of the Little Saigon District on El Cajon Blvd where Vietnamese immigrants have settled into City Heights, built community, launched new businesses,  and continued to thrive since they fled here post Vietnam War.  With such a tight nit community, business continued to grow, and as they began building accounts with new restaurants, it occurred to the Tang's that there are a lot more products that they could be supplying to their customers.
With the leadership of the Tang children who grew up in the family business, Sin Lee expanded upon Wing Lee Poultry as a wholesale provider of Chinese and Vietnamese grocery supplies alongside their poultry business, that is now being processed outside of LA.  With the influx of other refugee Asian communities including Cambodians, Laotians, and Burmese, Sin Lee continues to expand their selection of ingredients and support the many cultures that have put City Heights on the map as the most diverse community in San Diego.
As a provider of staple ingredients for the many ethnic groups who live and work in the area, Andy Tang who runs Sin Lee is very much in favor of the Little Saigon District cultural designation.  As a proud business owner in the community, he immediately took up on the opportunity to host the iconic Little Saigon mural painted by the traveling Greetings Tour muralist, who also painted the Greetings from San Diego mural at 30th and El Cajon Blvd.  Andy knows that gentrification in underway, and by supporting the mural effort, he hopes to preserve the history and share his respect for the Vietnamese identity that surrounds his family owned business at Menlo and El Cajon Boulevard, the center of the Little Saigon District.
Sin Lee – 4665 El Cajon Blvd
---
The Blvd Market Takes A Cinematic Big Next Step
The BLVD Market is transforming in a kaleidoscope of ways—promising an EXPERIENCE like never before. Combining the best in gourmet street food, pop culture films, and progressive new music, Street Food Cinema will reinvent what many know as the BLVD Market into an extraordinary new cultural experience.
Warm afternoons give way to gorgeous sunsets, and as the night wanes, our 'foodie' night market goers will be wowed by The Boulevard's 2018 plan for transforming El Cajon Blvd & Utah St into an expansive outdoor movie theatre and culinary hub.  The season will kick off on Saturday, June 2nd with a truly one of a kind spectacle, The Greatest Showman and entertainment by Jason Hanna and the Bullfighters, sponsored by the Soda Bar.
As always, the 'foodie' market is FREE to the public.
FOOD Vendors: Cousins Maine Lobster, Eat Your Heart Out, Seoul Man, Chicano Soul Food, Gaucho Grilling, Jamaican Jerk Hut, Ibo's, Sabor Piri Piri and more!
---
The Blvd 20/20 Town Hall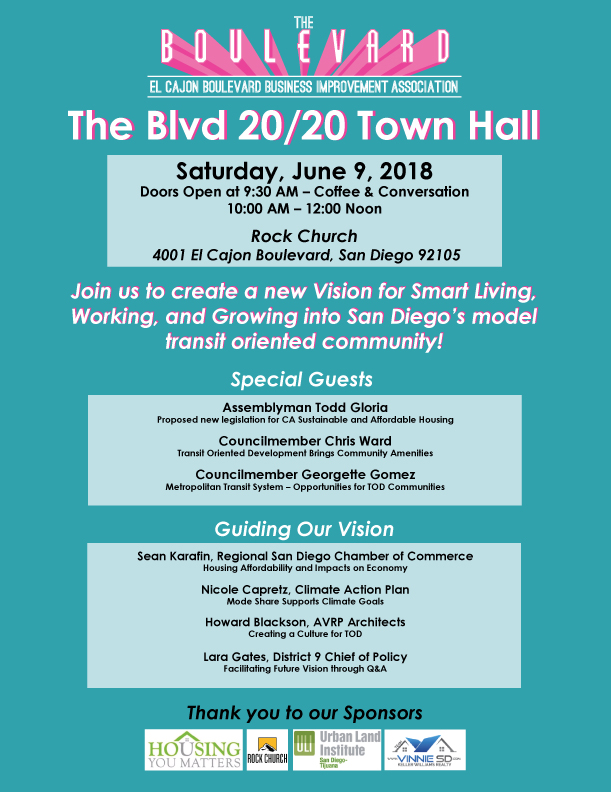 ---
Salsa Sabado Continues Year Round at Fair@44
SAVE THE DATE June 23rd!! Salsa Sabado is located at Fair 44 on El Cajon Blvd between Farimount and 44th. What used to be an empty lot is now flourishing as a community gathering space! Come check out this new hot spot and get some dancing in too!!!
5pm – Latin Dance Lesson by Melómano Entertainment! No experience necessary for dance lesson and no dance partner requited! Nice big dance floor for open air dancing!
7pm – Prize Giveaways!
GIVEAWAYS!!!
– 2 Free dance class passes to Melómano!
– 1 Ticket to the South Bay Salsa Festival!

As always Café Dojo will be fueling us with drinks for purchase on site so come thirsty my friends!! We will also have a TACO vendor on site!!!! Its going to be a great evening!
---
New Coworking Space at #30ECB
Hardi Hood – 4379 30th Street Suite 4
Click here for more info
---
Digital Gym Film Schedule
Click here for more info.
---
Upcoming Events at Fair@44

---
 Trashy Hour
The Homebrewer & Home Brewing Co (both at 2911 El Cajon Blvd) have been hosting a monthly trash pickup in an effort to keep our sidewalks sexy and safe. 
Trashy Hour
begins at 
10 am
 on the last Sunday of the month. Staff members and volunteers split into groups of 3-4 and make their way down the side streets, alleys, and boulevard collecting trash.  There is plenty of work cut out for the team  They are out for only 20-30 minutes collecting a nearly overflowing bag of trash before they return to Home Brewing Co for $3 pints. "Public service has never been so thirst quenching," says owner and volunteer, George Thornton.
---

Mi Quang Mien Trung
4745 El Cajon Blvd
I've been on a 14 year journey for the best Mi Quang on earth. To me this is the best Vietnamese dish there is. The best bowl so far, I found in Central Vietnam on the west side of a city called Danang. And haven't found its equal since. That bowl was a 9. Ladies and gentleman I have found a level 7.75 And did it in U.S.
Hands down the best Mi Quang in San Diego. Better than any in Orange County, better than San Jose, better than Vancouver, and any I've had in Sydney and Melbourne. Saigon couldn't come close. Thank God I've don't have to buy a plane ticket to get Mi Quang this Ngon (delicious). The owner is from Central Vietnam. Small wonder.
I've been coming here on/off for 10 years. The old Danang had decent (6.5) take out but dumpy. The owners who bought it had terrible food AND it was a dump. This new owner dressed this place up. It's CLEAN. Floor is redone, new paint, remodeled the bathroom. I am freakin blown away at this location in the hood. Authentic central Vietnam cuisine done right!
No risk here my friends. Highly recommended.
Your journey to the best Mi Quang outside Danang Vietnam has just been shortened by a 16 hour flight and $1000 bucks.
Go get it!
If you find better you had better let me know with a yelp message. That's a challenge.
Click here for more yelp reviews.