Boulevard News- March 2021
Women of The Boulevard: Founders, Entrepreneurs & Aspiring College Graduates
Ever since Historic Highway 80 trail-blazed through San Diego, becoming El Cajon Boulevard, this business district has always been a home to outstanding women entrepreneurs. In honor of Women's History Month, let's take the opportunity to showcase their history.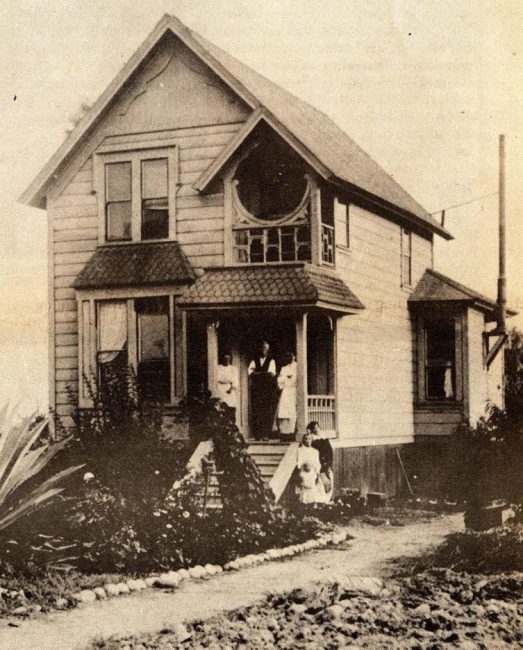 The oldest building on El Cajon Boulevard, which was moved here by oxcart in the late 1800's was home to Emma Schnugg, who lived there into her 90s. Amongst many forms of home-based businesses, Emma taught piano from this lovely Queen Anne Victorian. In the mid-century, Moreta Cyphert, San Diego's first woman theatre manager, headed up the State Theatre at Euclid and El Cajon Boulevard. Fast forward to a time when The Boulevard needed the nurturing support of a non-profit to uplift it from a time of painful disinvestment, business owners Jackie O'Connor and Polly Gillette became founding board members of the El Cajon Boulevard Business Improvement Association (BIA), and 30 years later still serve on the board today.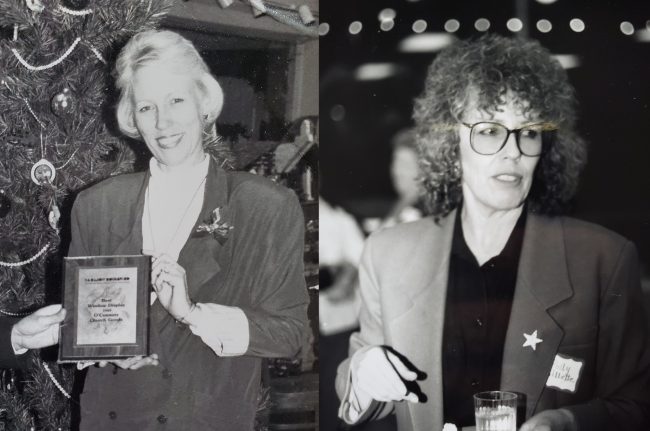 Stemming from the fruits of their labor, a multitude of locally owned businesses opened on The Boulevard, supporting a renaissance of small business activity and neighborhood revitalization. From El Borrego, Paris Bakery, and LK Fashion on the east end, to Cafe Madeline, Medina Kitchen and all those fabulous Queens of Lips shining their light on 30ECB, women have played key roles in lifting The Boulevard and showcasing their incredible craft.
Ana Rivera, owner of Jibarito's de la Isla, reminds others to "Never let anyone dull your strengths, I was always told I was too bossy, now I am the boss."
In the world of Covid-19, it was no wonder that so many financial resources prioritize women-owned business. Not only are they a valued asset in our community, but they still play a minority in the world of big business and deserve the support to ensure their sustainability and long term success.
The BIA is grateful to have a built-in Access to Capital position, sponsored by Civic Community Partners, which has enabled the El Cajon Boulevard BIA to hire an annual intern to get the word out about financial resources to our small business members. For four years in a row, we have worked with outstanding young women who have developed unique bonds with these business owners, and provided a platform which has set them on a path towards their own success. If The Boulevard was a person, she would surely be Ms. Boulevard, a bold, beautiful woman, resembling all these outstanding businesswomen.
---
The Boulevard's Central Hub Town Hall
The El Cajon Boulevard Business Improvement Association (Boulevard BIA) announced today that it will host a Virtual Town Hall on Thursday, April 8 to engage with the community's business owners and residents about applying the Blvd. 20/20 Plan and Complete Community Plans in the District's Central Hub, which runs along El Cajon Boulevard between the 805 and 15 freeways.
This will be the third in a series of Town Hall events the Boulevard BIA is holding to seek input from community members. This event will focus on three main topics: (1) transportation (including making the pilot program for the dedicated bus lane permanent), development (including accessory dwelling units, or ADUs), and (3) business recruitment.
The Blvd. 20/20 Plan envisions El Cajon Boulevard as a model for successful transit-oriented communities in San Diego. In recent years, the Boulevard BIA has been engaging with the community on topics such as neighborhood amenities, affordability, accessibility, cultural enhancement and urban living.
The April 8 Town Hall, which will be held virtually due to COVID-19, will include a variety of speakers, including:
John O'Connor, Tootie Thomas, Beryl Forman – El Cajon Boulevard Business Improvement Association
Sean Elo-Rivera – San Diego City Council Member, District 9
Brian Schoenfisch – City of San Diego Program Manager, Community Planning & Implementation
Mary Lydon – Visionary land-use expert
Andrew Malick – Developer, Founder/CEO of Malick Infill Development
Daniel Kay, Civic Community Partners
Register here for the Town Hall
---
Pedal With Your Peeps – Saturday, April 3rd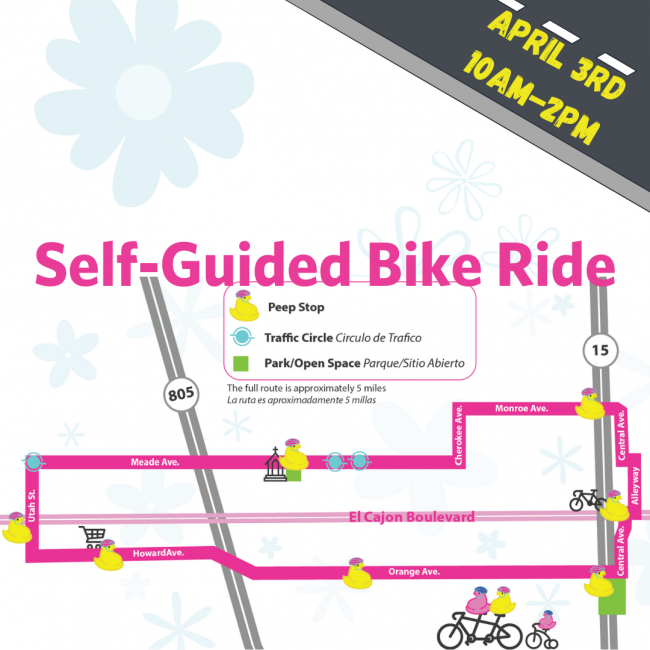 Much like an open streets event, the purpose of this self-guided event is to highlight new and upcoming infrastructure and re-imagine our streetscapes by making them more bike and pedestrian friendly. Come out on April 3rd to check out the "peep stops" and walk/ride/skate/roll with your peeps! Neighbors and businesses are invited and encouraged to active the route with their own "peep stops." You will find family-friendly fun at the "peep stops" marked on the map.
Find out more about the scavenger hunt here!
Businesses, please click here to become a sponsor.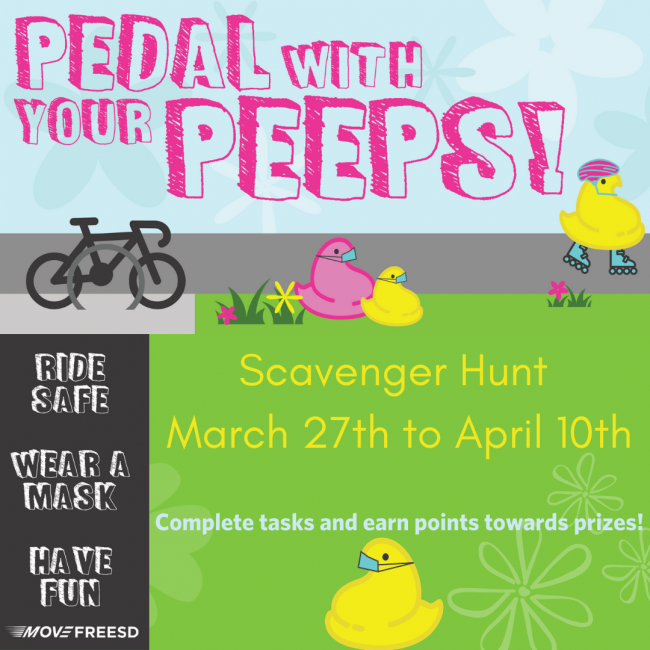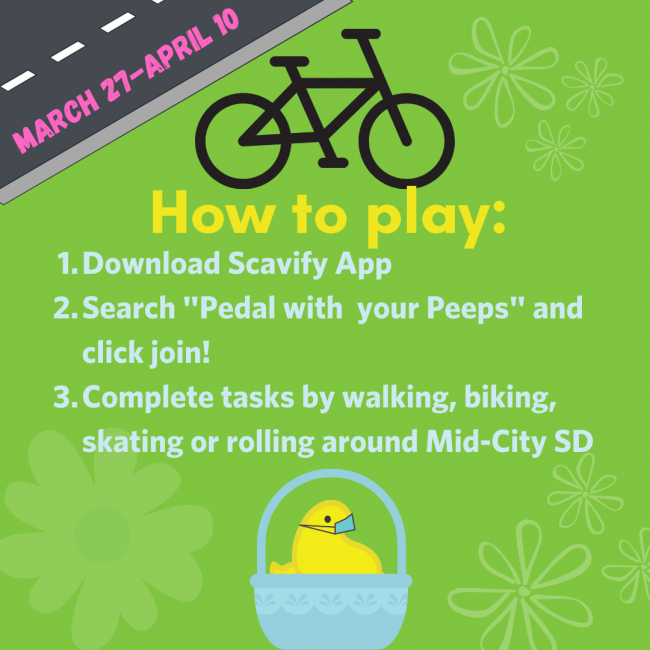 Where: On and around El Cajon Blvd
What: A semi-virtual (and COVID-19 safe) scavenger hunt to encourage active transportation. Complete tasks for your chance to win prizes!
Walk/ride/skate/roll by anytime! Peep stops open from 10am to 2pm. Masks required!
---
Fair@44 Activity Reignited by the Reopening of the Dojo Cafe & New Tenant Jiberitos de la Isla
The El Cajon Boulevard Business Improvement Association (Boulevard BIA) is excited to announce that the Fair@44, a former vacant lot that's become an anchor gathering place on The Boulevard is finally seeing it's way through a year long pandemic with the reopening of the beloved Dojo Cafe. For several years, the Dojo Cafe was the heart and soul of the Fair@44, hosting a tremendous number of events, community partners, and student groups to witness what it feels like when the mission of a social worker overlaps with the comforts of a local cafe. Through this year-long pandemic, the Dojo partners resisted opening with concerns of further igniting the virus in an underserved community that is more vulnerable to outbreaks.
In the meantime, as business was halted, the Fair@44 became a central location for the disbursement of essential goods including food, baby essentials, and facemasks. Take What You Need Tuesday, lead by Darnelle Williams has been at the forefront of these activities, serving nearly 200 people every week with the support of over 15 volunteers.
Overtime, Darnelle has developed a special bond to the local community and Fair@44, and became interested in re-opening the Dojo Cafe. He reached out to Carlos McCray, founder of the Dojo and shared his proposal. While this offer might not have been well received from just anyone, Carlos recognized Darnelle's aligned mission in supporting the community of City Heights, and proceeded with an agreement, enabling Darnelle to take over the Dojo Cafe.
With such a significant passing of the baton, Darnelle and his team cleaned, painted and polished the outdoor seating area, and the Dojo Cafe is sparkling once again alongside their new daily neighbors, Jiberitos de la Isla, and amazing Pueto Rican food truck, just in time for the Grand Re-opening scheduled for Saturday, March 27th from Noon-2pm.
---
Bikes Del Pueblo, San Diego's Bike Collective is Now a Part of Food2Soil's Compost Collective!
Bikes Del Pueblo, located at 4050 El Cajon Blvd is now serving as a dropoff location for the City Heights community. This dropoff hub (Subscription Plan only) is conveniently located by the transit plaza at the corner of El Cajon Blvd and Central Avenue. Waste is a resource that has intrinsic social, environmental and economic value. This programs are designed to challenge us to extract this value so it turns into income for soil farmers and living soil for the community. To learn more about this dropoff location and how to subscribe, visit the Food2Soil's Dropoff Page.
---