Boulevard News – March 2020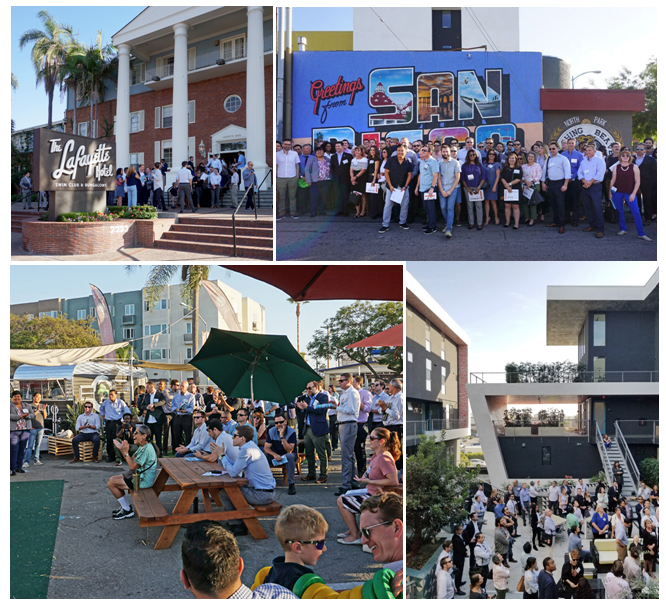 The Boulevard BIA teams up with ULI San Diego-Tijuana for 3rd consecutive Economic Development Tour
The El Cajon Boulevard Business Improvement Association (Boulevard BIA), in partnership with the Urban Land Institute (ULI) San Diego-Tijuana, will present the "Blvd. 20/20 Opportunity Tour 3.0" on Friday, March 6. The economic development tour will showcase a diverse mix of current projects and available parcels along the mid-city corridor now served by a dedicated Bus Rapid Transit (BRT) lane from University Heights to City Heights.
Tour highlights will include:
Insights from community leaders about available parcels and prime infill development sites
Presentations by San Diego City Council President Georgette Gomez, MTS Chief of Staff Sharon Cooney, San Diego Public Library Director Misty Jones and Hoover High School Principal Jason Babineau.
A sneak-peak at major projects in the area, including the new Hoover and Wilson High Schools, innovative new high-tech library/skill development center in partnership with UCSD, and various private residential and mixed-use projects on El Cajon Boulevard
Stops in the Boulevard Transit Plaza (at Interstate 15), Fair@44 (an activated lot between Fairmont and 44th Street) and the Little Saigon District in City Heights
A closing reception at Blvd. Court, a newly activated urban lot in University Heights
MTS will provide transportation for the Tour, taking advantage of a new dedicated bus-only lane known as the Boulevard Busway. The pilot project, which runs 2.7 miles along a key stretch of the Boulevard, was unveiled last spring as a key component of the Boulevard BIA's "Blvd. 20/20 Plan." Currently running from Park Boulevard to Fairmount Avenue, the ultimate goal is to extend the bus-only lane along El Cajon Boulevard all the way to San Diego State University.
The Boulevard BIA and ULI have worked in close partnership to develop a Technical Assistance Panel (TAP) report and continue to advocate together for enhanced mobility, housing and retail opportunities in the diverse mid-city neighborhoods along El Cajon Boulevard.
This is the third time that ULI and the Boulevard BIA have conducted joint economic development tours of the El Cajon Boulevard corridor. Since the first tour in November 2014, property sales have topped $467 million along the El Cajon Boulevard corridor, with over $163 million in 2019 alone.
The Economic Development Tour is open to the public, with discounts available for ULI members.
Tickets are required and can be purchased here.
---
Soccer Solutions Spotlight
Ramon Aldana played professional soccer in Veracruz, Mexico until the age of 26. Following his exciting athletic career, he visited San Diego to further his English skills and make connections, and he never returned. A friend of his had a shop on University Ave and advised him to open a business next door. This is where Soccer Solutions and sporting goods store got its start.
Ramon became further engrained in the community of City Heights by refereeing games at the local recreation center. With an interest from the community in playing soccer year round, Ramon established the City Heights Soccer League for youth ages 6-14, which has been successfully running since 2002. Ramon is proud of his diverse league of youth, with a handful who have gone on to play in college and for the San Diego's professional league. His league has a reputation for teaching kids to play very quickly, and over time has developed 50 teams, all represented by volunteer coaches.
While there is no obligation to shop at his store, Ramon's reputation in the community for giving back is exactly why his store has remained successful all these years, even with the competition of online sales. The location has changed over the years, but Soccer Solutions has remained anchored in City Heights, with a long-term lease at El Cajon Boulevard and Marlborough Street.
Not only does he balance his obligations between running his store and managing the soccer league, he is committed to a number of local organizations, volunteering on the Recreation Council in Colina Park and the City Heights Park and Recreation board. As a local business owner, one is gifted the opportunity to lead by example in supporting their community. Ramon Aldana exemplifies a man who truly works on behalf of his community and can be credited for enhancing the safety at our local parks and strengthening bonds amongst many youth and families in City Heights.
Soccer Solutions – 4151 El Cajon Blvd
---
Friday Food Tours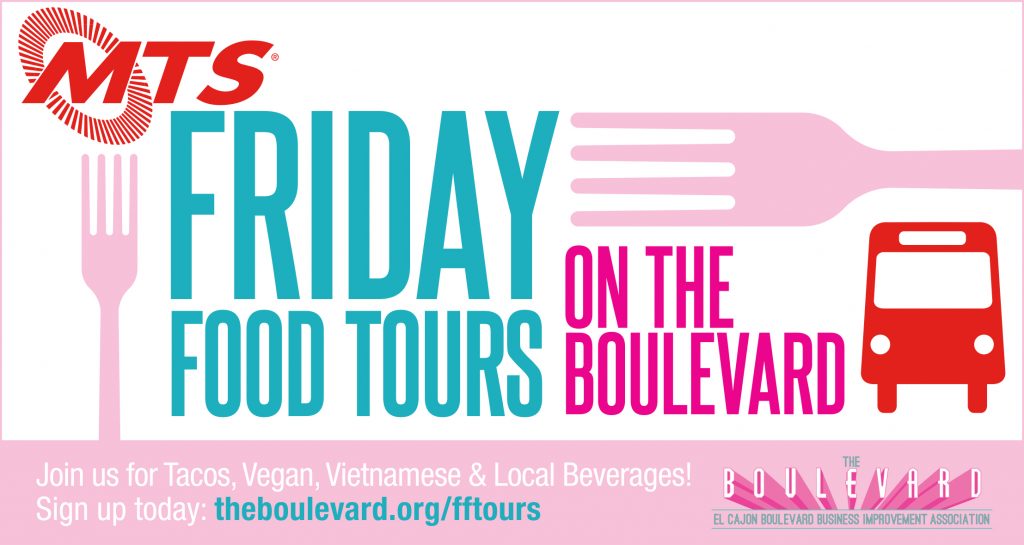 Join us for the launch of our Friday Food Tours! This new series of weekly guided bus tours will showcase the best places to eat and drink on The Boulevard! Each week, the Tour will focus on a different themed offering, from delicious ethnic cuisine to craft beverages and more.
How it works: Each Friday, Food Tour guests will meet up at the southeast corner of El Cajon Blvd. and Park Blvd. at 6 p.m., where they will be greeted by their friendly tour guide who specializes in that week's theme. Promptly at 6:07 p.m., everyone will board the 215 eastbound bus to begin the neighborhood food tour, learning more about the Boulevard's unique neighborhood establishments along the way.
The $25 ticket price includes delicious (and generous!) samples of signature offerings at three different locations, plus a full-day bus voucher. The guided tours will likely wrap up by 8 p.m., at which time guests can explore the neighborhood further on their own or re-board a bus to return to the kickoff location.
Click here to purchase your tickets.
---
Third annual New Orleans-style celebration returns to North Park with dance party at historic Lafayette Hotel
By JOSHUA EMERSON SMITHFEB. 23, 20205:23 PMSAN DIEGO —
Hundreds of San Diegans donned purple, green and gold beads, feather boas, elaborate masks and top hats on Sunday for the third annual Boulevard Mardi Gras Crawl along El Cajon Boulevard in North Park.
Folks sucked down pints of beer and ate crawfish around noon at The Beer Igniter where the event started, with more than 300 people following members of the Euphoria Brass Band on a tour of local businesses.
The event — held two days before Mardi Gras in New Orleans — culminated in a dance party at the historic Lafayette Hotel on El Cajon Boulevard at Louisiana Street.
"It's a fun day," said county Supervisor Nathan Fletcher, who helped lead the parade with his wife, Assemblywoman Lorena Gonzalez, as the event's grand marshals. "In a time when it seems like so much of what we're obsessed with is dark and divisive, it's just nice to see people out having a good time and supporting local businesses."ADVERTISINGAds by Teads
The event was organized by the El Cajon Boulevard Business Improvement Association and included, among other local companies, Pariah Brewing, Folk Art Rare Records, JuneShine Kombucha and Asian-Cajun restaurant Shrimp Heads.
Beryl Forman, marketing and mobility coordinator for the business association, said she was inspired to help put on the event after visiting New Orleans and taking part in the second line parades, which are also usually held on Sundays.
"It's very much about bringing in the business community and showcasing it, building that center around El Cajon Boulevard where the residents see it as their downtown," Forman said.
Shirley Ng, 33, owner of Shrimp Heads, which opened a year ago on El Cajon Boulevard at Utah Street, doled out seafood at the start of the event for those looking to fuel up before the parade.
"We've seen a lot of regulars today giving us props," she said. "It's really cute."
The brass band was in full swing when the march down El Cajon kicked off. Drummer Ron Bocian, who moved to San Diego from New Orleans in 2006 after Hurricane Katrina, participated in the crawl for his third year.
"It's definitely a little piece of home," said the 51-year-old. "It's a great thing to have this here locally."
Andrea Ryan, 53, a North Park resident, said it was her second year attending the event.
"I could be sitting home on the couch watching Netflix or I could be out in the sun on a beautiful Sunday enjoying live music and dancing and friends and alcohol," she said with a big grin.
Taylor Pondy, who moved to San Diego from Arizona a few years ago, said she happened upon the event while walking around North Park.
"I was just looking around and saw this," said the 24-year-old. "I love Mardi Gras, so I just decided to join the party and have fun."
The parade comes as the business association has pursed a campaign to encourage pedestrian activity along the boulevard. It recent years, many new businesses have moved into the area, while walkable housing developments have popped up. Most recently, the city opened a bus-only lane along El Cajon Boulevard between Park Boulevard and Fairmount Avenue.
---
First Friday at Blvd Court
Click here for more info.
---
Save the Date for the Next Stroll the Boulevard – Friday, March 6th
Click here for more info.
---
Digital Gym Film Schedule
Click here for films and showtimes.
---
James Coffee
I'm extremely happy a James Coffee opened in my neighborhood!!
I'm a huge fan and I would sometimes have to wait until the weekend to visit their other locations. This North Park location has definitely better parking and is a lot more spacious… SAME great coffee and peeps!
My favorite is the honey cinnamon iced latte. Great pastries as well, love the flaky croissants and the chocolate chip cookie.

Welcome to the neighborhood James Coffee, you were definitely worth the wait!! A huge shout-out to all the rad people that work there, you are awesome and masters of what you do! No matter who does my coffee it's always great!
Click here for more yelp reviews.