Boulevard News – June 2016
Thrift Trader
Thrift Trader was born out of Music Trader, an enterprise that Jeff Clark launched in the late 80's.  His concept to buy, sell, and trade all things music while greatly supporting the local music scene was an immediate hit, and it became a notable brand that was very successful in outlets throughout San Diego.  As the music business began to dwindle, Jeff transitioned to a product that he felt everyone needed, clothes.
In 2008, Thrift Trader launched in North Park on University Ave and Iowa St., inside a former clinic.  The place was enormous, which allowed them to provide an almost limitless amount of merchandise.  It was a great time to offer the community a major thrifting experience at super affordable prices of $5.99 per item or four for $20. Soon enough other locations began popping up in OB and PB.  With such a laid back environment, Thrift Trader employees know how to have fun.  They pride themselves on welcoming people in from all walks of life and building great relationships with their customers.  They host regular sidewalk sales, a flea market of sorts, and have played a supportive role in welcoming graffiti artists to paint murals throughout their stores. To show their gratitude, the original North Park location was known for hosting awesome rooftop parties to help raise money for upcoming artists.
Once they received word that they would have to leave their Iowa St location due to future development, they relocated their headquarters to the corner of 30th Street and El Cajon Boulevard. This was in 2013, just when the hub was beginning to gain steam as a new, alternative center of North Park, proudly referred to as 30ECB.
They also opened an awesome store in Hillcrest, which unfortunately didn't last long due to the collapse of the second story weighted down by too many records.  The story was actually picked up in Rolling Stones Magazine.  It was a big loss, because so many awesome things were beginning to take off there. Their adaptive nature forced them to hone in on their new headquarters at 30ECB and further define themselves as a relevant brand that San Diegans could be proud of.
Three years later, manager Priscilla Garcia is very pleased with how their 30ECB location is evolving.  They've freshened up the shop by removing old layers of carpeting, painting the walls, and showcasing their merchandise into specialty areas, including a vintage selection and a shoe 'department', all while maintaining their funky, gritty edge.  It's a place you can always come to for affordable, sustainable, experimental fashion, where they pride themselves on extending the shelf life of well selected clothing pieces that match up with the desires of the community in which they reside.  In the case of 30ECB, the selection is across the board, reflecting the eclectic neighbors that bring life to 30ECB.
Thrift Trader – 2947 El Cajon Boulevard
---
CINE CARRETERA!
The San Diego Latino Film Festival in partnership with El Cajon Boulevard Business Improvement Association presents CINE CARRETERA, a Free Summer Outdoor Latino Film Series on the Boulevard!  For three consecutive Saturdays in July, we're taking over a vacant lot & making it into a vibrant space for film, art, music & community gatherings!
Location: PopUp15 – 15 Freeway & El Cajon Blvd.(4050 El Cajon Boulevard)
Nightly Schedule:
7-8PM Live Entertainment, Outdoor Games, & Food Vendors
8PM Film Screening
Saturday, July 16: 'UN GALLO CON MUCHOS HUEVOS'
Toto, was born the runt of the litter. But, when an evil rancher threatens to destroy his home and his family, Toto must go from a timid young "chicken" to a brave and scrappy rooster. Toto and his friends must band together on an egg-citing adventure that will prove that big surprises can come from little packages. In Spanish w/ English subtitles. Featuring Bruno Bichir, Omar Chaparro, Maite Perroni and Ninel Conde.
LIVE MUSICAL PERFORMANCE: ISAAC GARCIA (Singer for BULEVAR DESCARGA/ALMALAFA)
Saturday, July 23: CESAR CHAVEZ
Famed labor organizer and civil-rights activist Cesar Chavez (Michael Peña) is torn between his duty to his family and his commitment to securing a living wage for farm workers in this biopic directed by Diego Luna.
LIVE MUSICAL PERFORMANCE: LINDA OWLEN (Singer/Songwriter)
Saturday, July 30: LADRONES
Latino superstars Fernando Colunga and Eduardo Yañez star in this hilarious action-comedy sequel to Ladron Que Roba Ladron. Legendary thief Alejandro Toledo (Colunga) teams up with Santiago Guzman (Yañez), and together they recruit a team of "Robin Hoods" to pull off a heist and reclaim community land that was stolen by a ruthless businesswoman. In Spanish w/ English subtitles.
LIVE MUSICAL PERFORMANCE: GABRIELA APARICIO (Singer for GABY Y LA BUENA ONDA)
This series is made possible by LISC San Diego and Citi Foundation, in partnership with the Neighborhood Ethnic Business Cluster (NEBC), a collaboration between City Heights Community Development Corporation, Karen Organization of San Diego, City Heights Business Association, International Rescue Committee San Diego, Media Arts Center San Diego, LISC San Diego, Horn of Africa, and El Cajon Boulevard Business Improvement Association.
NOTE: Warm clothes & Folding chairs recommended.
INFO:
info@mediaartscenter.org
619-230-1938
http://sdlatinofilm.com/ cinecarretera
---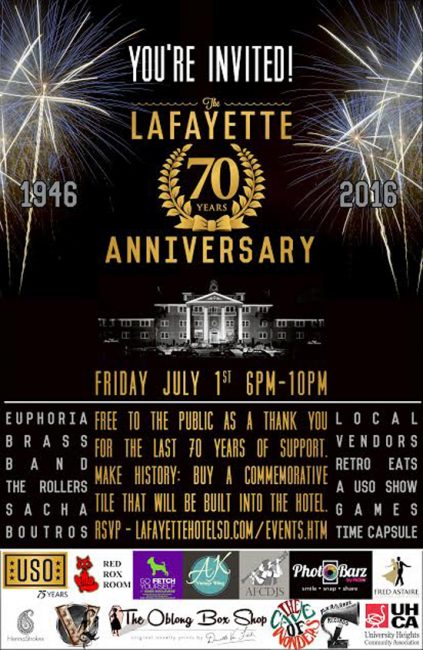 The Lafayette Hotel Celebrates 70 Years
By Michelle Dederko, DiscoverSD
On July 1, 1946, The Lafayette Hotel opened doors in North Park from former car dealer and developer Larry Imig. The grand colonial style hotel quickly became a celebrity hideaway and vacation resort for stars like Bob Hope and Ava Gardner.
Now, the hotel is celebrating 70 years of magic, a major accomplishment for any San Diego business and momentous occasion certainly worthy of a party. All are invited to commemorate the hotel's rich history on Friday, July 1 from 6 to 10 p.m. As a thank you to all of the guests and supporters over the decades, the party is free to attend.
Meander through three distinct venues themed around the rich history. City Within A City will give a nod to the days when the hotel had more than 20 different shops, stores and services. The Home Away From Home cocktail lounge in the Mississippi Ballroom will include a 1950s-themed USO Show. Lastly, The Soda Jerk will have a retro-style soda fountain and diner offering old-time eats and treats.
Musical entertainment will be provided by Euphoria Brass Band, The Rollers (a Beatles tribute band) and Sacha Boutros + guests.