Boulevard News – January 2020
Third Annual Boulevard Mardi Gras Crawl
Join us for the third annual Boulevard Mardi Gras Crawl in North Park on Sunday, Feb. 23. The travelling party, led by a festive New Orleans-style brass band, will include stops at a diverse mix of local businesses, with drink and food specials and other fun activities along the way.
Festivities will kick off at 12 p.m. in the parking lot for The Beer Igniter (3052 El Cajon Blvd.), where Folk Art Rare Records will be spinning and food and drinks will be available from Pariah Brewing, JuneShine (hard kombucha) and Shrimp Heads (Cajun seafood). Guests will be able to purchase Boulevard Tickets at this location to enjoy $2, $4 and $6 specials along the crawl route.
At 1:30 p.m., the Euphoria Brass Band will begin leading party guests down El Cajon Boulevard, making stops to explore local businesses such as Collins & Coupe (cocktail provisions), Café Madeline (French café), Medina Kitchen (Moroccan Baja restaurant), The Barn, Gilly's Bar and Tacos La Mexcla.
Around 3 p.m., revelers will arrive at the Crawl's final destination, the historic Lafayette Hotel (2223 El Cajon Blvd.), where the party will continue with more live music, featuring Captain Morgan Lee, drinks and dancing until 5 p.m.
County Supervisor Nathan Fletcher (District 4) and State Assemblywoman Lorena Gonzalez (District 80) will serve as the event's Grand Marshals.
Click here for more information.
---
Empanada Kitchen
Matias Rigali, originally from Argentina, started his career as a partner of an advertising agency in Mexico City. Eight years later, he met the love of his life and boldly moved to San Diego to start anew. Having sold his portion of the business, he took a year sabbatical to settle into a new city and rethink his future.
In his leisure time, he began hosting dinner parties with homemade empanadas. He gained these skills from his grandma, a great cook who proudly instilled in a passion for his culinary origins and heritage. He fondly remembers the day he nailed the proper empanada-shaped crust and crossed over into a more respected line of empanada bakers.
With a love for food and cooking, he decided to test his business model at the North Park Farmers' market. The reception he received was wonderful, and Matias established a deep fondness for the local community. He also bridged an important friendship with Dan, his neighbor selling smoothies. Both of them were ready to graduate from the life of farmers' markets, and decided to become business partners.
In March 2018, Matias and Dan opened Empanada Kitchen on C Street in Downtown. From the beginning they had a great response, captivating customers from the offices and residences in Downtown with their yummy empanadas. With growing success, Empanada Kitchen made their debut in North Park at the Blvd Center next to Heart & Trotter and Bluxom Salon in September 2019, and has been selling out nearly every day since.
At Empanada Kitchen, each empanada is wrapped in a unique hand-shaped crust, showcasing the beloved craft and variety of Argentinean empanadas, a welcomed expansion to the culinary diversity along The Boulevard. In Argentina, the classic beef empanada is always a benchmark for success, so start with that, and then explore their eight other tantalizing options along with rotating specials. A couple of standout options include the corn, basil, mozzarella with béchamel sauce, as well as the lamb braised for 24 hours in red wine, rosemary, carrots and onions, and of course everything tastes better with a side of homemade chimichurri sauce.
Empanada Kitchen – 2855 El Cajon Boulevard
---
Boulevard Pilot Bus Way
With the goals of improving regional transit and reducing pollution, Mayor Kevin L. Faulconer Metropolitan Transit System Chairman Nathan Fletcher, Council President Gomez and Councilmember Ward and civic leaders celebrated the completion of the new Boulevard Bus Way – a three-mile stretch of dedicated bus-only lanes along El Cajon Boulevard that will speed up service and increase usage of a transit corridor that serves over 10,000 passengers daily.
This important commercial and transit corridor – between Park Boulevard and Fairmont Avenue – connects some of San Diego's oldest urban neighborhoods. The project's goals are to reduce traffic congestion, increase ridership and slash greenhouse gas emissions. The impacts of this pilot project will be monitored for impacts on both transit efficiency and traffic.
The project was featured on the Mass Transit website.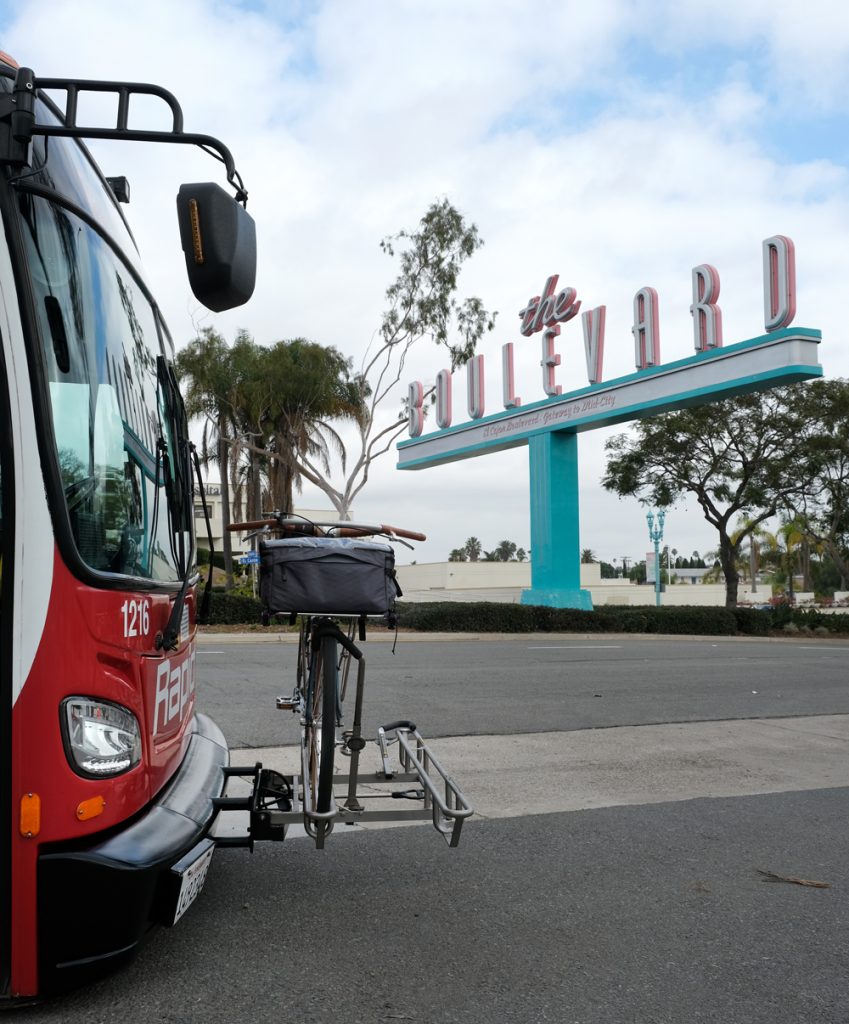 ---
First Friday at Blvd Court
Click here for more info.
---
The Blvd 20/20 Opportunity Tour 3.0
El Cajon Boulevard Moving Forward
Join us at The Boulevard Opportunity Tour 3.0 for a glimpse of San Diego's model transit-oriented and climate action corridor.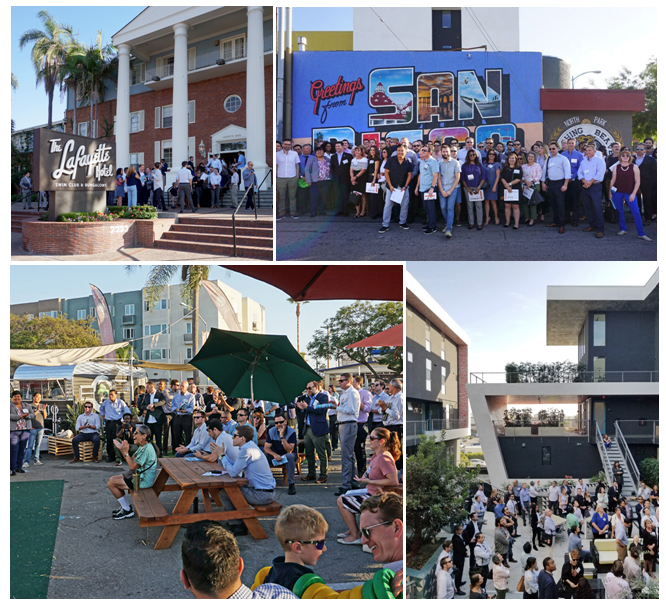 Highlights of the Tour Include:
· Showcasing the functionality and success of The Boulevard Busway three mile pilot
· Sneak peak of new high tech library development
· Culminating at the First Friday event at Blvd Court, a newly activated lot at Alabama and ECB Blvd with tours of the HG Fenton's new BLVD development right nextdoor
When: Friday March 6, 2020 – 3 – 6pm
---
Save the Date for the Next Stroll the Boulevard
Friday, March 6th
Click here for more info.
---
Craft Beer with the Councilmember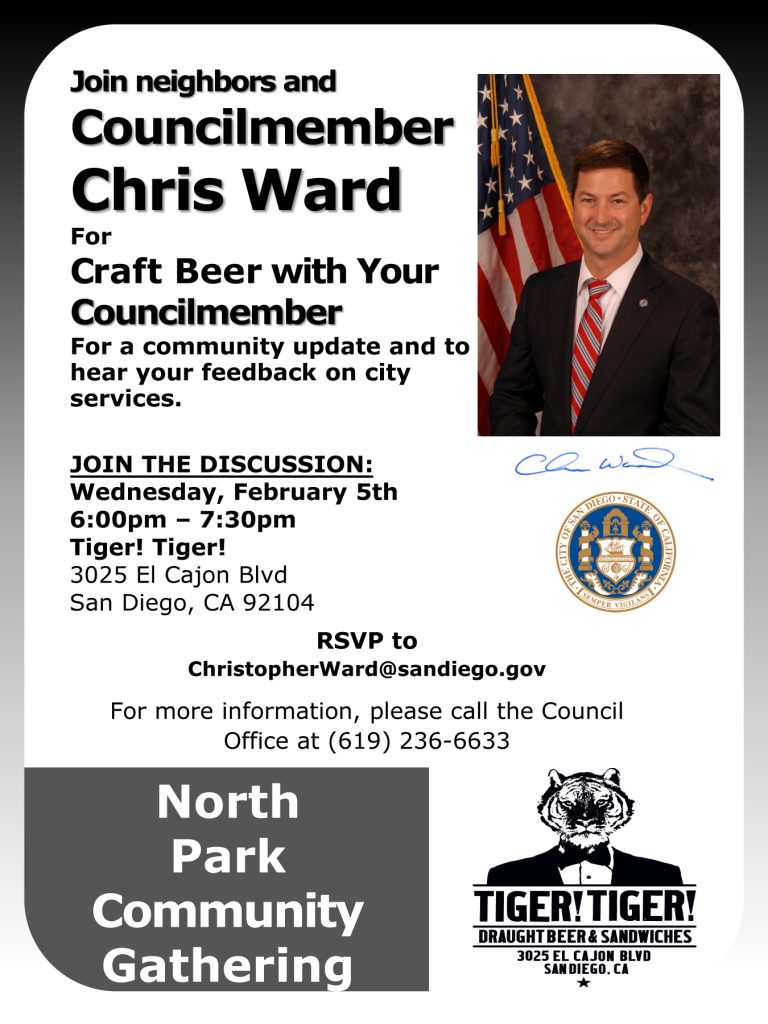 Click here for more information.
---
Digital Gym Film Schedule
Click here for films and showtimes.
---
Crispy Fried Chicken
Love the crisp. Love the crunch. The prices are VERY fair. The best chicken deal you can get. They make the chicken to order so it's a bit of a wait but is worth it. The chicken was tender and juicy and you can choose dark white or both meat.
Click here for more yelp reviews.