Boulevard News – January 2019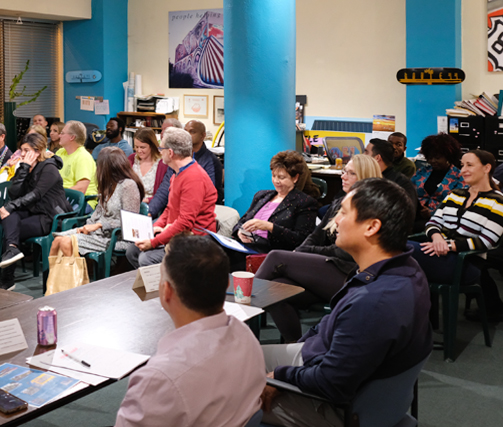 BLVD 20/20 Plan
El Cajon Boulevard Business Improvement Association Unveiled the "Blvd. 20/20 Plan" at the Annual Meeting on Jan. 24th
The plan outlines the vision for the historic corridor as San Diego's model transit-oriented community
 The El Cajon Boulevard Business Improvement Association unveiled its highly anticipated "Blvd. 20/20 Plan" during its annual meeting on Thursday, Jan. 24. The plan is the culmination of months of planning and community outreach to develop a new vision for the future of the iconic mid-city corridor, which runs through the diverse communities of University Heights, North Park, Normal Heights, Kensington, Talmadge and City Heights.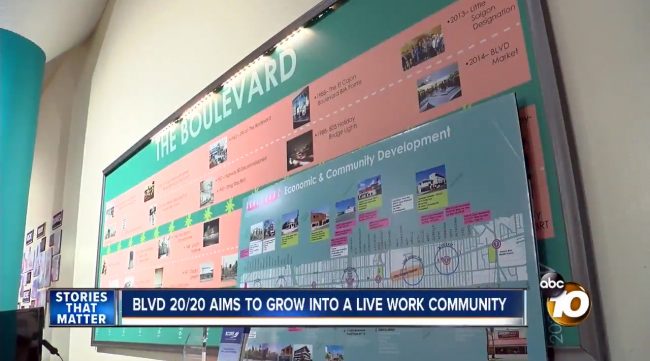 The Blvd. 20/20 Plan lays out a new community vision for El Cajon Boulevard as a model for successful transit-oriented communities in San Diego. Some of the plan highlights include:
Additional crosswalks to improve pedestrian safety throughout the Boulevard, and enhanced artistic crossings in each hub
Slowed traffic (20-25 mph) through neighborhood "hubs" (including the West End, 30th Street and Little Saigon Hubs)
Economic development tours to attract more transit-oriented development to the Boulevard
More tree canopies
New dedicated BRT bus lane
Strategic marketing program to support each hub
Special guests included San Diego City Councilmember Chris Ward (District 3) and representatives from California State Assemblymember Todd Gloria (78th District) and Councilmember Georgette Gomez  (District 3).
"El Cajon Boulevard has been an iconic San Diego thoroughfare for well over 100 years," said Tootie Thomas, president of the El Cajon Boulevard BIA. "This is where Hollywood stars would vacation and where President Kennedy's motorcade cruised on his visit to San Diego in 1963. Now, a renaissance is underway along the corridor, with so many exciting projects and initiatives in the works that will make this an even better place to live, work and invest in the years ahead. We look forward to this next chapter in the Boulevard's story and to sharing our vision with the greater San Diego community." 
---
Join us for a FREE, monthly vegan market at Anthem Vegan North Park on El Cajon Boulevard every first Friday of the month from 6pm-10pm! On February 1, 2019, we're celebrating Valentine's Day the vegan way! We'll be featuring all-vegan eats, sweets, drinks, and goods, plus a local vegan-friendly beer in a 21+ beer garden, and music!
Sorry, no pets allowed (service animals always welcome).
FEBRUARY VENDORS
* FOOD:
El Veganito (Vista, CA)
Jai Fusion (San Diego, CA)
Eat Your Heart Out (San Diego, CA)
Sabor Piri-Piri (San Diego, CA)
Enjoying Earth (Irvine, CA)
GOGI BLVD – Korean BBQ (San Diego, CA)
* SWEETS:
Enjoying Earth (Irvine, CA)
Swoonful Cotton Candy (San Diego, CA)
* DRINKS:
Domaine Santé
Thorn Brewing
Boochcraft
* GOODS:
Farm Animal Refuge
Wipala Snacks from Everglobe Corporation
Street Blooms
MUSIC by the awesome DJPJ!
TIPS
* Entrance is free!
* Bring your 21+ ID to enter the beer garden. Sorry, no one under the age of 21 will be permitted (including children).
* This event is family friendly, although music may be loud.
* This venue is ADA accessible, including ramp entrance into the hosting restaurant. If there is anything Vegan in San Diego can do to be of assistance, please feel free to reach out via comment, direct message, or email at veganinsandiego@gmail.com.
* Pets are not allowed due to proximity to open food service per state law. Service animals are welcome.
* Carpooling, ridesharing and bike riding are encouraged. There is a bike rack on the corner of Hamilton and El Cajon Blvd.
* There is free street parking in the surrounding neighborhood, including at North Park Community Park (behind the water tower).
* Most vendors accept cash and card.
* Soliciting is not endorsed by Anthem Vegan or Vegan in San Diego.
* Please bring reusable straws and utensils! Plus reusable containers for to-go orders. 😉
---
Addis Restaurant
3643 El Cajon Blvd
This restaurant is absolutely delicious! It is by far the best Ethiopian food I've had in San Diego. The women who run it are so sweet and welcoming. I've tried a few items on the menu, but my favorite is the veggie combo. The tea is really good as well.
Click here for more yelp reviews.