Boulevard News – January 2018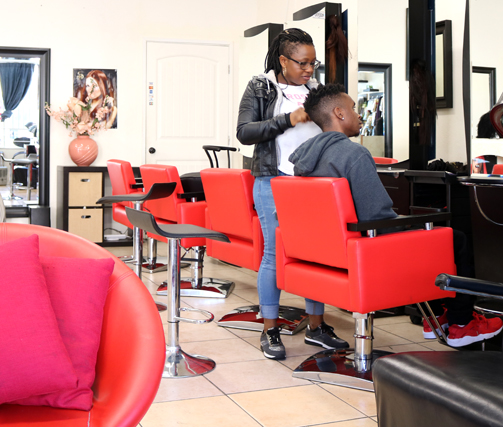 Banka Hair Braiding
Queentabel Banka grew up in Limbe, Cameroon before coming to the U.S. as a refugee in 2015. Queen learned how to braid at a very young age and loves it. At age 15 she went on to work for a hair braiding business in Cameroon. She did this for nearly 6 years, although her dream was to own her own business. When she arrived in the U.S. with a baby, no other family and nowhere to go, she found strength in the opportunity to see her dream through, which was to open Banka Hair Braiding. She signed up for language classes on Fairmount Ave. and started braiding hair out of her home. As naturally talented as she is resourceful, Queen saved money and opened a booth in the Somali mall- braiding hair, handing out her cards, and building a clientele that knew Queen's mission was to make each one of her clients feel happy, beautiful, and thoroughly confident– to help them make a change in their lives. Queen knew, however, that her operation at the mall was inhibiting the potential for her enterprise, so when she saw an opening on the East end of El Cajon Boulevard, she knew it was the right time to take her business to the next level. Finally, her dream of having her own place was being realized, energizing her all the more to keep learning, to keep growing and to keep giving back.
Starting a business on her own has not always been easy but Queen is motivated to share what she describes as her gift from God. With notably better access to internet and financial resources than in her home country, Queen has leveraged herself to success, yet her determination will not quit as she continues to teach herself new techniques, watches YouTube videos to learn new styles, and builds upon her business. With that, her dreams continue to grow, and her ideas are boundless. Incredibly grateful for the financial independence and stable life she has been able to secure for herself and her baby through hair braiding, she has devoted hours upon hours to sharing her gift and teaching others in the community–hoping to formally open the first hair braiding school in San Diego. Beyond helping women and refugees in similar positions learn the trade and have a path to work hard and make money, she has helped enable people to braid their own family's hair, which could otherwise cost them hundreds of dollars each month. It is precisely this sort of community support that she feels so thankful for and so compelled to contribute to, which is why El Cajon Boulevard has become home to Banka Hair Braiding. Queen envisions expanding upon her success in the coming years, one day incorporating a beauty supply, and navigating her own supply chain of inventory from West Africa to her premium hair braiding studio and school.
As concentrated as ever on seeing her dream come to fruition, Queen Banka knows that retaining customers and building a reputation as a stylist means ensuring that each person that walks into her studio walks out feeling phenomenal. It is this care and attention to detail that differentiates her services from basic styling, to a transformative feel-good experience. Queen's favorite aspect of her work is connecting with her clients and using her intuition and expertise to help them explore current trends and classic looks, and find a style that fits their personality, face shape, and allows them to feel as beautiful on the outside as they are on the inside. Her expertise includes varying types of dreadlocks, weaves as well as all different kinds of braiding: box braids, tree braids, cornrows, etc. Queen is committed to ensuring her clients are absolutely satisfied with the work she does.  It is her impressive ability to expose the beauty in others, nurture their confidence and empower people to work hard and take on the day, which keeps customers coming back and makes Banka Hair Braiding such a treasure on the Boulevard and to the community at large.
Banka Hair Braiding – 5255 El Cajon Boulevard
---
The Blvd Mardi Gras Crawl
Beer, Beads, and Lots of Funky Bass– Come celebrate Fête de Mardi Gras and join The Boulevard BIA for a FREE Mardi Gras Crawl in North Park lead by special guests from the Euphoria Brass Band alongside the fabulous LIPS Drag Queens.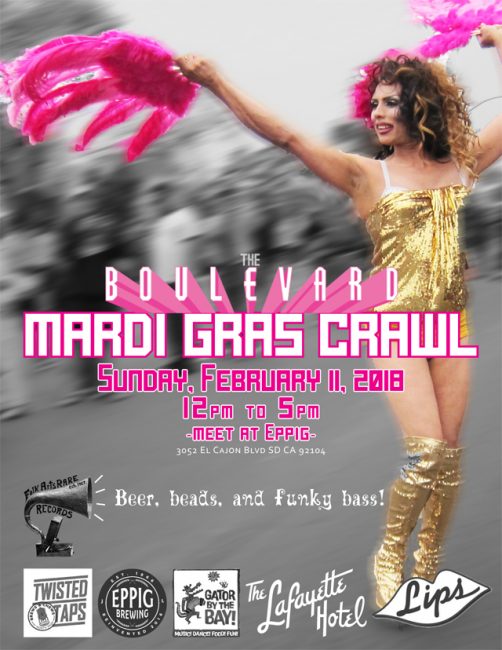 Festivities will begin at NOON, where we will gather at Eppig Brewing for some brews, tunes, and King cake. The party crawl will set off at 1:30 along The Boulevard with special quick stops at Lips, the patio at Barn Brewery & Cruiser Taco, and descend west to Twisted Taps.
Finally, we will make our way to the iconic Lafayette Hotel where we will dance the day away and indulge in the great flavors and culture of New Orleans!
For more information, click here for the Facebook event listing.
Laissez les Bons Temps Rouler/Let the Good Times Roll!!!
---
Placemaking Continues in Little Saigon
The El Cajon Boulevard BIA teamed up with Urban Life's local Youth Leadership Group and Tijuana artist David Pena to give the new sidewalk pavers in Little Saigon an artistic upgrade. The volunteers painted lotus flower stencils on multiple sidewalk sections of El Cajon Blvd just west of Menlo Ave. The Lotus flower image was decided on during the regular Little Saigon community meetings comprised of local community members and businesses.  The Lotus flower symbolizes rebirth, significant to the Vietnamese refugees that settled in Little Saigon after the Vietnam War to restart their lives.
This activity is just the beginning of many more placemaking and public art investments.  Come check it out and get a taste of Vietnamese culture at one of the many distinctive small businesses that make up San Diego's Little Saigon District.
---
Mid-City Centerline Grand Opening
More information on the event can be found here.
---
 Trashy Hour
The Homebrewer & Home Brewing Co (both at 2911 El Cajon Blvd) have been hosting a monthly trash pickup in an effort to keep our sidewalks sexy and safe. 
Trashy Hour
begins at 
10 am
 on the last Sunday of the month. Staff members and volunteers split into groups of 3-4 and make their way down the side streets, alleys, and boulevard collecting trash.  There is plenty of work cut out for the team  They are out for only 20-30 minutes collecting a nearly overflowing bag of trash before they return to Home Brewing Co for $3 pints. "Public service has never been so thirst quenching," says owner and volunteer, George Thornton.
---
Salsa Sabado Continues Year Round at Fair@44
Salsa, Cumbia and Bachata were a hit all summer long at the Fair@44.  Thanks to our partners at Melomano Entertainment and Dance who remain committed to providing a FREE event that brings together local community members and dance enthusiasts alike, Salsa Sabado will remain as a signature event of Fair@44 year round.
Group Lesson Info:
At 5pm, a 45 minute lesson will be taught by Patrick and Diana, Directors of Melomano Entertainment and Dance. No experience, no partner necessary. Come learn to dance Salsa – FREE!!
The next event is on Saturday, February 24! This is a FREE event.  Bring your FAMILY, bring your FRIENDS, and Let's Dance!!
---

Kim Dung Tailor
Kim is absolutely the best! Humble and a true master of her work. Her customers mean the world to her and this is her passion. If she tells you she's full no amount of money could get her to bump another customer she's already given her word to. Honor and integrity have kept them in business for decades!
Click here for more yelp reviews.