Boulevard News- February 2021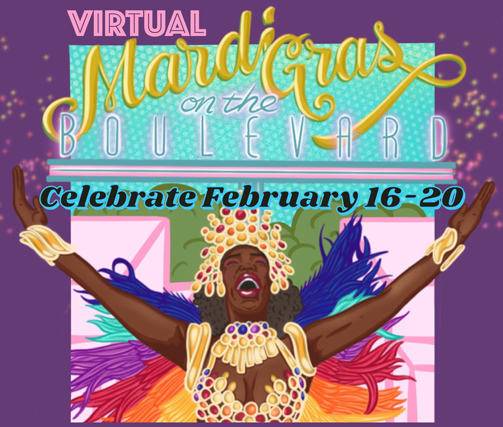 Mardi Gras on The Boulevard Returns Virtually – Feb 16th
Beignets, Catfish Tacos, Red Beans and Rice – "Laissez le Bon Temps Rouler" as the El Cajon Boulevard Business Improvement Association hosts its fourth annual Boulevard Mardi Gras Crawl in North Park on Tuesday, February 16. There will be no travelling party led by a festive New Orleans-style brass band, but there are still great food and drink specials provided by some great participating businesses including Cafe Madeleine, Collins & Coupe, The Wise Ox and more.
"While it won't be the same, it is important that we maintain a sense of celebration while supporting small business and local community, so grab some yummy Mardi Gras treats and Let the Good Times Roll at the 4th Annual Boulevard Mardi Gras Crawl all week long," said Tootie Thomas, Executive Director of the El Cajon Boulevard Business Improvement Association.
| | |
| --- | --- |
| Tacos La Mezcla | Special Menu Item: Raggin Cajun Catfish Taco |
| Cafe Madeleine | Special Menu Item: Fresh Beignets |
| The Lafayette Hotel | Special Menu Item: Sazerac, the Signature New Orleans Cocktail Promo Discount: $10 BOGO pool passes (buy 1 pass for $10, bring your friend for free!) Must be used together when you mention "MARDI GRAS"Promo Discount: 15% off your Hope 46 restaurant bill, when you mention "MARDI GRAS" |
| Collins & Coupe | Promo Discount: 20% off of all El Guapo cocktail mixers (made in New Orleans). Use the discount code FATTUESDAY21 at collinsandcoupe.com or mention it when shopping in store |
| TapRoom Beer Co | Promo Discount: 20% Off to anyone who dines in and mentions "MARDI GRAS" |
| The Homebrewer | Promo Discount: $8 Crowlers |
| The Wise Ox Butcher | Special Menu Item: Andouille Sausage, Red Beans + Rice, Smoked Cajun Turkey Breast $13.99 |
| Flavors of East Africa | Special Menu Item: $9 Jerk Chicken Plate w/ Sweet or Spice Rice and Collard Greens |
---
The Boulevard Annual Meeting & Awards Ceremony
With such a difficult year behind us, the El Cajon Boulevard BIA owes tremendous gratitude to a number of individuals and businesses who were of great help to our business community, and stepped up with unprecedented acts of kindness and initiatives. From the many distribution events of essential goods at Fair@44, to a local grant pool developed by the City Heights Economic Development Committee, to the exemplary small businesses owners who shifted their operations by successfully expanding their outdoor seating, we were very proud to honor these individuals virtually at our Annual Meeting and Awards Ceremony, Thursday, January 21st.
Among the 25 individuals and businesses that we are honoring at our Annual Meeting and Awards Ceremony, the MVP Award goes to Darnelle William, an exceptional leader who is spearheading Take What You Need Tuesdays, a weekly pantry food distribution event that has been underway at the Fair@44 since April 2020. In an effort to give back to those in need, Darnelle, with the help of some friends, started donating food in front of his home and quickly expanded operations by relocating to Fair@44. With a dedicated team of over 20 proud volunteers, Take What You Need Tuesdays has become a cornerstone of the City Heights community's access to food security, supporting nearly 200 families weekly with a bountiful bag of groceries.
---
Business Flashlight
Please drop by and welcome this new business owner Ibrahim Aladogan, an Ethiopian refugee who in early 2020 purchased RC Awards on The Blvd after working 15 years as a taxi driver. While he's been in a tight position, settling into his new work just before the onset of Covid, he's well trained in this new trade of trophies and awards, and is looking to expand with silkscreen and embroidery. We are grateful to Ibrahim for supporting our Annual Awards Ceremony and look forward to honoring more people in the community with the help of RC Awards.
---