Boulevard News – September 2018
Normal Records
More of a reclusive record collector than an active concert go-er, Caleb always wanted to be that guy who works at a record shop.  His passion for music began as a source of rebellion from his parents who exclusively listened to religious music.  With blocked access to MTV, his breakthrough was made by listening to the local college radio station in his hometown of Havre, Montana.  After high school, he joined the military which brought him to San Diego, where he pursued a degree in history at SDSU and became the acclaimed DJ Trustfund on KCR Radio.
Armed with a college degree, it was time for Kaleb to decide what he wanted to do with his life.  Unfortunately, the dream of working at a record shop is nearly impossible since the music business is pretty much a one man operation, so the only way he could make that happen was by owning his own store.  His wife Keri, a rather encouraging, supportive partner, loved the idea of opening a business.  While sitting in deadlock traffic on the way home from Vegas over Thanksgiving weekend, they dreamed up a plan and then got down to business.
Living in Normal Heights, they were inspired to name the shop Normal Records.  Unlike most record shops that squeeze in as much product as possible, Kaleb approached his business with a Less is More sensibility.  While Caleb would proudly dig through trenches to get his hands on a great record, he chose to design the store to appeal to customers who are just starting their collection and know what they want.  Caleb prides himself in his modern taste for music, which is a rarity amongst record collectors.  Normal Records carries a lot of new releases and is well regarded for an expansive hip hop collection.
While things could always be better, they are happy with their location in the new Foundation for Form mix-use building at the corner of 30th and Howard.  The clean, comfortable environment is very appealing those perusing North Park, exploring the ever growing hub of 30ECB.
Normal Records – 4201 30th Street
---

Broadstone North Park is Open!
"We try and leave neighborhoods better than we found them" stated Carlee Carpio, Development Manager for Alliance Residential who just completed Broadstone North Park on the corner of Texas and Howard Street.  Anyone can build a nice building, but more importantly, Alliance Residential Company seeks to help stimulate and build community.
With a great eye for detail and a passion for showcasing local talent and culture, Carlee ensures that her projects have a variety of fabulous residential amenities that bring people together and build a strong connection to the local community.  To get the word out, Carlee reached out to Vinyl Junkies and the Casbah to curate a series of free live music events around their poolside courtyard, and the word is out!  Come out this Saturday for a classic CREEPXOTICA performance with DJ Tony Suarez.  These events are free and open to public and act as a great way for the community to see the fabulous work Alliance is up to in San Diego.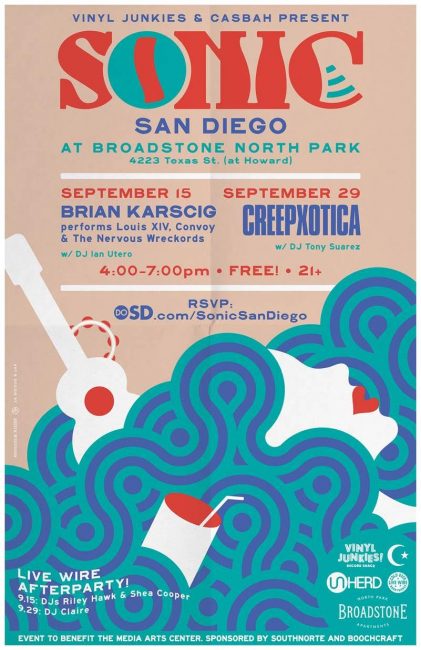 Broadstone North Park is now open and actively leasing.
---
Salsa Sabado Continues Year Round at Fair@44
SAVE THE DATE –  October 13th!! Salsa Sabado is located at Fair 44 on El Cajon Blvd between Farimount and 44th. What used to be an empty lot is now flourishing as a community gathering space! Come check out this new hot spot and get some dancing in too!!!
5pm – Latin Dance Lesson by Melómano Entertainment! No experience necessary for dance lesson and no dance partner requited! Nice big dance floor for open air dancing!

As always Café Dojo will be fueling us with drinks, and back by popular demand, we have La Isla with their yummy Dominican food! Its going to be a great evening!
---
First Friday Night Market at Anthem Vegan
Click here for more information.
---
Creative Happenings at Soul Flow Studio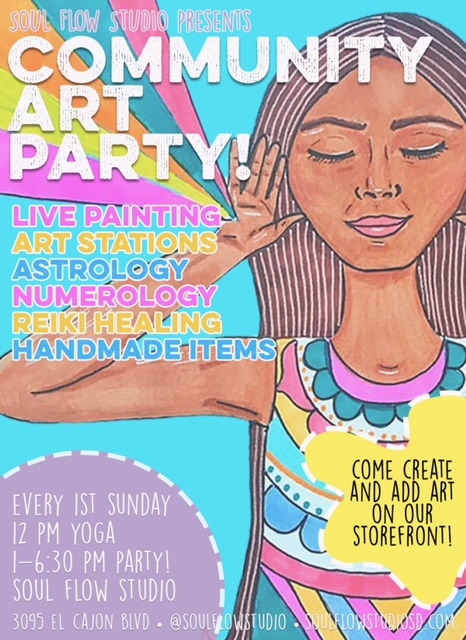 Click here for more information.
---
Digital Gym Film Schedule
Click here for films and showtimes.
---
 Trashy Hour
September 30 @ 11:00 am

 – 

2:00 pm
Help us Keep our Neighborhood Beautiful!
Join us for a short (30-45min) walk around the block to spruce our neighborhood up a bit.
Stick around for $3 Pints in the tasting room until 2pm (before/after drinks encouraged).
Meet here at the Home Brewing Co. Tasting Room.
---

June Shine
3052 El Cajon Blvd Ste 1
Very hip place to drink and socialize, the tenders were very helpful with recommendations. The layout is so cute, and open, and the complimentary popcorn really made my day.
I did two half pours, but just getting a taster of each one is probably the way to go.
Have fun, drink kombucha, be a San Diegan, haha!
Click here for more yelp reviews.