Boulevard News – April 2018
Cafe Madeleine
As a young girl, Christine remembers feeling like the oddball amongst her peers at school, eating her lengua and mustard sandwich while everyone else ate bologna.  While she aspired to fit in, she also recognized that her mother's homemade food was a special part of her upbringing.  Her house always smelled delightful, and her snacks were so much more enriching than what was being offered at her friend's homes.
In college, she gravitated towards an international crowd of friends.  Christine recalls that "Their gatherings were all about the food…and dancing and wine, not necessarily in that order."  Having married a Frenchman, she had the pleasure of traveling throughout France frequently, which fueled the idea of a future business venture.  As Christine was easing out of her 20 year career of teaching for the San Diego Unified School District, she began supporting her former spouse's new restaurant in South Park. Soon a lease became available on the perfect corner storefront right in the neighborhood.  She was encouraged to bring the charm of a French crêperie along with a much need café to the neighborhood, with the caveat that she do it all by herself.
This was exactly the enticement she needed to prompt her role as a neighborhood entrepreneur and community builder.  She hired master chef Patrick Ponsaty to design the menu and worked every day at the café to ensure that all aspects of the business met her standards.  Of course it was rewarding to see her hard work pay off, but it is more than just the money that assured Christine that owning her own business was her true calling.  By connecting to customers, and witnessing individuals who had never met create bonds with one another, she could see firsthand how Café Madeleine has become a convener for building community.
In seeking out a second location, she was particularly interested in finding a neighborhood that could use a greater sense of community. Four years ago, when Christine began looking at the El Cajon and Utah location, El Cajon Boulevard had not yet begun the resurgence that is visible to all now. She saw  the potential for  the growing small business activity on El Cajon Boulevard,  sensing that Café Madeleine could help in the effort to stimulate local connections.  She was warned about the risk she would be taking compared to her South Park location, but turned that perceived risk into a need she was willing to serve, driven by her vision.
Today, Café Madeleine on El Cajon Boulevard brings together people of all ages and a diversity of ethnic backgrounds, a community that Christine naturally connects with.  She feels a greater level of appreciation for providing a lovely home away from home in the way of a French crêperie.  With its grand outdoor seating area and expanded dinner offerings, Christine aspires to grow her business model to further positive change on The Boulevard.
Cafe Madeleine – 2850 El Cajon Blvd
---
The Blvd Market Takes A Cinematic Big Next Step
The BLVD Market is transforming in a kaleidoscope of ways—promising an EXPERIENCE like never before. Combining the best in gourmet street food, pop culture films, and progressive new music, Street Food Cinema will reinvent what many know as the BLVD Market into an extraordinary new cultural experience.
Launched out of Los Angeles by the husband & wife team with a filmmakers vision and a marketing savvy, Street Food Cinema expanded to San Diego in 2016, bringing their signature experience down south to our gorgeous expansive parks and neighborhoods. With the intent of expanding into North Park and embracing San Diego's hippest neighborhood, partnering with the BLVD Market became the perfect link in making this happen.
Warm afternoons give way to gorgeous sunsets, and as the night wanes, our 'foodie' night market goers will be wowed by the transformation of El Cajon Blvd & Utah St into an expansive outdoor movie theatre and culinary hub.  The season will kick off on Saturday, June 2nd with a truly one of a kind spectacle, The Greatest Showman.
Click
here
and RSVP via Facebook.
---
Access to Capital Boost Small Businesses on The Boulevard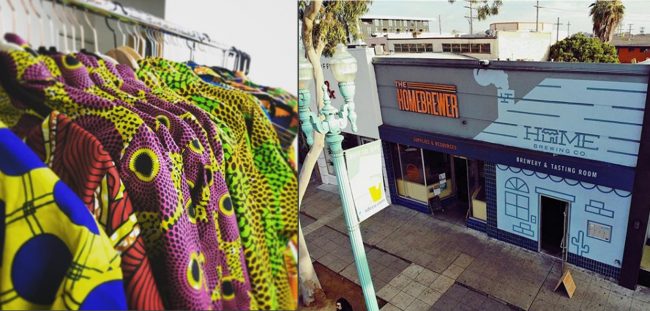 Small businesses are at the heart and soul of shaping the character of a neighborhood, and The Homebrewer and LK Fashion are no exceptions. Imaginative, ambitious and intent on seeing their dreams through, George Thornton of The Homebrewer and Lili Klu of LK Fashion are transforming the community of El Cajon Boulevard one loan at a time.
In support of local businesses growing in emerging areas, Civic San Diego introduced the Access to Capital program in 2016- in partnership with LISC AmeriCorps, the Small Business Development Center (SBDC) and the El Cajon Boulevard Business Improvement District- to ensure that small businesses have access to the appropriate loans that are necessary to expand their enterprises, especially when traditional lending options might be off the table.
George and Lili have similarly achieved tremendous success on El Cajon Boulevard despite receiving loans of very different sizes. Lili, who moved to San Diego from Togo in 2004, owns a fashion boutique with vibrant, impeccably tailored garments and textiles that reflect her West African heritage. LK Fashion was the first KIVA recipient on the Boulevard and the $5000 loan that Lili crowdfunded has already served as a launching pad, allowing her to take her business to new heights. Meanwhile, George is a beer connoisseur and owner of The Homebrewer, a tasting room for their state of the art craft beers as well as a home brewing supply shop. George has continuously demonstrated his dedication to the district- engaging with the community and organizing neighborhood cleanups. Funded a total of $160,000 through CDC Small Business Loans, The Homebrewer is moving forward with interior and exterior renovations.
Big or small, the loans that George and Lili received demonstrate the enormous potential for the Access to Capital program and the ample opportunities that microfinance can create in boosting small businesses and revitalizing communities.
For more information about The Boulevard's Access to Capital program, contact Amelia at blvdresource@gmail.com
---
New Coworking Space at #30ECB
Hardi Hood – 4379 30th Street Suite 4
Click here for more info
---
Digital Gym Film Schedule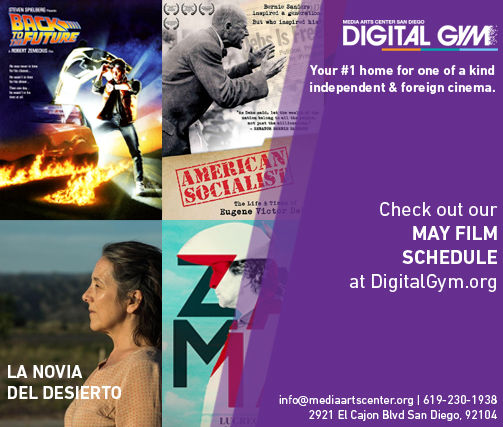 Click here for more info.
---
 Trashy Hour
The Homebrewer & Home Brewing Co (both at 2911 El Cajon Blvd) have been hosting a monthly trash pickup in an effort to keep our sidewalks sexy and safe. 
Trashy Hour
begins at 
10 am
 on the last Sunday of the month. Staff members and volunteers split into groups of 3-4 and make their way down the side streets, alleys, and boulevard collecting trash.  There is plenty of work cut out for the team  They are out for only 20-30 minutes collecting a nearly overflowing bag of trash before they return to Home Brewing Co for $3 pints. "Public service has never been so thirst quenching," says owner and volunteer, George Thornton.
---
Salsa Sabado Continues Year Round at Fair@44
Salsa, Cumbia and Bachata were a hit all summer long at the Fair@44.  Thanks to our partners at Melomano Entertainment and Dance who remain committed to providing a FREE event that brings together local community members and dance enthusiasts alike, Salsa Sabado will remain as a signature event of Fair@44 year round.
Group Lesson Info:
At 5pm, a 45 minute lesson will be taught by Patrick and Diana, Directors of Melomano Entertainment and Dance. No experience, no partner necessary. Come learn to dance Salsa – FREE!!
The next event is on Saturday, May 12th!  This is a FREE event.  Bring your FAMILY, bring your FRIENDS, and Let's Dance!!
---

Black Stag Cafe
4966 El Cajon Blvd
This place finally opened up! On my morning route walking my dog I picked up some of their drip coffee and it is great, I'm so happy to finally have a good coffee shop within walking distance! They get their coffee from Coava in Portland. The drip coffee had a nice medium roast with some fruitiness on the nose and mild acidity. I will definitely be back!
Click here for more yelp reviews.