Bike Valet Parking at POPUP15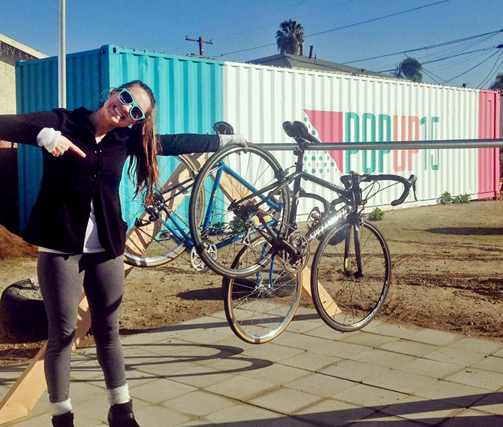 ---
FREE Bike Valet Parking will be provided to local transit commuters on The Boulevard!  The pilot, which will happen every Friday, is being launched by the El Cajon Boulevard BIA, Bikes del Pueblo and The Mid-City Community Parking District, at POPUP15. Free Bike Storage with a human touch is a ground-breaking approach to support public transit.  The bus rapid transit routes that intersect at the El Cajon Boulevard Transit Plaza, has the potential to offer  a lot more people  a convenient opportunity to utilize public transit.  Many more people will be encouraged to try commuting to work and school on bus rapid transit if they can ride their bicycle, arrive in less than five minutes, and safely park their bike all day long.
Currently, commuting by bike and bus in San Diego is not a convenient option.  According to MTS, high ridership bus routes have nearly reached capacity for the two bike racks available on the front of the bus.   In seeking a solution, the FREE pilot bike valet will alleviate those issues for everyday commuters; as well enhance the culture in San Diego of commuting more frequently via bike and bus.  Once people gain a sense for how simple and enjoyable it is to connect biking and transit versus driving a car, they might opt to make this part of their weekly routine, and support a Complete Boulevard strategy that appeals to all commuter types. San Diego's forward thinking climate action plan calls for increased ridership of both bikes and transit, which makes MTS a vital partner.
The POPUP15, adjacent to the El Cajon Boulevard Transit Plaza, is transforming is a vacant lot through "placemaking" into creative public space that locals see as a hub to Commute, Gather and Connect.  Alongside regularly occurring activities such as the Media Art's Centers summer film series, Bikes del Pueblo's is helping to draw a lot of cyclists to POPUP15 three days a week to talk shop, educate and repair bikes.  Another element that will support POPUP15's bike valet pilot is an innovative new coffee cart designed by a local non-profit Urban Life, built around the frame of the bicycle.  Urban Life will set-up every Friday, offering commuters morning coffee and pastries before boarding the bus, and a innovative way to start the day.
---